Fire-struck nuclear submarine to be repaired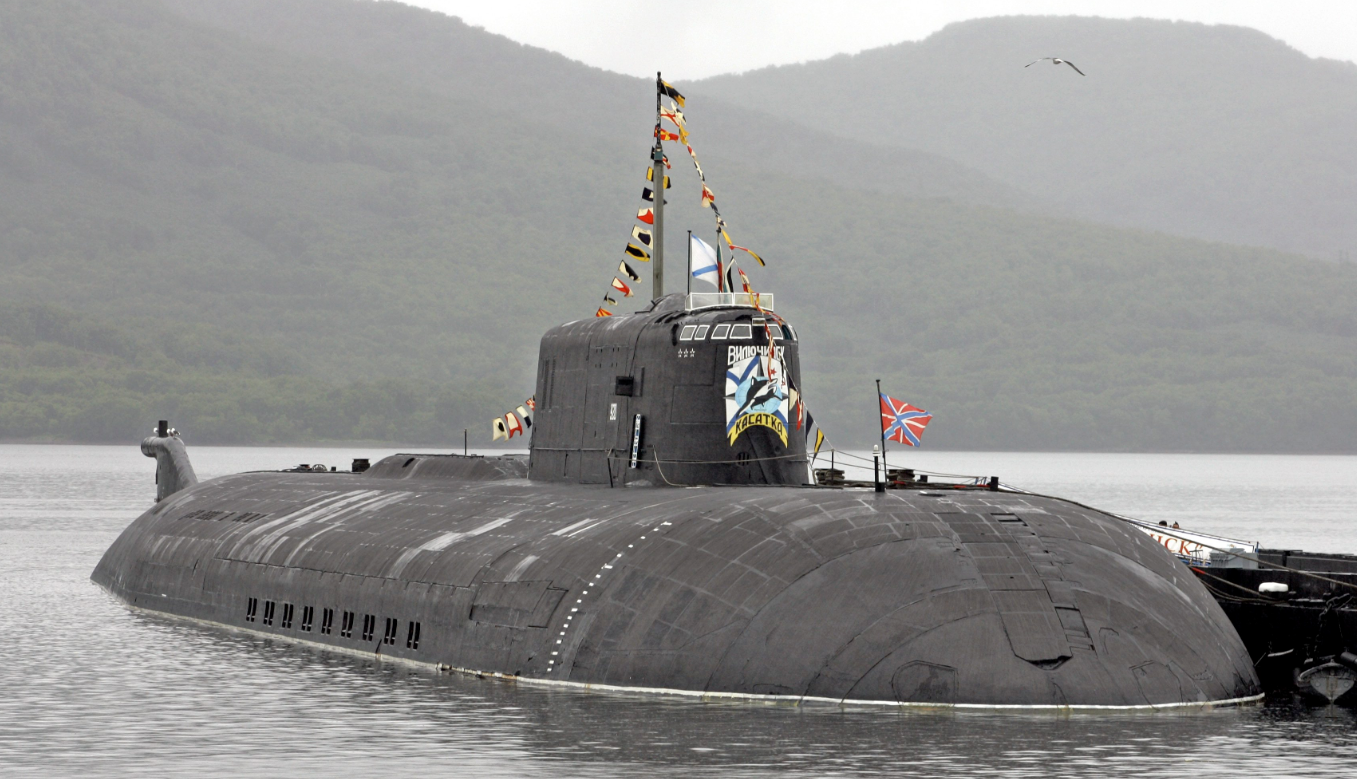 The nuclear submarine "Oryol" was not seriously damaged in Tuesday's fire at Zvezdochka shipyard, and will be ready for service again by the end of 2016.
According to preliminary inspections of the "Oryol", no important infrastructure was damaged in the fire on Tuesday, and the shipyard will have the vessel ready according to the original plan by the fourth quarter of 2016, a representative from the shipyard said toVedomosti. Any extra work caused by the fire, the shipyard will perform at its own expense, he added.
A special commission has arrived in Severodvinsk to inspect the damages. Also The Commander-in-Chief of the Russian Navy Viktor Chirkov and Commander of the Northern Fleet Rear Admiral Vladimir Korolev arrived in Severodvinsk on Tuesday.
More than 80 firefighters and 20 fire trucks were involved in the work to extinguish the fire, which occurred at around 2PM Moscow time during hot works on the submarine, the Ministry of Emergency Situation's web site reads.
The first information that the fire had been put out, came at around 5PM, but this information turned out to be false. The fire was not extinguished until 00:57 Moscow time, after the dock with the submarine had been flooded.
The vessels reactor had been shut down and the fuel had been unloaded before the repairs started. The submarine had no weapons onboard, Zvezdochka reports.
One of many accidents
Tuesday's accident was the latest in a series of accidents that have occurred at Zvezdochka and other ship repair yards in Northwest-Russia during the last years.
On December 29, 2011 a fire broke out on the nuclear-powered Delta IV-class submarine "Yekaterinburg" while it was in a floating dock at the naval yard Roslyakovo just north of the town of Murmansk on the Kola Peninsula. According to the first official reports the fire only harmed the outer rubber coating of the submarine, and all the missiles had removed from the vessel before going in dock. Later Northern Fleet officials admitted that the submarine had both missiles and torpedoes on board. "Yekaterinburg" was re-launchedin June 2014, after two years of repairs.
In March 2014, during decommissioning work on the Oscar-II class nuclear submarine "Krasnodar" at the Nerpa naval yard north of Murmansk, the rubber on the outer hull of the submarine caught fire. There were no radioactive leakages, and no one was hurt in the accident.
Tuesday's accident was the seventh at Zvezdochka in ten years, according to RIANovosti.  The other accidents were:
February 19 2010: Fire during dismantling of the Akula-class nuclear submarine K-480 "Ak Bars". No casualties. Cause of fire: violation of fire safety during hot works.
December 11 2009: Leak of two cubic meters of liquid radioactive waste from a broken pipeline. No casualties, no radioactive waste leaked into the environment.
October 6 2009: Fire during dismantling of the Yankee-class nuclear submarine K-403 "Kazan". The fire occurred during use of gas-flame cutter. Workers evacuated, no casualties.
March 25 2009: Fire during dismantling of the Yankee-class nuclear submarine K-411 "Orenburg". The rubber coating of the vessel caught fire during hot works. No casualties.
July 26 2007: The main ballast tank of a nuclear submarine in dry dock was punctured as a result of excess air pressure. No casualties.
August 1 2005: Two people died in a fire during dismantling of an Akula-class nuclear submarine. Cause of the fire was ignition of vapors of fuel and lubricants during hot works
Related stories from around the North:
Canada:  Canadian Rangers – The Watchers, Radio Canada International
Finland:  Russian troops near Finnish border placed on combat readiness, Yle News
Norway:  Peace and stability crucial for Arctic economy, Barents Observer
Russia: Russia lays down fifth multirole nuclear submarine, Barents Observer
Sweden:  Sweden's government scared of NATO facts: Moderates Party, Radio Sweden
United States: U.S. Arctic rep: Russia's Arctic buildup not necessarily martial, Alaska Public Radio Network