Yurts, tents and urban suites — Airbnb options grow in Alaska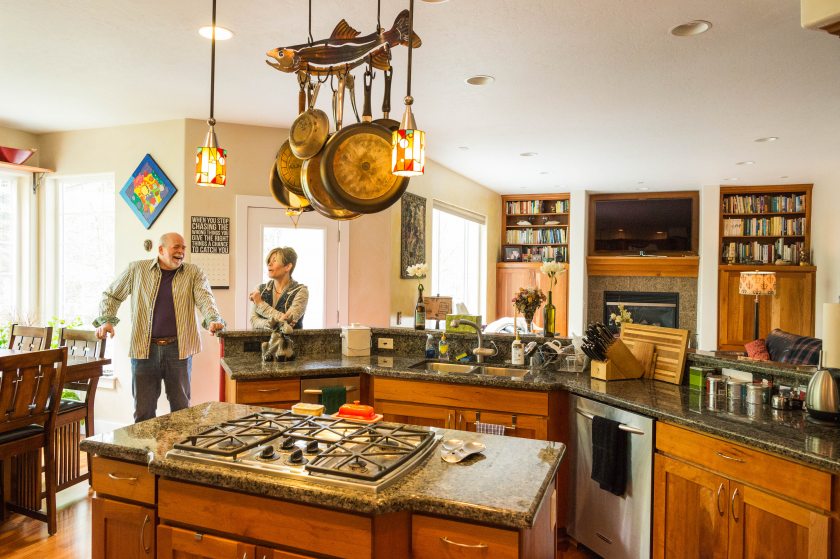 Travelers seeking discount lodging off the beaten path can find it at its most rugged in Alaska, thanks to an increasing number of hosts offering everything from backcountry yurts to cabins, even a tent in Northwest Alaska.
They can all be found on Airbnb, the online space-sharing site that allows users to rent out their homes — or in Alaska's case, their tents, shanties and urban suites — to adventurous travelers.
"You're on your own. Try not to die," says the listing for a "Hexagoda Shanty in the Alaskan Wild" near McCarthy.
There's a yurt cottage in the woods near Talkeetna with no door on the outhouse (better for ventilation), an off-grid geodesic dome near Seward (12 feet off the ground so it's safe from bears), and a four-person tent in Kotzebue (comes with a wood stove for those cold Arctic nights).
Urban options can also offer a touch of wilderness, such as the classy Anchorage home belonging to Ron Clarke and his wife, Kristine Kennedy, where guests on the back deck perched high above Fish Creek have gazed at wandering black bears.
"We get the accomplished travelers who want something different than they find in the 4,700 cubicles on the cruise ship," said Clarke.
Tourism officials say a growing number of Alaska visitors, especially young people, are choosing Airbnb in part because they want a more personal experience.
Meantime, homeowners with room to spare are increasingly tapping into what they call a lucrative venture, especially in the summer when traditional hotel accommodations can be hard to find.
"People with a spare room are seeing the revenue options that could be available," with some even turning sheds into guest rooms, said Tanya Carlson, marketing director for the Alaska Travel Industry Association.
Airbnb.com has boomed since its creation in San Francisco seven years ago. It now offers more than 1 million listings in some 200 countries. But its presence seems relatively small in Alaska, with just more than 600 rentals statewide.
Still, it's grown quickly enough to cause some concern about whether the small-time operators are paying bed taxes and meeting other requirements.
The Matanuska-Susitna Convention and Visitors Bureau, a tourism marketing group funded partly by bed taxes, has sent the borough government an inventory of Airbnb rentals to ensure they pay the 5 percent bed tax just like traditional hotels and inns.
"I'm not saying it's a big problem, but I'm saying it's out there and we have to make sure they're compliant," said Bonnie Quill, the group's executive director.
The McCarthy shanty
Paying a bed tax isn't an issue in some parts of the state, such as McCarthy, where there's no local government to collect it.
The $29-a-night "hexagoda shanty" — so called because it's hexagonal with pagoda-like eaves — can be found in the woods near the town of 34, after a 3-mile hike in from the road. There, guests can "enjoy the grandeur of the outhouse, and live like the Alaskans live — gazing upon glaciers, aspen groves, and mountains," according to the listing.
A stay means chopping your own wood for heat, and hauling water from the spring 2 miles away. "Nothing is convenient. Everything is a hassle," the description warns.
Despite its ruggedness, business has been better than expected, said owner Kimberly Alderman-Penix.
McCarthy, jumping-off point for the abandoned Kennecott copper mines, offers "perfectly civilized" places to stay, she said. But cabin guests want an authentic experience to "realign."
"To some extent, staying out there, you disconnect from one world and reconnect to another," said Alderman-Penix, a lawyer who wrote abook during one stay at the cabin. "The Long Winter" is about "a struggle for survival in one of the harshest places imaginable," according to a description on Amazon.
Airbnb hosts in Alaska said they often sign up to find inexpensive lodging elsewhere in the world, and to meet other travelers.
But things don't always go smoothly. In Calgary, a guest house was recently trashed by a mob of revelers in what has been called "a drug-induced orgy."
Alaskans say they've avoided those problems by closely screening guests. Guests and hosts have a track record, thanks to past reviews and comments on the site. Airbnb, which collects a percentage from each rental, also provides a host insurance policy designed to cover up to $1 million for each legal claim.
Efforts to speak with Airbnb representatives for this article were not successful.
The Seward dome
The insurance policy provides some peace of mind to Jason Wilson, who on May 1 began using Airbnb to rent the "off-grid" geodesic dome he built near Seward and Kenai Fjords National Park. Raised on beams, it looks like a moon base. There's a bay window, a love seat and several comfy chairs "for sipping coffee and watching the sun illuminate the Chugach Mountains," the description reads.
Last summer, Wilson leased the dome to long-term renters. But his girlfriend recently convinced him to put it on Airbnb.
At $99 a night, the response was immediate. Wilson said he received 40 bookings in less than three weeks and is on track to triple his income.
Guests say they're looking for a real Alaska experience, but without the threat of bears. The dome includes luxuries like a queen-size memory foam mattress — "the most luxurious one from Costco," Wilson said — and a gravity-fed water system for cleaning dishes in a sink.
Still, there are no showers or electricity.
"It's a big step up from camping, but it's also a big step away from having a hot shower," he said.
A tent and suites
Travelers wanting even more wilderness can find it in Kotzebue, where Kris Rose offers a four-person Arctic Oven tent for $65 a night.
He recently got his first booking for it, for someone planning to visit the sand dunes in Kobuk Valley National Park in August. It comes with a couple of cots, a small woodstove and a rug "to spruce things up," said Rose, a teacher in the Northwest Alaska city of 3,200.
He's also received several inquiries from people wanting to stay at his one-bedroom home in Kotzebue, listed at $100 nightly. Because it's so small, he and his wife have only rented it out once, when they were headed out of town. "I'm surprised because we're so far off the beaten path," he said of the interest.
Another Airbnb rental in Kotzebue, rented out by a friend and with an extra room for guests, is "going gangbusters."
Meanwhile in Anchorage, Clarke said he generally makes enough each summer to cover his home's $12,000-or-so property tax bill, after paying Anchorage's bed tax. He's renting out three tidy guest suites at prices ranging between $109 and $129 a night.
The income is nice, but the best part is meeting fellow travelers and hearing chatter from around the globe as they gather in the dining room. He's had visitors from China, Australia, even a mountaineering team from India gearing up for a Mount McKinley climb.
"It's just a lot of fun," he said.
Related stories from around the North:
Canada: Canadian province of Quebec announces plan for northern development, Eye on the Arctic
Finland:  Arctic Finland looks for boost from Chinese tourists, Barents Observer
Norway: Russia's ruble is rebounding, will it boost border traffic?, Barents Observer
Russia: Currency drama has little impact on tourism in Barents region, Barents Observer
Sweden:  Bids given for Pajala mine in Arctic Sweden, Barents Observer
United States:  Alaska – Judge temporarily halts EPA process on Pebble Mine, Alaska Dispatch