Highway repairs underway after floodwaters drop in Arctic Alaska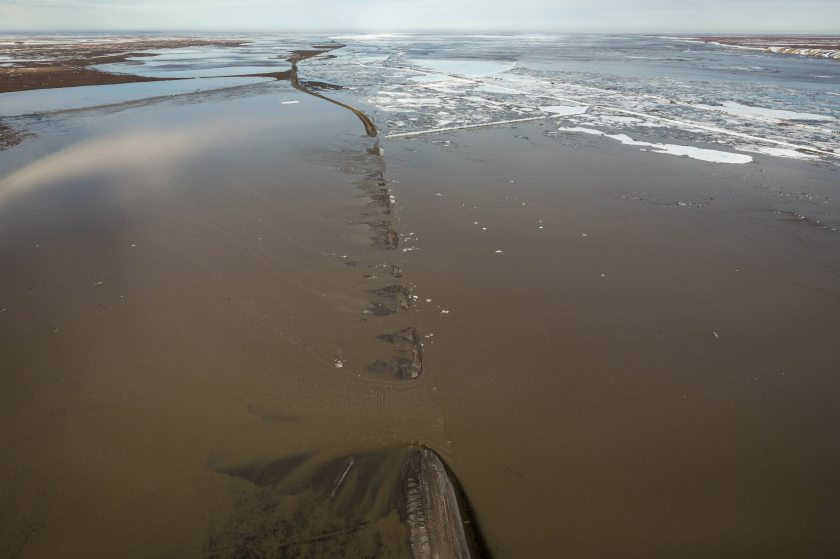 Road crews began repairing the flood-battered Dalton Highway on Alaska's North Slope over the Memorial Day weekend, bringing hope to Deadhorse hotels and work camps forced to fly in supplies after spring melting ripped away portions of the road to some of the nation's largest oil fields.
State officials said Tuesday they had no idea when the northern end of the 415-mile gravel route to Prudhoe Bay, closed for eight days after severe flooding along its last 25 miles, would reopen.
But they were optimistic after waters fell sharply, allowing temporary repairs to be made to two damaged stretches at the road's end near Deadhorse, the staging site for giant Prudhoe Bay and other oil fields.
"We're working around the clock to get the road open to unrestricted travel," said Mike Coffey, director of maintenance and operations for the state Department of Transportation.
Nancy Bremer, front desk supervisor at the Aurora Hotel in Deadhorse, said she doesn't expect the road to open for another two weeks. The hotel is flying in essential items for guests but not luxuries sold in its small store.
"Food is necessary and cleaning supplies are necessary, but not Red Bulls and Rock Stars," she said.
The highway was initially damaged in March after severe icing, thawing and overflow swamped the route, leading to a brief closure.
The more recent round of problems stems from record-high temperatures melting the Sagavanirktok River and snow from the Brooks Range. The Kuparuk and Colville rivers also flooded, affecting access to oil fields west of Prudhoe Bay.
Gov. Bill Walker has issued two disaster declarations that could bring federal help to repair highway damage, now expected to reach at least $5.1 million. An official with the Federal Highway Administration began assessing conditions this week.
Candice Bressler, public information officer at the state Department of Environmental Conservation, said Tuesday no spills of fuel or hazardous substances have been reported.
Michelle Egan with Alyeska Pipeline Service Co. said Tuesday there has been no impact to the amount of oil – responsible for most state government revenues — flowing down the 800-mile trans-Alaska pipeline.
Workers transported by helicopter
Officials with BP and ConocoPhillips – the state's largest oil-field operators — said gravel roads they maintain have experienced some flooding. But the companies have had no safety or environmental problems, they said.
A short section of road to ConocoPhillips' CD-4 field was "overtopped" and closed early last weekend, leading to helicopter flights for workers coming and going. But the road is now open to normal traffic and operations, said Natalie Lowman, communications director at ConocoPhillips.
BP, operator at Prudhoe Bay, was also busy repairing oil-field roads – and rationing fuel, said Dawn Patience, BP press officer, on Tuesday.
As for the Dalton Highway, state officials said more than 40 workers with the state and contractors Cruz Construction and Brice Inc. are working to fix the road from both ends of the damaged area breach by breach until they meet in the middle.
The gravel highway begins at the Elliott Highway north of Fairbanks and is used by supply trucks and tourists hoping to see the Arctic Ocean past Deadhorse.
To get traffic flowing as quickly as possible, the state plans to create "primitive," single-lane sections with flaggers directing freight trucks and other vehicles, Coffey said.
The state will then widen the repaired areas and raise the roadbed to 7 feet — starting at Mile 391 – in hope of preventing future flooding. The effort to raise the roadbed was originally planned to take two years, but DOT will expedite work to get as much done as possible this year, said Meadow Bailey, state transportation public information officer.
"We've never seen anything like this," she said of the flooding.
The first two repaired sections stretch between 200 and 300 feet each, said Bailey.
Fog delay
Repairs to the first breach near Deadhorse began Sunday afternoon and ended Monday evening, with heavy equipment operators filling the gap with dirt and gravel. They also added new culverts and sandbags to keep the floodwater in the Sag River channels east of the industrial settlement.
To repair the next damaged section, workers on Tuesday created an alternate path, said Bailey, because ice lenses and significant erosion have made the previous route unstable. "The more efficient way to fix it for now it is to build around it," she said.
Near the southern end of the damage, dirt and rock have been stockpiled. But heavy-equipment operators could not be flown in on Memorial Day because of fog, said Coffey. They had likely arrived Tuesday and were beginning repairs on that end, he said.
The icing and flooding has been attributed to severe rains last summer and fall that saturated the tundra and had not drained to the Arctic Ocean before freezing set in.
During the icing-related road closure early this spring, oil-field companies based out of Deadhorse saw supply caches drop.
Companies were better prepared this time around, stocking up in preparation. Still, DOT officials have taken the unusual step of opening the airport 24 hours a day to handle the "dramatic increase" in freighter traffic, said Coffey.
Randy Davis, Prudhoe Bay rental coordinator with MagTec Alaska, which provides rental vehicles and lodging for oil-field workers at a camp in Deadhorse, said he has not seen gas prices at the pump rise this time.
But MagTec has flown up food for guests at extra cost to the company.
Unexpected visitors included several workers from Italian oil company Eni, who couldn't make it to their field because the flooding prevented access, he said.
"We just ate the price, figuring this wouldn't go on too long," Davis said. "Today we come to find out things are starting to look better."
Related stories from around the North:
Finland: Floodwaters stop rising in North Finland, Yle news
Greenland:  Changing Sea Ice: The Ripple Effect (VIDEO), Eye on the Arctic
Norway: 2014 warmest year in history for Norway, Barents Observer
Sweden: Climate change may scupper flood insurance for many in Sweden, Radio Sweden
United States: 'Epic' flooding on Alaska Highway hinders Arctic oil operations, Alaska Public Radio Network