Japan wants wind power from Arctic Norway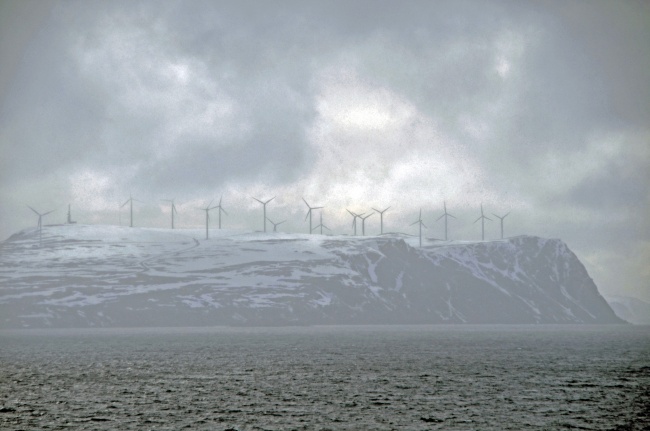 The Japanese market eyes opportunities for import of clean energy from Finnmark.
Japan is interested in having long-term connections with stable suppliers of clean energy. While Norway has more clean energy than the country can use, Japan's self-sufficiency rate is only 6 percent.
Norwegian and Japanese companies are interested in the possibilities for export of energy from Norway to Japan in the form of hydrogen by using the "Power to gas" technology.
The transportation could go through the Northern Sea Route, the shortest way from Norway to Japan, Teknisk Ukeblad writes.
Wind power not easy to export
Norway's northernmost county Finnmark has a lot of wind, but it is not easy to export wind power as electrical power. The markets are far away, and the power grid is not dimensioned for large transmissions.
Two local power companies have licenses to build two power plants with a total capacity of 320 MW in Finnmark. Last year a 45 MW power plant with 15 wind turbines was put into operation. It is not possible to put more than this into business for the time being – it will take at least ten years before the capacity of the power grid is enhanced.
The Norwegian research organization SINTEF is now making a preparatory study of the possibilities of export of wind power from Finnmark to Japan. Siemens and Kawasaki Heavy Industries have been involved in the prestudy. Siemens believe that hydrogen is the best alternative for storage of large amounts of renewable energy, while Kawasaki has the technology to transport hydrogen in tankers and to process it for the energy market in Japan, according to Teknisk Ukeblad.
Related stories from around the North:
Finland: Finns still sharply divided over wind power, Yle News
Norway: Norway's hydropower will light up UK homes, Blog by Mia Bennett
Russia: No alternative to Arctic oil says Russia environment minister, Barents Observer
Sweden: Lower electricity bills for Swedes, Radio Sweden
United States: Alternative heating system shows promise for reducing fuel costs in Interior Alaska, Alaska Public Radio Network