U.S. Coast Guard gears up for Shell's Chukchi season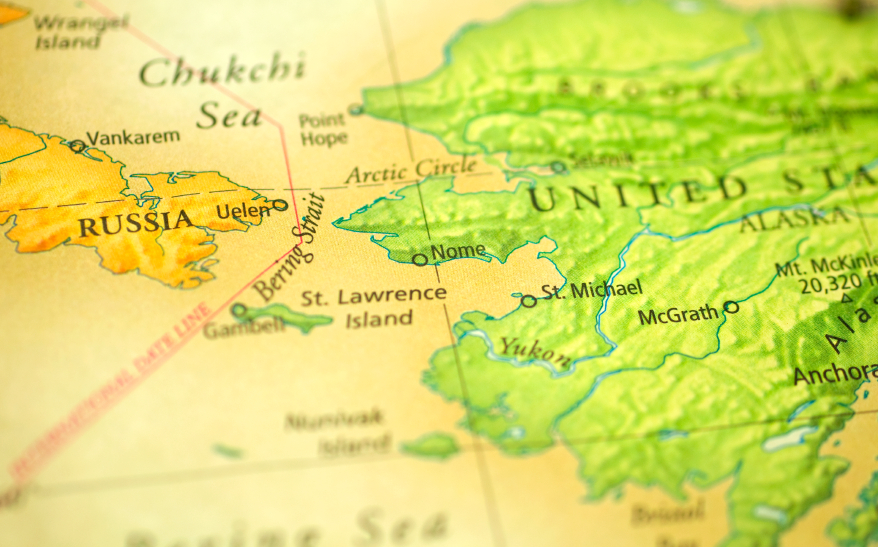 As Shell gears up to drill in the Chukchi Sea this summer, the Coast Guard is getting ready, too.
At an Arctic symposium in Washington D.C. this morning, the head of the U.S. Coast Guard outlined the difficulties the service will face in the Chukchi Sea this summer, and in the Arctic generally.
Coast Guard Commandant Paul Zukunft says if Shell is allowed to drill in the Chukchi Sea this summer, the Coast Guard will be there with five ships and two aircraft. But, the admiral says, nothing about the Arctic is easy.
"We are a service that prides itself on being semper paratus – 'always ready'– but this area really does present a challenge for us," he said.
'Zero room for failure'
Policing Shell is a big part of the job. Zukunft says the Coast Guard will be there to "provide that check and balance for (the) private sector. As they exploit these riches, there is zero room for failure," he said. "And by that I mean an oil spill in the Arctic."
Zukunft says environmental activists may be one complication.
"We may have a run-in with NGOs if Shell gets its final permit," he said. "Greenpeace did protest when Russia was drilling in their Arctic domain. They were in prison for about 16 months. I don't think we'll take as harsh measures in the United States, but we need to be there as an enforcement arm."
Oil spill response
The worse-case scenario is a well blowout, which he says could send 25,000 barrels a day into the ocean. Zukunft says the lack of on-shore facilities would complicate a response. Zukunft was the federal on-scene coordinator for the Deepwater Horizon five years ago.
"We had 47,000 responders that we're marshaled to the Gulf of Mexico, and you can't do that anywhere but the Gulf of Mexico," he said. "Try to put 100 people in Barrow, Alaska, and after the first 50 show up, the other 50 will be fending off polar bears. We do not have the (on-shore) infrastructure."
Not clear what Shell ship hit
Arctic operations have to be sea-based, he says, and that's why Shell is moving nearly 30 ships to the Arctic for the short drilling season. It's also why the company is required to have a relief rig and a well-capping stack on hand.
The ship carrying the capping stack got a lesson in the hazards of the Arctic just outside Dutch Harbor July 3, when its hull was cracked. Presumably, the Finnish-owned icebreaker Fennica hit an uncharted object. The National Oceanic and Atmospheric Administration was surveying nearby and was able to check out the Fennica's route.  NOAA found areas that were shallower than charted, but senior Arctic advisor Dave Kennedy says it's still not clear what the Fennica hit.
"They're still analyzing the data but the preliminary report is there is nothing obvious that they could find that would indicate something that should have been an obstacle there," Kennedy said.
A Shell spokesman says the Fennica will be repaired temporarily in Dutch Harbor then set out for Oregon for permanent repair. Shell says the mishap won't delay the Chukchi Sea operation because the capping stack isn't needed until August.
Obama and Kerry to visit Alaska in August
Admiral Robert Papp, a former head of the Coast Guard, says the Fennica might have hit something like an underwater spire, a natural structure he says would be hard for surveyors to spot. Papp is now the State Department's special Arctic representative, and at the Arctic Symposium he hinted at a big, high-level meeting in Alaska next month.
"I can't talk a lot about that today, but it will draw the attention of the world to Alaska and the Arctic, and I'm very excited about it. "
Months ago, Sen. Lisa Murkowski let slip that President Obama and Secretary of State John Kerry plan to visit Alaska in August. The exact date, and which communities they'll visit, aren't publicly known. Papp says he expects an announcement shortly.
Related stories from around the North:
Canada:  Greenpeace responds to report Canada is ill-prepared for Arctic oil, Radio Canada International
Finland: Finns still sharply divided over wind power, Yle News
Greenland: Arctic oil and gas must stay in ground to restrict warming to 2°C says study, Blog by Mia Bennett
Iceland:  From Arctic Circle 2013-2014, a big drop in the price of oil, Blog by Mia Bennett
Norway:  Norway surpasses Russia as top gas supplier, Barents Observer
Russia: Rosneft buys time in Arctic, Barents Observer
United States:  Shell vessel damaged in Alaska waters uncharted since 1935, Alaska Dispatch News