U.S. Coast Guard investigation into damaged Shell icebreaker moves forward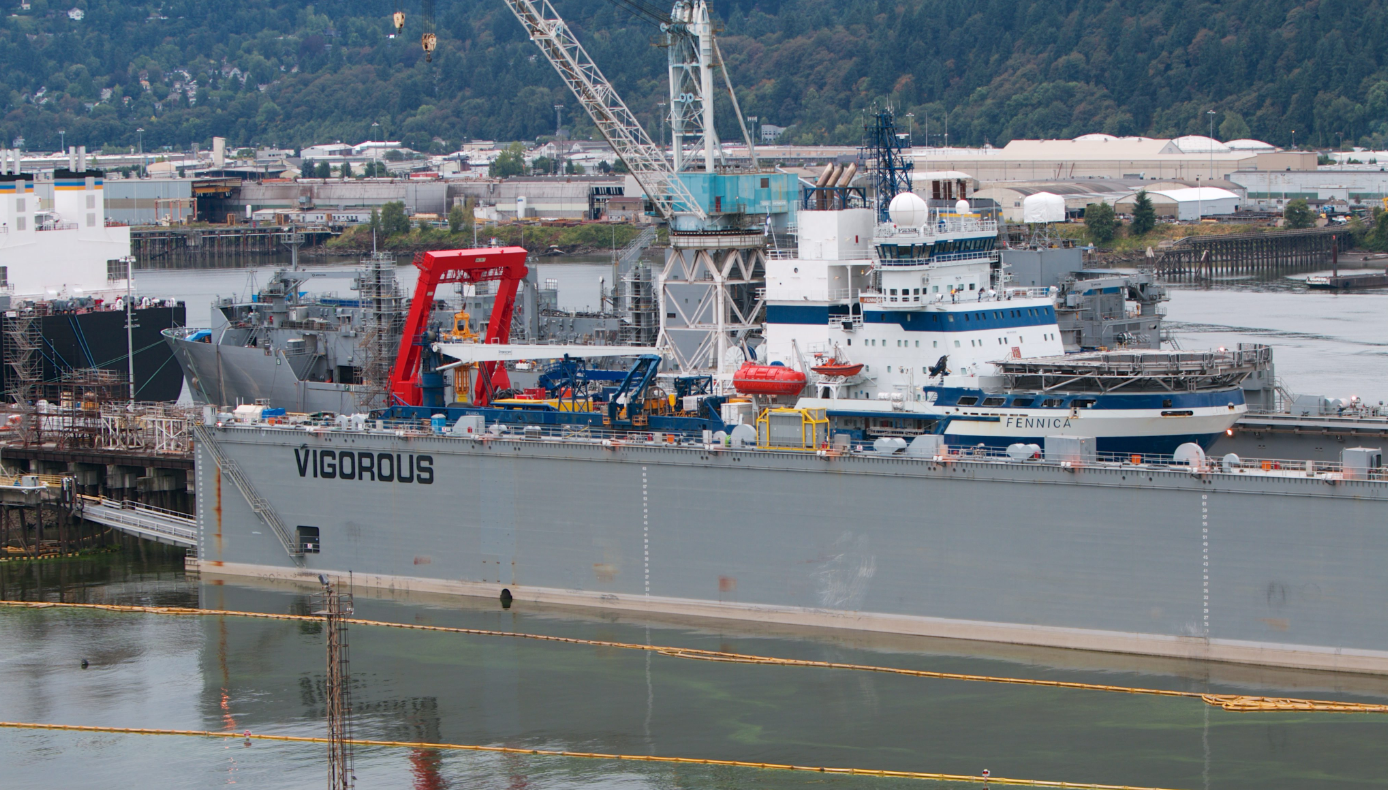 A Shell-contracted icebreaker damaged earlier this month in Unalaska Bay had up-to-date navigational charts on board, but the ship's draft went deeper than a previously unidentified shoal rising up from the bay's floor, according to initial findings of an investigation into the accident, the U.S. Coast Guard said Tuesday.
The Fennica, a 381-foot Finnish ship hired by Shell to support the company's planned Chukchi Sea oil drilling program, sustained a 3-foot-long gash in its hull while heading out of the Aleutian bay to start its journey north to the Arctic. The July 3 incident resulted in aballast tank leak and put the ship temporarily out of service.
The Fennica is now in Portland undergoing repairs, Shell spokeswoman Megan Baldino said in an email.
Mariners alerted to shoal
Initial findings of Anchorage-based Coast Guard investigators did not conclusively identify the cause of the accident, but the investigators pointed out the previously uncharted shoal was found along the Fennica's path of travel, the Coast Guard said in a brief statement.
The Coast Guard said it has alerted mariners to the shoal, newly charted by the National Oceanic and Atmospheric Administration's Office of Coast Survey.
The shoal rises up to 22.5 feet below the water's surface, though it is deeper at higher tides, the Coast Guard statement said. The Fennica's draft at the time of the incident was 26.25 feet, the statement said.
Following the damage to the ship, drug tests were administered to the Fennica's master, mate and pilot. All the tests were negative, the Coast Guard statement said.
Initial findings were forwarded to the Coast Guard Investigations National Center of Expertise, the statement said. That center will review findings and submit information to officials at the Coast Guard Headquarters Investigation Division, the statement said.
Such marine casualty investigations "are extremely thorough and may take several months to complete," the Coast Guard statement said.
Drilling this summer
The Fennica carries a capping stack intended to contain an oil spill, should one occur at any of Shell's drill sites. That ship and its spill control equipment must be on site before Shell is allowed to drill into oil-bearing zones, according to federal regulators' requirements.
Shell last week won conditional approval to drill at two sites. But the approval stipulates that Shell must limit drilling to shallow, top-hole zones until the Fennica and its spill equipment are back in service.
That may be soon.
"At this time we expect the Fennica to be in the Chukchi in time to drill into hydrocarbon bearing zones," Baldino said in her email.
Shell's exploration plan, conditionally approved in May by the Bureau of Ocean Energy Management, proposed completion of up to six wells at the Chukchi Sea prospect — five new wells and completion of a well Shell started in 2012.
Related stories from around the North:
Canada:  Greenpeace responds to report Canada is ill-prepared for Arctic oil, Radio Canada International
Finland: Finns still sharply divided over wind power, Yle News
Greenland: Arctic oil and gas must stay in ground to restrict warming to 2°C says study, Blog by Mia Bennett
Iceland:  From Arctic Circle 2013-2014, a big drop in the price of oil, Blog by Mia Bennett
Norway:  Norway surpasses Russia as top gas supplier, Barents Observer
Russia: Rosneft buys time in Arctic, Barents Observer
United States:  Limits put on Shell's Arctic drilling, Alaska Dispatch News