Floating nuclear power stations for Arctic?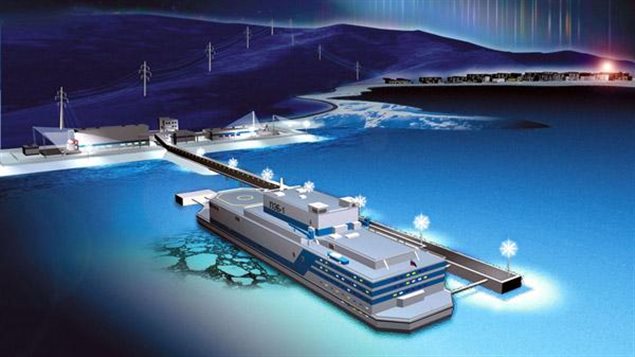 An Ontario company is proposing the idea of small floating nuclear stations to power mining sites and towns in the Arctic.
At a mining symposium last week in the Arctic city of Iqaluit in Nunavut, Dunedin Energy Systems suggested the idea to meet growing energy needs in the North.
Currently Arctic towns, cities and various mine sites are powered by diesel generators. These produce substantial pollution and with fuel costs rising along with energy demand, alternatives are needed.
The company noted that the Russian firm OKBM is building a so-called FNPP- floating nuclear power plant. The "Akademik Lomonosov" will have two modified naval propulsion reactors producing a peak total of 70 meagawatts (MW) of electricity or 300 MW of heat.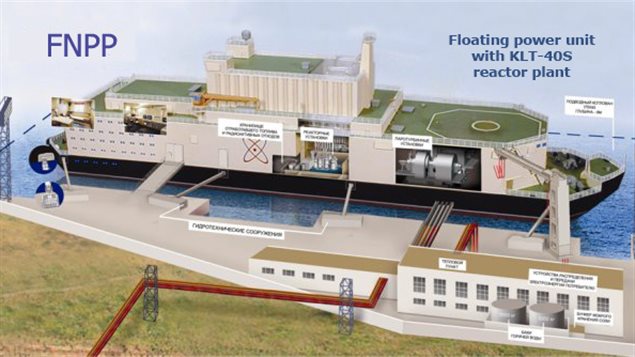 For comparison, the diesel plant at Agnico Eagle Mining Ltd.'s Meadowbank gold mine in Nunavut has a generating capacity of 26 MW, and the City of Iqaluit's power plant has a capacity of about 12 MW, Lang said.
The Russian ship is expected to be delivered to the Siberian port of Pevek, a town of 4,000, in 2016.
Some 15 countries around the world have expressed interest in leasing a Russian FNPP, according to a website called Nuclear Threat Initiative.
Peter Lang, president of Dunedin, told the symposium, "Clean, safe, and portable energy is absolutely key to mine profitability, and the current diesel [power generation] model is not sustainable for the scale of development we want to see".
Cutting costs
He claimed floating nuclear power ships would provide more power at a fraction of the cost of the current diesel technology and noted that small reactors aboard nuclear powered ships have been around since the USS Nautilus was launched in 1955. He said the generators on a ship already produce more power than most of the diesel-powered location in the North.
The idea is not entirely new as the US Army deployed a 10 MW nuclear generator on a barge, the Sturgis, in the Panama Canal from 1968 to 1976. This was to make up for the loss of hydro-electric generation when water was diverted into the canal to accommodate increased military ship traffic during the Vietnam war and the closing of the Suez Canadal.  The Sturgis was removed in 1976 over concerns of violence during treaty negotiations between Panama and the US over the canal.
Lang said the floating plants would be towed into position, and when a mine site closes or the FNPP is no longer needed, it would be towed away to its home port
Many are expressing reservations about FNPP's saying they are liable to terrorist attack, and should any nuclear incident in the north would be far distant from resources and infrastructure to deal with it, thereby potentially worsening any situation.
Related stories from around the North:
Finland: Nuclear reactor offline for another week, Yle News
Norway: Norway's hydropower will light up UK homes, Blog by Mia Bennett
Russia:  Fire-struck nuclear submarine to be repaired, Barents Observer
Sweden: Petrol-tax hike may have marginal impact on climate change, Radio Sweden