Finland wants in on US icebreaker investment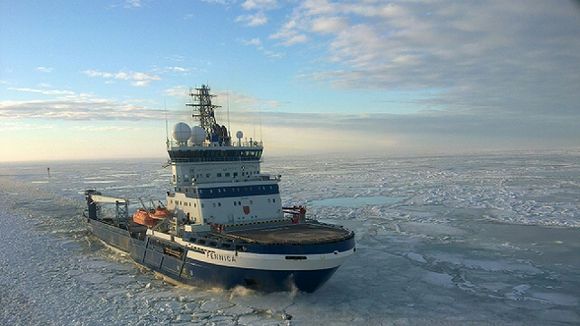 The head of Finnish state-owned company Arctia Shipping points out that operating icebreakers is a more lucrative business than building them.
His company is now taking part in a disputed Shell Oil operation near Alaska.
The United States plans to order a new icebreaker and has earmarked funds to buy one – totalling 10 times the cost of a Finnish one. Despite protectionism rules, the Finnish state-owned shipbuilder hopes to get a piece of the action.
Fresh off the controversy about a Finnish-built icebreaker's role in Shell's Arctic oil prospecting, Finland is marketing its icebreaking know-how to US officials.
The US only has two federally-owned icebreakers that are capable of operating in Arctic conditions. Now American officials are in the market for another icebreaker.
"The US has a preliminary budget for a new icebreaker, totalling 1.2 billion dollars. That's nearly 10 times as much as an icebreaker built in Finland," says Tero Vauraste, CEO of the Finnish state-owned company Arctia Shipping. He spoke with Yle reporter Pirkko Pöntinen at the Arctic Council's GLACIER climate conference this week in Anchorage, Alaska.
Vauraste is deputy chair of the Arctic Economic Council, which was set up last year by the Arctic Council, which includes the Nordic countries, Russia, Canada and the US. Finland will serve over as chair of the Council in 2017-18.
Also attending was Finnish Foreign Minister Timo Soini, on his first overseas trip since taking office in early summer. He met briefly at the summit with President Barack Obama and Secretary of State John Kerry, assuring them of Finland's readiness to help combat climate change in the Arctic region.
"Certain segments protectionist"
With shipbuilding as one of its major export industries, Finland has tried to sell icebreakers to the US government in the past. According to Vauraste, though, when it comes to these vessels "certain segments have been protectionist". He says that measures to keep the market closed partly explain why one icebreaker would cost more than a billion euros.
Vauraste is however optimistic that his company can participate in the massive acquisition, saying: "I believe that we're now closer than ever."
Vauraste is working to assure the Americans of Finnish know-how, not only as manufacturers of icebreakers but also as operators of them.
According to the Finnish Funding Agency for Innovation, Tekes, selling an entire icebreaking ship to the US may be impossible. Piia Moilanen, who heads up Tekes's Arctic Seas programme, says that subcontracting may be an option though.
"It's possible to operate as part of the subcontracting network, and that may be significant. But we don't see any sign that the US will order ships from anywhere else," she says.
Operating more profitable than building
Vauraste, though, remains hopeful. He believes that acquisition of a foreign vessel could be possible depending on how the wording of a venerable American law is interpreted.
Purchasing of ships is governed by the Merchant Marine Act of 1920, also known as the Jones Act, the roots of which extend back to the eighteenth century. It specifies that vessels that operate between US ports must be American-made.
"Icebreakers don't operate between US ports, though," Vauraste argues.
Arctia Shipping's Fennica icebreaker has just arrived in Alaskan waters to help Shell prepare for test drilling for oil, with a Finnish crew on board.
Vauraste points out that operating icebreakers is a more lucrative business than building them.
"If you look at the lifespan of these vessels, you may be talking about a contract to operate one for 10 years. That could at best be worth hundreds of millions of euros and generate hundreds or even thousands of person-years," Vauraste estimates.
Icebreakers built in Finland usually have a price tag of 100-150 million euros.
Market and environmental pressures
But how will the Arctic business fare as the price of oil has fallen and there is increasing pressure to block new drilling? Vauraste says the decline in oil prices has slowed but not halted the business.
"The countries in the Arctic region have different needs when it comes to exploiting the area's energy resources, and the development of renewable energy varies from country to country," Vauraste observes.
Oil drilling in the chilly northern waters has spurred a heated debate. The Obama administration has allowed Shell to drill in the Chukchi Sea for the first time in nearly a quarter-century. Last month the environmental group Greenpeace tried to block the Fennica's departure from Portland to Alaska, following similar action in Seattle. It argues that the risks of drilling in the region are too high in the fragile Arctic ecosystem, which already faces rapid climate change – largely driven by fossil fuel emissions.
Related stories from around the North:
Asia:  Full steam ahead for Asian icebreakers in the Arctic this summer, Blog by Mia Bennett
Canada:  Ship trouble in the Arctic on the rise: report, Alaska Public Radio Network
China: China's silk road plans could challenge Northern Sea Route, Blog by Mia Bennett
Finland: New Finland icebreaker can operate sideways with asymmetrical hull, Yle News
Russia:  New vessels for Russia's Coast Guard, Barents Observer
Sweden: Swedish icebreakers gear up for Arctic role, Radio Sweden
United States:  No 'national imperative' for icebreakers: U.S. official, Alaska Dispatch News