Obama leaves Arctic, what comes next?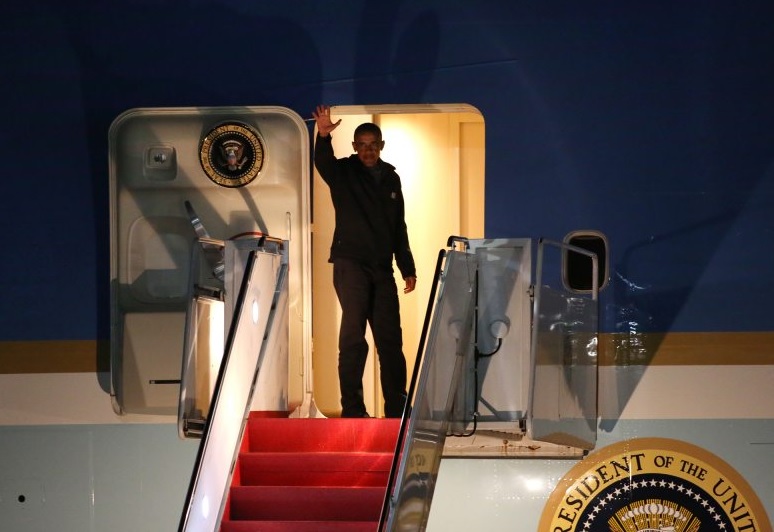 The motorcades are gone and Denali gets to stay, but what else? What really comes of Alaska's big presidential visit?
That's the question that many Alaskans — particularly the congressional delegation — will have to parse throughout the rest of the year.
Will Alaska get its icebreakers? Will struggling Native communities get the help they need? Will Feather grow up to be a good sled dog? Has that girl from Snow City washed her lucky hand yet?
For the first time in weeks, Anchorage woke up to a rainy, gray day on Thursday, and by many estimates, the city seemed a bit deflated — a bit day-after-the-party, confetti swept away, only ghosts of excitement adding to the chill in the air.
White House charm offensive
In less than a week, many Alaskans went from preparing to be annoyed to giddy, angry to excited, worried to curious. They wanted to see a motorcade, get a glimpse of Obama, find out where he'd go next.
Part of that was due to an all-encompassing White House charm offensive.
The day before Obama arrived, the White House announced that Interior Secretary Sally Jewell had signed an order changing the official federal name of Mt. McKinley to Denali, its Koyukon Athabascan name. More gifts followed.
Then he did some of Alaskans' favorite things while playing the grateful guest: He went for a hike, marveled at the landscape, danced with Native children, held babies and calmed a husky puppy. The climate message was peppered between gelato and whale spotting.
And the greatest fears about the trip were not realized: Obama did not issue some sort of executive order shutting down drilling or locking down more territory as federal land.
"Ground zero" for climate change
Obama may have called it "Mount Denali" and "salmon jerky" and mispronounced "Kenai" and "Kotzebue" and "Inupiaq," but those are not unforgivable sins. He balanced it with Alaskan acts, like wearing a Carhartt jacket and filming a reality TV show.
Nevertheless, many — particularly Alaska's all-Republican congressional delegation — were displeased with the idea of the president using the state as a backdrop for his climate change message, a sound stage for broader regulatory authority.
And that he did.
"I think that everybody who has a chance to come up here will marvel at the incredible natural beauty of the state of Alaska, but the reason we're here in particular is to describe in real concrete terms what's happening with climate change," Obama said in a video posted on his Twitter account Wednesday, after returning to Washington. He called Alaska "ground zero" for climate change.
That message was more direct on Monday as he gave the keynote at a conference in Alaska widely thought of as a stopover on the road to Paris, where the president hopes to garner an international climate agreement in December.
But what about those gifts? What will linger? What makes sense?
Icebreaker promises
The most striking "promise" was to propose accelerated action on icebreakers — a pet project of the entire Alaska delegation that they've so far been unable to get across the finish line in Congress, plagued with budget issues.
How this plays out will depend on a host of congressional dynamics and Obama's support is only one piece of that.
The 535 members of Congress will have to pass a budget, in some way, together. And then, most likely, another one, before they ever get to funding new icebreakers — estimated at $1 billion each.
Rep. Don Young has already introduced a bill aimed at finding a way to fund the costly icebreakers — mainly by moving them out of the relatively small pool of Coast Guard funding, which is never likely to cover that kind of construction in a post-earmark Congress.
Before Obama's visit, Young wrote in a letter that "for more than a decade, those who have operational interests in the Arctic have discussed the need for an aggressive program for icebreaker construction."
"Yet those discussions have evolved little and yielded nothing. It is time to change our collective thinking," Young and colleagues on the House Transportation & Infrastructure Committee wrote.
There is some chance.
National interests in the Arctic
In recent months, Obama has shown himself prone to find areas where he can agree with Republicans, such as on trade authority.
He called icebreakers a bipartisan issue — pointing to Alaska's Sen. Dan Sullivan and Sen. Maria Cantwell of Washington (Murkowski's counterpart on the Senate Energy and Natural Resources Committee).
Cantwell called it a "good first step in meeting our national interests in the Arctic, and good news for shipbuilding jobs. I will continue to push for building new icebreakers in Congress and work with the administration to move these new icebreakers through the budget process," she said.
But on other issues, Obama's effort to trot out grants and other funding aimed at marginalized groups within the state could be fairly small-time, and the limits of executive capacity for handouts.
The funds for the $100 million moves will have to come from somewhere else.
And for most of Obama's gifts to Alaska — such as the Denali name change — the processes and parts are already in place. Legal efforts to stop the Pebble mine in its tracks are well underway. Shell's early permits for Arctic drilling are already approved. The Energy Department has long been encouraging energy efficiency and renewable power in rural Alaska villages.
Beyond climate and icebreakers
Now, in the aftermath of Obama's whirlwind visit to the 49th state, its entire congressional delegation has headed out into the wilderness — literally — for the long weekend. (Not together, but each with his or her own family.)
When they get back to Washington, D.C., for the fall session, party politics will remain, no matter how many Iditarod puppies Obama snuggles.
What remains to be seen is whether getting sight of Alaska gave Obama any insight that would lead him to be more amenable to priorities beyond climate change and icebreakers.
"While I'm encouraged to see the president recognize some of the unique challenges our people and state have faced for decades, he fails to understand one of Alaska's greatest barriers — the federal government," Young said in a statement, pointing to the EPA and the Army Corps of Engineers.
"As the President returns to Washington, D.C., I hope he shares the message that as Alaskans, a proud and self-reliant people, we seek opportunities to responsibly develop and live upon our lands for generations to come. I hope the kindness and generosity of our people was not mistaken for the acceptance of his policies," Young said.
Already, though, the problems of the Arctic are likely in Washington, D.C.'s rearview mirror.
Will Arctic issues remain on radar?
White House Press Secretary Josh Earnest began his briefing to reporters Thursday afternoon noting that "It's mind boggling to think that about 13 hours ago, I was standing north of the Arctic Circle. But I'm certainly pleased to be here in the much warmer Washington, D.C., climate today," he said. The highs there reached the 90s Thursday, presumably putting the Arctic far from the thoughts of many.
Questions from reporters quickly turned to Syrian refugees, the Iranian nuclear deal and whether Congress could avoid another shutdown over budget impasse.
Alaska made an appearance only in reference to the Chinese navy ships floating in the Bering Sea and in a comment about "connectivity problems in Alaska" while the president was in Kotzebue.
Obama didn't yet seem to forget — posting on social media about his trip — but the message was focused on climate change, with no mention of icebreakers.
Obama also did not discuss Alaska's efforts to build a natural gas pipeline, or deal with rampant sexual assault, or how to manage the line between protecting natural resources and protecting Native residents. There was no mention throughout Obama's trip of Alaska's shrinking military presence.
On Tuesday, Young said he was "encouraged to see the administration recognize some of the region's broader needs — icebreakers, deep water ports and navigational aids — and hope they do their part when it comes to tackling these significant infrastructure hurdles."
But he remained skeptical that the president would "truly understand the social and economic realities of Alaska and the Arctic."
Related stories from around the North:
Asia:  Asia ahead on preparing for polar climate change, says U.S. Arctic rep, Eye on the Arctic
Canada: The Arctic Council – What was accomplished and where we go from here, Eye on the Arctic
China: China's silk road plans could challenge Northern Sea Route, Blog by Mia Bennett
Denmark:  The return of the Arctic Five, Blog by Heather Exner-Pirot
Finland: US seeks Finnish support for Arctic goals, Yle News
Norway:  China eyes Arctic Norway infrastructure projects, Barents Observer
Russia:  The Arctic Council's Immunity to Crimean Flu, Blog by Heather Exner-Pirot
Sweden:   Arctic Council – From looking out to looking in, Blog by Mia Bennett, Cryopolitics
United States:  Obama brings funding promises to Arctic, Alaska Dispatch News