Lapland TV host becomes nature enthusiast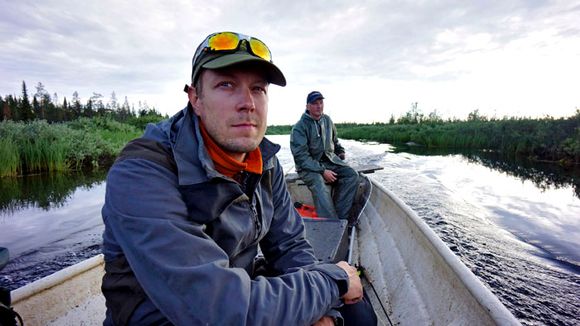 Television personality Mikko 'Peltsi' Peltola says he inherited his love of nature from his grandfather.
Known for his years as a radio announcer and programme host, Peltsi has recently become a certified angler guide and fish book author, in addition to hosting his popular Lapland TV nature series.
Media personality Mikko 'Peltsi' Peltola says the best freshwater fishing waters in Finland are the ones where the water is so clean and pure you can drink it.
"But you can't do that in the south, so you have to go north," says Peltola, an acknowledged Lapland fan.
Peltsi grew up in Helsinki, but inherited his love of nature from his grandfather. Hunting for berries near his family home and fishing at his family's summer cabin allowed him to gain an appreciation for nature.
"My grandfather was a real outdoorsman. My dad always used to laugh that the family's wilderness bug skipped a generation."
His latest TV projects include hosting the Seinäjoki tango singer competition and his nature series about Finnish Lapland. Many may also remember him from his years on the radio waves at Radio Mafia or YleX.
Nature protector
These days Peltsi is a godfather of the country's national parks. His goal is to visit each of Finland's 38 national parks personally and he's already got half of them under his belt.
What many may not know about him is that he completed a vocational qualification as a fishing guide in 2012, and in autumn 2013 he wrote a book on hot fishing spots "Peltsin kala-apajat", together with Mika Wickström.
"I've always enjoyed the outdoors, but in my twenties I spent more time in nightclubs. These days I've turned back to the wilderness… For the last twenty years, I've been full-in when it comes to my commitment to nature."
Peltsi's latest do-good nature event was earlier this autumn, when he participated in the Virtavesitalko volunteer event in the capital city region.
"We created spawning grounds for the trout. Right here in the middle of Helsinki, there are many small urban streams that are just one meter wide in places, where sea trout can spawn. When you see that a highly endangered species of fish is spawning in a place that you just carried gravel to a few months earlier, it is truly a great reward."
He says that witnessing the fish spawning is one of the best kinds of entertainment certain kinds of fishermen know.
"When the trout are spawning, they aren't nearly so skittish. You can get a really close look at them – almost reach out and pet them," he says.
Related stories from around the North:
Canada: New national park planned in Canada's High Arctic, Eye on the Arctic
Finland: Five invasive species threatening Finland's nature, Yle News
Norway:  Rapid growth in Svalbard walrus population, Barents Observer
Sweden:  Campaign helps immigrants enjoy Swedish nature, Radio Sweden
United States:  Southeast Alaska fund program gets cash infusion from Nature Conservancy, Alaska Dispatch News