Statoil quits Arctic Alaska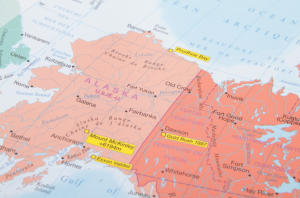 Norwegian oil company Statoil has announced the closure of its Anchorage office as it withdraws from Alaska, exiting leases in the Chukchi Sea "no longer considered competitive within Statoil's global portfolio."
According to a post on Statoil's website, the decision was the result of "recent exploration results in neighboring leases."
"Since 2008 we have worked to progress our options in Alaska. Solid work has been carried out, but given the current outlook we could not support continued efforts to mature these opportunities," Tim Dodson, Statoil's executive vice president for exploration, said in the statement.
Decision follows Shell pullout
The decision follows Royal Dutch Shell's decision to abandon oil exploration in Alaska's Arctic, a move made in September after what the company called disappointing results from its 2015 drilling season in the Chukchi.
Statoil spokesman Peter Symons said Tuesday the results of Shell's drilling were a key factor in the company's decision to leave Alaska.
The company's departure leaves behind 16 Chukchi Sea leases operated by Statoil itself, as well as 50 more operated by ConocoPhillips — awarded in the 2008 Alaska lease sale and valid through 2020 — as part of a global restructuring of the company's portfolio Symons said was focused on "financial strength and long-term performance."
"Based on current conditions in the market, in terms of price and the work that's done in the area, that was the primary driver of the decision," Symons said.
"Wait-and-see" approach
After arriving in Anchorage, Statoil followed Shell's lead and adopted what it called a "wait-and-see" approach to drilling in the U.S. Arctic Ocean.
Officials said in 2012 they would move forward with exploratory drilling only if Shell hit it big with a discovery on par with productive fields in the Gulf of Mexico.
After Shell grounded its drill rig on an island off Kodiak Island, Statoil in early 2013 began warning it might abandon leases in the Chukchi Sea.
Just two people work at Statoil's Anchorage office, its only direct employment in Alaska. Symons didn't have word Tuesday morning on whether they would be offered other positions within the company.
Exiting leases
Symons said the company will be in contact with local authorities as it explores "appropriate ways" to exit the leases. He said Statoil had limited data on the reserves in the 16 Statoil-held leases.
"To date, in terms of the Statoil leases, we have not done any drilling," Symons said. "We have done some exploratory seismic and (other) work."
Although low oil prices will likely rule out Statoil returning to Alaska for the "foreseeable future," Symons said the company could eventually come back.
"It's estimated that about one-fifth of the world's remaining oil and gas is located in the Arctic, so it's certainly a promising location for future operations," Symons said. "It's certainly not out of the realm of possibility."
Alaska disappointed
Statoil's announcement was met with disappointment from Gov. Bill Walker.
"This further emphasizes the need to develop our onshore opportunities, such as the 1002 section of ANWR," said Walker.
Statoil acquired interest in 66 Chukchi tracts for $23 million as part of the 2008 lease sale in which Shell spent $2.1 billion for its Chukchi prospects.
The company was a minority partner on 50 leases at ConocoPhillips' Devils Paw prospect southwest of the Burger prospect, where Shell punched its disappointing hole this summer.
Statoil also held 16 leases north of the Burger prospect, in an area about 100 miles northwest of the coastal village of Wainwright.
Statoil helped fund an environmental study program for the Chukchi area started by ConocoPhillips in 2008. In 2010 and 2011, it conducted seismic and environmental work at its Alaska leases, and kept about a dozen employees in Anchorage.
But Statoil became more cautious the next year, citing "uncertainty" in the federal regulatory process and concerns about whether exploration could be efficiently carried out in the region.
Environmental groups welcome decision
As for ConocoPhillips, Alaska communications director Natalie Lowman said on Tuesday the company's Chukchi Sea plans were on hold prior to today's announcement.
"They remain on hold," Lowman said.
Meanwhile, environmental groups celebrated.
Sierra Club executive director Michael Brune warned that anti-Shell movements including the kayaktivist protest before an oil drilling ship in Oregon and the "Shell No" campaign are just the beginning of efforts to protect special places from oil and gas development.
The Obama administration recently canceled two potential Arctic offshore lease sales scheduled under the current five-year offshore oil and gas leasing program for 2012-2017.
Shell and Statoil's departure should make it easier to remove Arctic Ocean leasing from the draft five-year plan starting in 2017, said Brune.
-By Alex DeMarban and Chris Klint from Alaska Dispatch News
Related stories from around the North:
Canada:  Energy challenges in Canada's North, Eye on the Arctic
Finland:  One of world's largest geo-bio-energy facilities slated for Finland, Yle News
Norway: Japan wants wind power from Arctic Norway, Barents Observer
Russia: No alternative to Arctic oil says Russia environment minister, Barents Observer
Sweden:  Will Sweden be able to produce enough energy in the future?, Radio Sweden
United States:  Myths about Shell's Arctic Alaska pullout persist, Alaska Dispatch News