Arctic tea toss photo becomes Internet sensation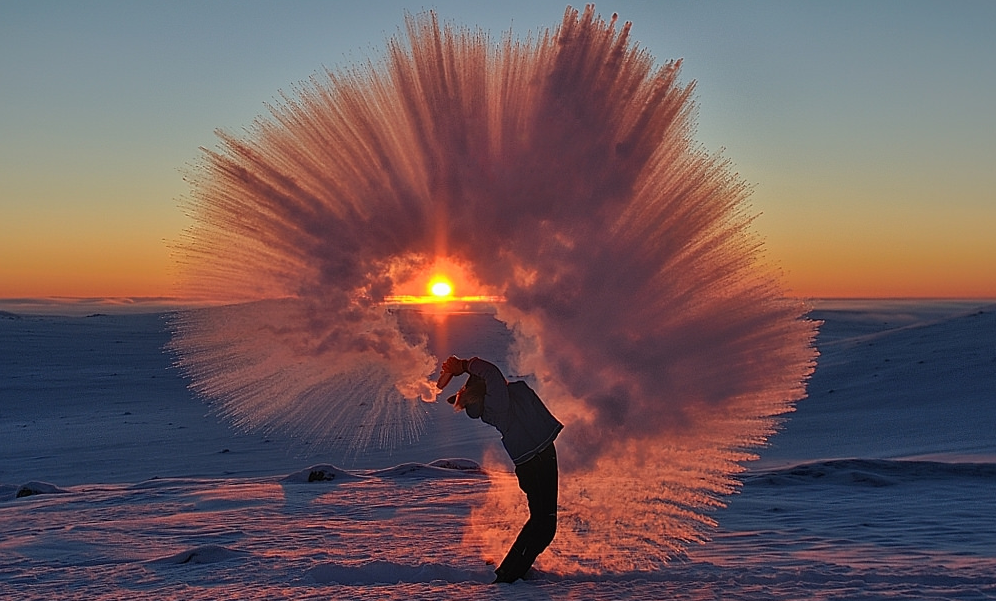 Next time you take a photo that you don't like at first, don't erase it, give it another chance.
Just ask Michael Davies.
The Canadian photographer based in the tiny hamlet of Pangnirtung, in Canada's Arctic territory of Nunavut, almost deleted a picture that has now become an Internet sensation.
The photo shows Davies's friend, Markus Siivola, throwing hot tea into the air as he bends backwards.
In the –40 C weather, the hot water freezes and evaporates creating an almost magical mini-cloud.
"I think it appeals to people because there is so much going on," said Davies, who admits at first he didn't like the picture that much. "It almost looks like that hair flip when people get their hair wet in the Caribbean and flip their hair back, so it's almost like an Arctic version of that. But there is also the signs of the evaporation going on, there is the pretty colours in the sunset, there is the way that arc formed."
Speaking to RCI from his house in Pangnirtung, where he's been answering phone calls from media organizations from all over Canada, Davies said he and Siivola travelled about 45 minutes by snowmobile to a mountain near the town.
It was a race against time to catch the setting sun, which at this time of year appears for only about 2½ hours, he said.
They were carrying five or six thermoses of hot water, each carefully wrapped in two layers of insulation.
"My biggest worry was tea getting too cold," Davies said. "You need it to be hot enough to really vaporize when you throw it in the air."
Davies, originally from Pontypool, Ontario, is a trained painter, photographer and glass blower. He has lived in Pangnirtung for about 10 years with his wife and two young children.
Davies said they moved to the Arctic after his wife graduated from a teacher's college and was looking for work.
"We just kind of randomly decided, 'Let's go somewhere that nobody goes but everybody talks about.'"
Davies said the first thing that struck him when they moved to Pangnirtung was the people.
"It has the warmest people on the planet, people here, their hearts are huge. The people here are just the kindest people you want to meet."
Related stories from around the North:
Canada:  Feature Interview – Canadian artist explores Greenland's past, Eye on the Arctic
Finland: Photographer's Finland images light up NASA website, Yle News
Russia:  Photographing Arctic water creatures, Alaska Dispatch News