Helsinki consumers cool on solar energy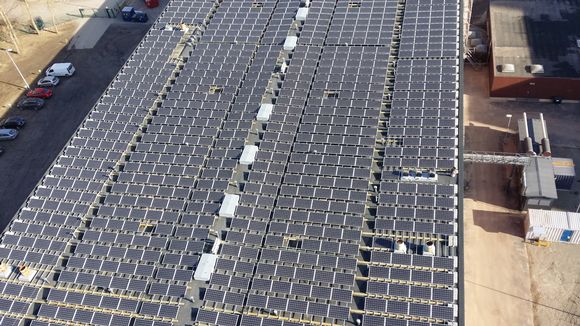 When the Helsinki energy company Helen launched a new solar power plant in June last year, consumers snapped up nearly one-third of the roughly 3,000 solar panels in just a few days.
Since then however, interest in panels has dimmed and the city power company is still looking to sell nearly 2,000 panels remaining.
Helsinki energy company Helen had high hopes for the solar panel farm it installed on the roof of the Kivikko ski hall in eastern Helsinki in June last year. The 3,000-panel installation would have dwarfed the previous largest plant in Suvilahti, which boasted 1,200 panels.
During a pre-sales promotion that took place in May, some 1,000 consumers made reservations to rent the solar panels. However following the initial bloom of enthusiasm to invest in solar energy, consumers appear to have cooled on the idea. Now Helen is looking to attract buyers for the nearly 2,000 units still available. Customers are able to rent the panels for a monthly fee of 4.40 euros.
Project director Atte Kallio said he could not explain why consumers lost their appetite for the panels.
"I don't know whether it was the winter or what, but they didn't all sell. We believe that they will be sold eventually. We believe that people want to make a difference. Many Helsinki residents want all of the city's energy to come from renewable sources," he said.
According to Kallio, many city dwellers could also be totally unaware of the existence of the new power plant.
"The first most enthusiastic buyers have found the solar panels, but I believe that there is a large group of people who haven't yet heard about this. It could take a little time for a large mass to get on board or perhaps they won't at all. Let's see what happens," he added.
Consumers in Finland appeared to be in the grip of a solar panel fever in autumn 2014, when people rushed to rent panels at Helen's Suvilahti solar power plant. At that time, all the panels were rented out in just three days.
More solar plants on the drawing board
Kallio said that the current slow pace of solar panel rentals won't throw a spanner in the works for the Kivikko project or other planned solar power plants. Helen has plans in the pipeline for at least one additional plant.
"We will see more power plants. We also have five power plant projects ongoing, but we cannot publicise them just yet," Kallio remarked.
Kallio admitted that the city power company may have missed the mark when it estimated that there would be sufficient demand to take up all of the Kivikko plant's 3,000 solar panels.
"In terms of Kivikko, we did think about what size plant we should build. The roof of the Kivikko ski hall had supports ready for panels over the entire area, so we decided to use the full area. It's not the end of the world if a few panels are not sold. It's only good for us if we have more customers to sell to," Kallio added.
Related stories from around the North:
Canada:  Energy challenges in Canada's North, Eye on the Arctic
Finland:  Helsinki City Council to close coal plant, Yle News
Norway: Japan wants wind power from Arctic Norway, Barents Observer
Russia: No alternative to Arctic oil says Russia environment minister, Barents Observer
Sweden:  Will Sweden be able to produce enough energy in the future?, Radio Sweden
United States:  New Alaska rules may help renewable energy projects, Alaska Public Radio Network