Jutai Toonoo, iconoclastic Arctic artist, dies in Nunavut
VIDEO: Eye on the Arctic documentary interview with Jutai Toonoo, 2010

Jutai Toonoo, the iconoclastic artist from Arctic Canada, died in Cape Dorset, Nunavut over the holidays.
Friends and colleagues say he died of a heart attack while working at his drawing table.
Toonoo was born in Canada's eastern Arctic in 1959 and became one of his generation's most controversial and groundbreaking artists and carvers.
Though the subjects and mediums he took on varied over his career, he was known for his abstract images of heads and figures and for including words or phrases about social, personal and political issues in his work.
Recent themes he explored were as varied as cancer, community landscapes, and everyday objects.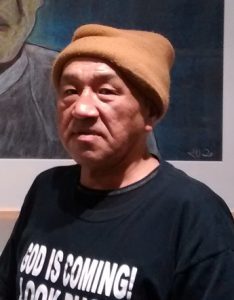 "The most important thing people need to know about Jutai is he was smart and he was talented," said Joemie Tapaungai, the assistant studio manager at Cape Dorset's Kinngait Studios in a phone interview.
"He'll be most remembered for his unpredictable work and for telling what was happening around his world, telling his story."
Breaking new ground
In an Eye on the Arctic documentary interview in 2010,  Toonoo talked about his frustration with the political and social problems in the North and questioned how much artists like him could have an impact.
"Sometimes it becomes like a prison," he said of working in studio on his art. "There's people out their doing stuff that makes a difference the world. But I'm just in here. Just observing. It kind of sucks sometimes."
But for curators, museums and the art-going public, it was Toonoo's "just observing" that made his work so powerful.
"This was a man who was a very talented artist and who was an intellectual," said Pat Feheley of Feheley Fine Arts in Toronto, Ontario during a phone interview this week. "Who, despite medical problems and a lot of hardship, managed to continue being positive, looking forward, investigating the world and enlightening many of us by the questions he asked.
"So it's more than just his art. It's how he affected all of us around him because he made you think about things. Not a lot of people in this life do that."
International career
Artistic talent ran in Jutai Toonoo's family.
He was the son of Toonoo Toonoo a well-known Inuit carver. And his sister, Oviloo Tunnillie, was also a well-known sculptor.
Jutai Toonoo once described the beginning of his art career simply as ""My father was a carver, and I just carried on with what he did."
He later began watching the printmakers at Cape Dorset's famed Kinngait Studios and became involved with print making.
He has had group and solo exhibitions across Canada, the United States and France.
His work is also found in the collections of major Canadian museums like the Winnipeg Art Gallery, The Art Gallery of Ontario in Toronto and at the National Gallery of Canada in Ottawa.
'I don't really care about the art world'
In the Eye on the Arctic documentary interview, Toonoo downplayed his acclaim and said he was just happy that he was able to explore the issues around him instead of being like 'some of the carvers stuck doing walrus or inukshuks.'
"I don't really care about the art world," Toonoo said at the time. "Whatever people think of me, I don't care."
"This is just something I do. Lots of times it's just something I've observed in the community or the world and I just put it on whatever I'm working on.
"Put it out there just so that it's showing. And not hidden."
Jutai Toonoo is survived by his wife, children, grandchildren and extended family. Funeral arrangements have not yet been announced.
The New Raw: Cape Dorset 2010 documentary series
The New Raw – Contemporary Inuit Art
The up-and-comer – Ningeokuluk Teevee
The Pioneer – Kenojuak Ashevak
The Printer – Niveaksie Quvianaqtuliaq
Write to Eilís Quinn at eilis.quinn(at)cbc.ca
Related stories from around the North:
Canada:  Arctic artworks featured at Canadian auction, Eye on the Arctic
Finland:  London gallery offers multimedia Sámi art, Yle News
Greenland: Canadian artist explores Greenland's past, Eye on the Arctic
Russia: Karelian art on show in Russia, Yle News
Sweden:  Swedish Sámi visual artist shaping climate changes, Radio Sweden
United States:  Feature Interview – Alaskan artist Nicholas Galanin, Eye on the Arctic