7,500 asylum seekers may enter Arctic Finland in 2016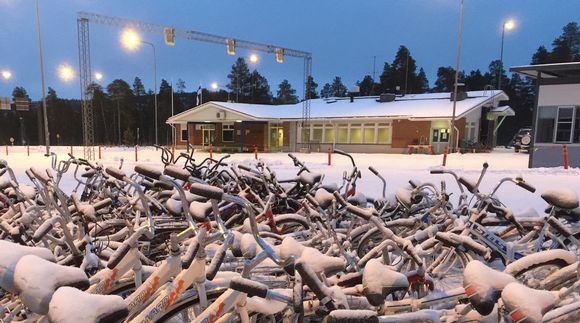 Projecting from present rates, the number of asylum seekers entering northern Finland across the border with Russia could shoot up from the some 700 seen in 2015 to 7,500 or more this year, according to the Finnish Border Guard.
Since November 2015, close to 900 people from 30 different countries have crossed Finnish Lapland's border with Russia to apply for asylum in Finland. According to officials of the Lapland Border Guard District, the stream of arrivals is being directed by organized crime elements in the countries of origin of the asylum seekers, in Russia, and in Finland.
Nearly half of arrivals are citizens of Afghanistan. Some of them have been living for months or years in Russia, others have flown from Kabul via Moscow to Murmansk from where they then make their way to the Finnish border. Border Guard Crime Prevention Officer Jarmo Juujärvi says that many of these asylum seekers have purchased a "full service package" at a cost of around 10,000 dollars.
"For example, an Afghan family pays organizers in advance for travel to Moscow and on to Murmansk. There are no other expenses along the way. They go to the place agreed upon and from there are directed to the next," Juujärvi explains from accounts told by asylum seekers.
The Finnish Border Guard says that investigations into illegal entries are only just being started and declined to provide any detailed information on cases being looked at.
Finland a new magnet
Significantly larger numbers of asylum seekers have entered Finland across its western border with Sweden. However, the numbers have been on the rise at the Raja-Jooseppi and Salla crossing points on the far northeastern border since Norway began fast-tracking the return of rejected asylum seekers on its own border with Russia.
"The determined decision by Norway staunched that route by the end of November. At the same time that already established channel shifted to the remaining closest border crossing points, [Finland's] Raja-Jooseppi and Salla," explains Colonel Jari Tolppanen, the commander of the Lapland Border Guard District. Last year before implementing stricter measures some 5,600 asylum seekers arrived in Norway at Storskog, its only border crossing with Russia.
According to Colonel Tolppanen, Finland is now the most attractive destination for asylum seekers among countries bordering Russia to the west, and traffic on this northern route may rise. However, Tolppanen stresses that it is difficult to make a reliable estimate of the numbers that might be drawn to Finland. It is thought, though, that the economic difficulties Russia is experiencing could prod more migrant workers from Central Asia who have been living in Russia to head west.
Russian controls
Following a ban by Finland on crossings by bicycle at the northern border points, asylum seekers have been arriving at Raja-Jooseppi and Salla in old cars that have reportedly been supplied by human smugglers. Even those who themselves apply for asylum may be involved in human smuggling. More than 30 drivers of vehicles are under suspicion of aiding in illegal entry.
Finnish authorities want Russia to prevent anyone without a Schengen visa from leaving for Finland, but Russian officials say that cannot be done. However, Colonel Tolppanen says not everyone gets past Russian border officials.
"According to information known to the Lapland Border Guard, the number of asylum seekers is regulated on the Russian side [of the border], but on what basis that is done, I'm unable to say," Tolppanen told Yle.
During the first week of this year, the number of people who arrived at Salla and Raja-Jooseppi seeking asylum was a quarter of the total for the whole of 2015. Nearly 100 of the asylum seekers traveling this route last autumn have received a decision on their applications from the Finnish Immigration Service. Only a few were granted asylum in Finland.
Related stories from around the North:
Canada: Should Canada have a plan for climate refugees?, Radio Canada International
Finland:  Record number stripped of Finnish citizenship, Yle News
Norway:  Refugees find Arctic gate to Schengen, Barents Observer