Finland's longest ice-road to open next week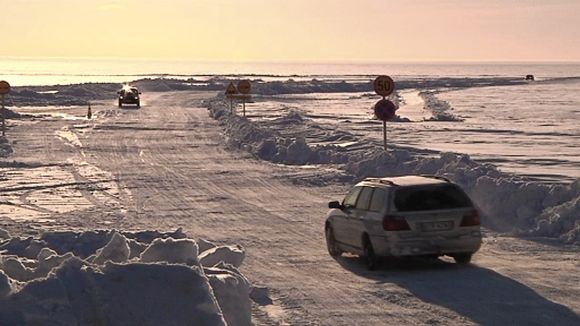 The sea-ice off the coast of Oulu is almost thick enough to support vehicles along Finland's longest frozen road – which in recent years has fallen foul of unusually warm winters.
Finland's longest ice road, allowing vehicles to drive across the frozen sea, is due to open next week – nature permitting.
The road, officially classed as part of route 816, stretches over approximately 7km of iced-over sea between Oulunsalo on Finland's west coast and the island of Hailuoto.
In order to support traffic, the ice must be 40cm thick. Measurements taken on Monday showed that there is still 10cm to go before this year's road is safe.
"Clearing the snow off the ice speeds up the freezing process," says Juha Toppi of Touhu-palvelut, who is in charge of the route. "But the sea is already almost free of snow. We can't do much to help things along. We're just waiting for Mother Nature's help," he says.
If the current cold spell continues, Toppi says, then the road could be opened next week. But the surface still needs to be evened out in places.
Hotly awaited
The ice road's opening is hotly awaited by locals every year, as it speeds up journeys and means people aren't reliant on the ferry to reach the island. However, in recent winters, the shortcut has fallen foul of unusually warm temperatures.
In 2008, instead of remaining open until March, the route lasted only around ten days before it became unsafe.
And in 2015 the ice road never materialised at all.
"Last year may have been the only one where we couldn't open any road whatsoever," Toppi says. As a result, this year he's reluctant to say how long the route will last.
But despite the yearly uncertainties, a long-discussed idea of replacing the ice road with a bridge across the water doesn't get the support of Juha Toppi.
"I'd rather focus on natural ways of getting about," he says.
Related stories from around the North:
Canada: (Video) Driving on the ice road in Canada's Northwest Territories, Eye on the Arctic
Finland:  Ice dangerously thin in south Finland, Yle News
United States: High temperatures sink vehicles traveling ice roads in Western Alaska, Alaska Dispatch News