Blog: NSR – Twinned development of shipping, oil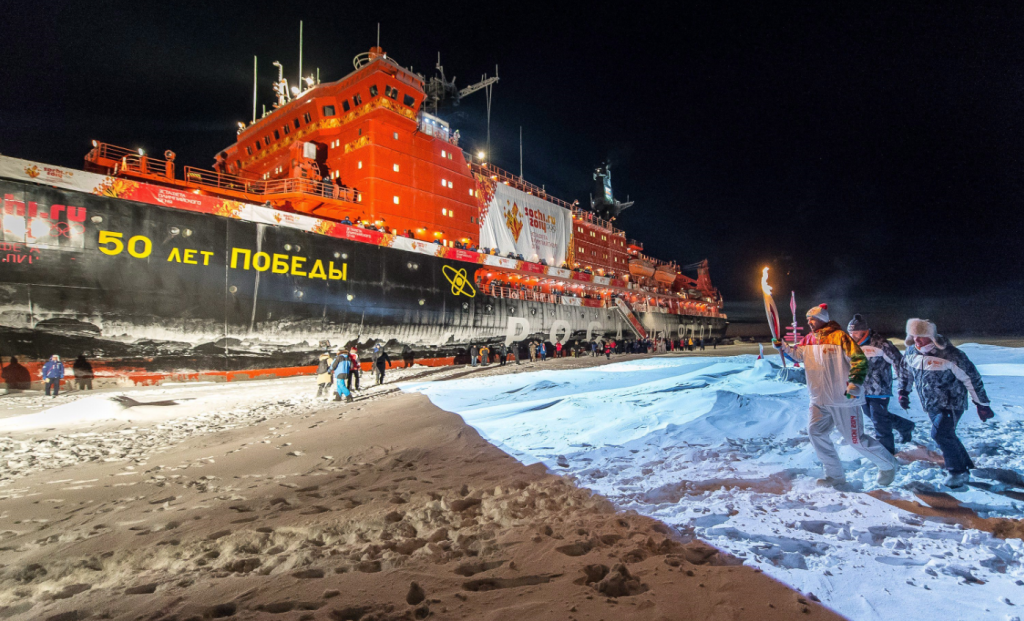 In December, a record heat wave was cascading through the Arctic at a time when snow and ice would normally have blanketed much of the region.
On land, temperatures in 2015 were almost 2°F higher than normal. At sea, partly thanks to these unusually warm wintertime conditions, the Russian nuclear icebreaker Vaygach set a new speed record along the Northern Sea Route. Leaving the eastern entrance to the route from Cape Dezhnev, Chukotka on December 17, it made it to the White Sea in time for Christmas – covering 2,200 nautical miles in a mere 7.5 days.
A voyage this fast – and for that matter, any transit of the NSR at a time when the Arctic would normally have already descended deep into winter – is remarkable. One nuclear submarine captain remarked to the Russian news outlet B-Port:  "This is a very late period of navigation. In December, in the area of ​​experience of nuclear icebreakers can be counted on one hand."
It's also interesting to remember that in October 2014, the largest Russian nuclear icebreaker,50 Let Pobedy, set a record by sailing from Murmansk to the North Pole in just 4.5 days while carrying the Olympic torch. Thinner ice in the Arctic means that transits can potentially be faster, but the possibility of fast-moving ice floes presents a new set of hazards for ice captains.
Vaygach's winter voyage allowed it to deliver fuel to a number of ports along the NSR for the Russian Ministry of Defence. It also assisted with work on Gazprom's Novy Port in the Kara Sea, where a new terminal that will be able to handle up to 8.5 million tons of crude oil annually from the nearby Novoportovskoye oil and gas field has been built. Testing of the port is scheduled to begin early this year. Novy Port is located at Cape Kamenny on the Yamal Peninsula, approximately 250 miles south of Novatek's Sabetta port.
This is where the long-planned Yamal LNG project is scheduled to come online in 2017, with LNG to be shipped eastward along the Northern Sea Route on Korean-built, Chinese-owned Arctic-class LNG tankers. Together, the Novy Port and Yamal LNG projects demonstrate the interdependence of the development of fossil fuel resources on the Yamal Peninsula and shipping along the Northern Sea Route.
China to finance development of new Russian infrastructure and energy resources
Another interdependency in the development of Russian Arctic oil and Russian Arctic shipping concerns China and Russia. In December, the Russian Minister of Development for the Far East, Alexander Galushka, and the Head of the State Committee for Development and Reform, Xu Shaoshi, signed a memorandum of understanding (MoU) to strengthen Russian-Chinese regional, industrial and investment cooperation in the Russian Far East. According toFreightWeek, a joint working group was also created to examine how to achieve 10-15% transit cost reductions along the NSR.
The MoU is also intended to spark research into the development of the so-called "international transport corridors" of Primorye-1 and Primorye-2. Primorye-1 is a maritime route that will extend through the Sea of Japan from Harbin, China overland to the Russian port of Vladivostok (which is now a free port allowing for visa-free travel for up to 72 hours) and then back to a port in southern China. Primorye-2 will go from Hunchun, China overland to the port of Zarubino, Russia, from where onward shipments by sea to China will be possible. Russian Railways provides some crude maps of these planned corridors on its website.
In August, Minister Galushka remarked that these transport routes "represent a practical coupling of the Silk Road and the Eurasian Economic Union. This is of benefit to both the north-eastern provinces of China and the whole of Russia, including East Russia and the Primorsky Krai" (Primorye means "on the sea" in Russia, and Primorsky Krai is located in Russia's southeast, with coastlines facing the Sea of Japan and the Sea of Okhotsk).
A few days after the MoU was signed, China's state-owned, $40 billion Silk Road Fund, whose goal is to develop the "One Belt, One Road" project, received a 10% stake in the Yamal LNG project in exchange for a 700 million euro loan. Then, in January, a new consortium of  40 Chinese insurance companies and asset managers raised $6 billion to establish a new fund called China Insurance Investment Limited, which will finance energy and infrastructure projects overseas.
Yamal LNG will be one of the first projects it helps to inject with capital, which Russia will certainly welcome given the near-impossibility for the country's energy companies to obtain Western financing for their projects due to sanctions. Viewed alongside the signing of the MoU between Russia and China, the creation of China Insurance Investment Limited illustrates the comprehensiveness with which Chinese capital and business view the development of new transportation routes and new oil and gas resources. This type of long-range thinking will likely help advance economic development in the Arctic, but it will do so by continuing along the well-worn path of reliance on fossil fuels.
For the Arctic, we can predict all too well how that will end.
This post first appeared on Cryopolitics, an Arctic News and Analysis blog.

Related stories from around the North:
Asia: Asia ahead on preparing for polar climate change, says U.S. Arctic rep, Eye on the Arctic
Canada:  Ice, shipping and the Northwest Passage, Radio Canada International
China: Chinese company mulls more Arctic shipping, Barents Observer
Iceland:  Germany, Iceland cooperate on new transpolar port, Barents Observer
Russia:  New law would allow only Russian-flagged ships in Russian Arctic, Barents Observer
Sweden: Swedish icebreakers gear up for Arctic role, Radio Sweden
Russia: NSR – Russia to focus on domestic projects, Barents Observer
United States:  Arctic no shipping rival to Suez: expert, Alaska Public Radio Network