Sweden cannot receive 140,000 refugees this year: migration minister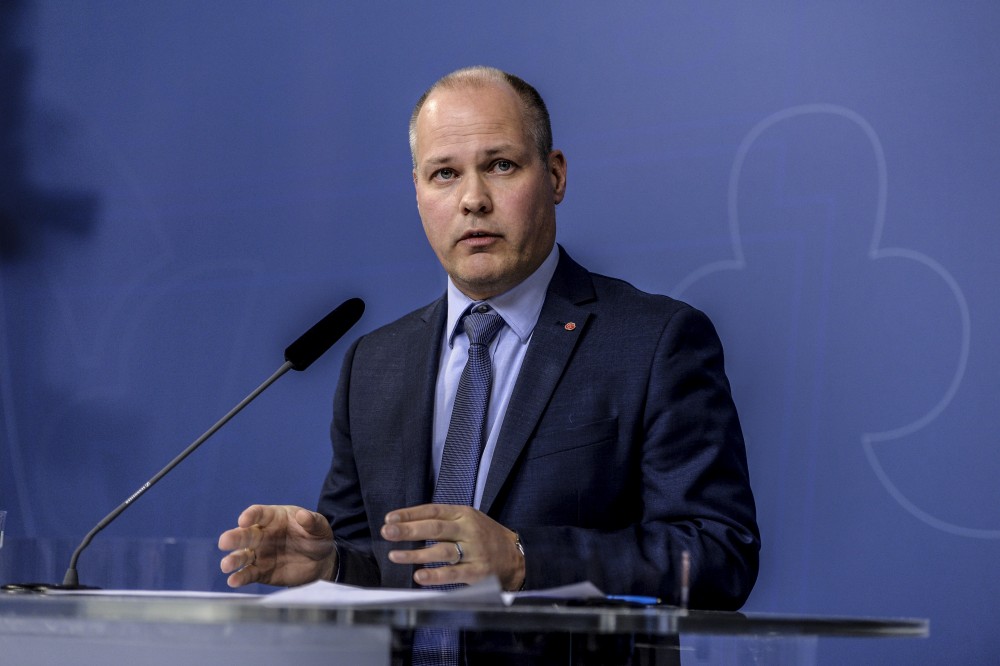 Sweden would not be able to take in 140,000 asylum-seekers this year, the country's minister in charge of migration and justice issues, Morgan Johansson (Social Democrat), told the Parliament of Friday, reports Swedish Radio News.
That figure is from a recent forecast from the Swedish Migration Agency, which gave three scenarios – one involving 70,000 people coming to Sweden to seek asylum this year, another involving 100,000, and the third involving 140,000. Only this weekend, the leadership of the Social Democrats' coalition partners, the Greens, had said that Sweden could manage with 140,000 asylum-seekers.
"If 100,000 come this year, then we can just manage the housing situation," Johansson said in answer to a question from the conservative Moderate MP Johan Forsell.
Johansson said that if more asylum-seekers came, approaching the neighborhood of 140,000, "then our housing would be filled up already probably by the end of the summer."
Moreover, Johansson said that he is prepared to take further measures if it looks like more than 100,000 refugees will be coming to Sweden this year.
"This government has shown that we have been prepared to take measures and sometimes make pretty difficult decisions so that we can get control over the situation," Johansson added, citing new legislation and ID checks.
Withdrawing benefits for failed asylum seekers
The government also wants to revoke failed asylum seekers' right to housing and benefits in order to encourage them to leave the country voluntarily, Johanson said.
"We're doing this because we need the housing for new asylum seekers," Johansson told Swedish Radio News.
Abdiqadir, who has been in Sweden for three-and-a-half years, and whose asylum request has been denied, told Radio Sweden that if the allowance of SEK 1,200 ($140 USD) per month that he receives from the Swedish Migration Agency were to be withdrawn, that would not encourage him to leave Sweden.
"If they take it away, it won't lead to me to return to the difficult situation I left in Somalia," Abdiqadir said. "I don't think that many others would do it either. We didn't come here for money, we came for safety."
The proposal to cut the benefits for failed asylum seekers is part of an agreement that the government and the Alliance opposition parties made this fall concerning Sweden's migration and integration policy. The details of the agreement were settled Thursday and now the proposal has been sent to the Council on Legislation. The new rules would apply from June 1st.
Around 4,000 people, half of whom live at refugee homes, would be affected were the legal amendment to go through, reports newspaper Dagens Nyheter.
Under the current system, those who avoid contact with the authorities in order not to be deported do not get a daily allowance, and the Migration Agency can also lower the daily allowance for people who otherwise try to thwart deportation.
Broken system?
The Swedish Migration Agency estimates that 1,200 spots in asylum accommodations will be freed up if the new proposal becomes law, but it also fears that it would encourage more people to go into hiding.
If the proposal goes through, failed asylum seekers who appeal their cases would get an allowance and housing until the migration court makes a final decision on whether to grant them asylum. Adults who live with their children would also continue to receive money until the day they leave the country.
Johan Forsell, the migration policy spokesperson for the conservative Moderate Party, told Dagens Nyheter that the system is currently not working as intended, and that revoking the daily allowance will be an incentive for failed asylum seekers to return home.
"There needs to be a difference between yes and no in the asylum process," Forsell told Dagens Nyheter.
Failed asylum seekers will still be given a set amount of time to leave Sweden freely. Out of the roughly 12,000 people who left in 2015, around a quarter were forcibly deported.
The migration minister believes more people will be forcibly deported this year because since an estimated 32,000 asylum applications will be rejected. Johansson told Dagens Nyheter that Sweden will need to build more detention centres in which to keep failed asylum seekers while they await deportation by the police.
"In the first instance, it should always happen in a voluntary way. If that doesn't happen, we can consider taking them into custody and carrying out (the deportation) using forceful methods," said Johansson.
Related stories from around the North:
Canada: 'A Canadian is a Canadian is a Canadian': Liberals repeal Conservative Citizenship Act, Radio Canada International
Finland: Finland wants Nordic cooperation in returning rejected asylum seekers, Yle News
Norway:  Refugees find Arctic gate to Schengen, Barents Observer
Sweden:  Councils in North Sweden fail to house refugees, Radio Sweden
Russia:  Putin orders security services to strengthen control over refugees in transit to Europe, Barents Observer