Doors closed on Arctic migrant route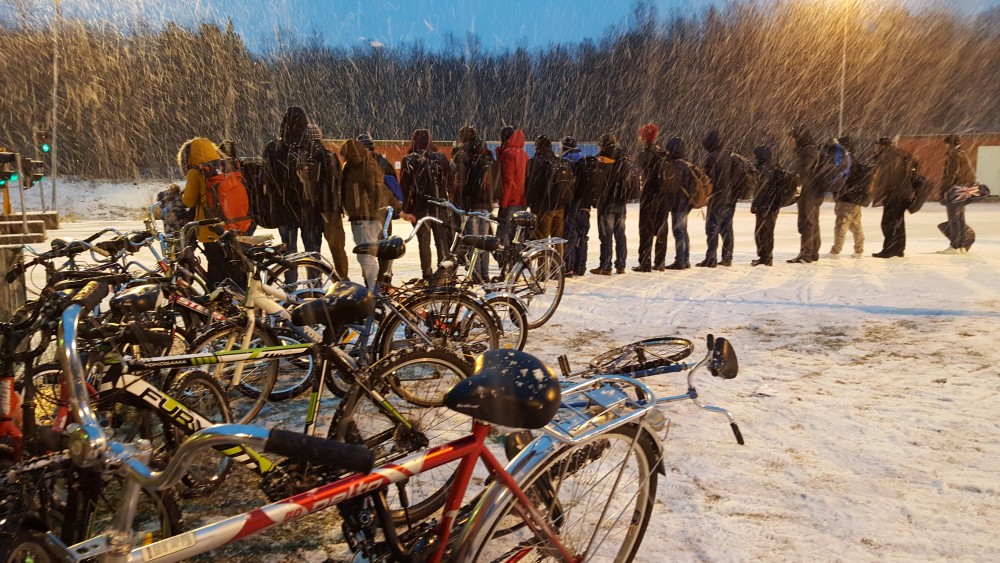 Russia's FSB Border Guard Service no longer lets migrants cross the border to Finnish Lapland.
Since Monday, not a single asylum seeker has been allowed to cross the border from Russia's Kola Peninsula to either Raja-Jooseppi or Salla in Finnish Lapland.
Just like on the border with Norway on November 29th last year, the flow of migrants has stopped from one day to the next.
Tuesday, Wednesday and Thursday this week has not seen a single border-crossing migrant, reports the Finnish Border Guard.
As reported by the Independent Barents Observer, Russian President Vladimir Putin last Friday ordered FSB to strengthen control over refugees in transit to Europe. Simultaneously, Murmansk police arrested a person accused of organizing human trafficking to Norway and Finland.
More than 1,000 persons traveling in transit via Kandalaksha south in the Murmansk region have applied for asylum after crossing the border to Lapland in Finland since Jan. 1. The last seven asylum seekers from the Kola Peninsula to Finland came on Monday this week.
Stuck in limbo in Kandalaksha
There are still many migrants in the town of Kandalaksha. The town has served as a transit-hub for those awaiting for transport further west to the border checkpoint Salla. Earlier this week, dozens of migrants organized a protest demonstration, holding posters "We want to go to Finland" and "Help, help!" reports the regional branch of Russia's state TV channel Rossiya 1.
Interviewed on TV, the migrants claim the organizers who were supposed to drive them to the border have taken the money and disappeared.
Others say they don't have more money, either for food or to pay for the accomodation.
The distance from Kandalaksha to the Finnish border is some 200 kilometres.
Related stories from around the North:
Canada: 'A Canadian is a Canadian is a Canadian': Liberals repeal Conservative Citizenship Act, Radio Canada International
Finland: Finland wants Nordic cooperation in returning rejected asylum seekers, Yle News
Norway:  Refugees find Arctic gate to Schengen, Barents Observer
Sweden:  Councils in North Sweden fail to house refugees, Radio Sweden
Russia:  Putin orders security services to strengthen control over refugees in transit to Europe, Barents Observer