Drone applications on the rise in Finland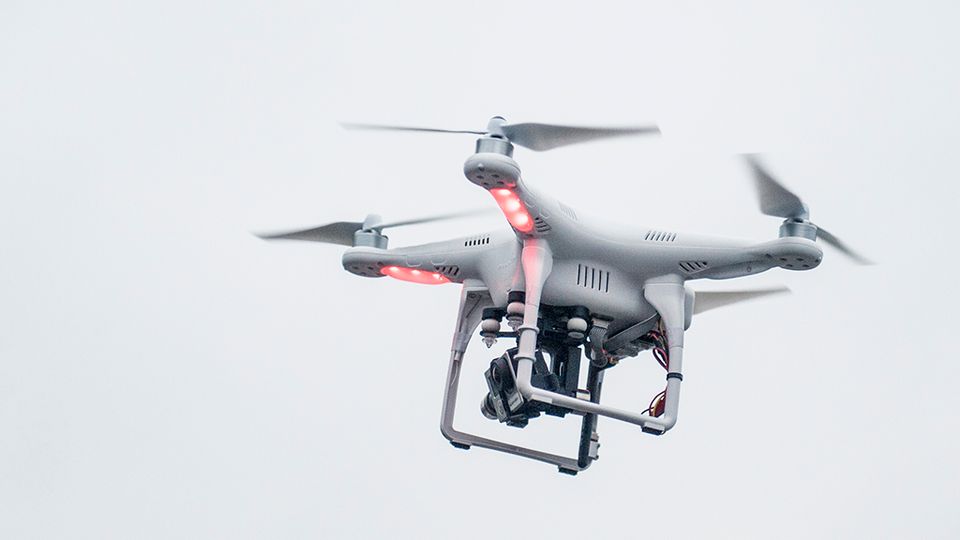 The uses for unmanned aerial vehicles, commonly known as drones, have multiplied in recent years and applications are being developed at a frantic pace. Finnish developers are hoping to cash in on the trend with drones that are well adapted to Nordic conditions and are specially designed for a range of purposes.
Drones, or unmanned aerial vehicles (UAV), are already used the world over for missions that are too dull, dirty or dangerous for manned aircraft. At the moment, they are mostly found in military and special operation applications, although civil and recreational uses are increasingly being developed.
Here in Finland, the Finnish Board Guard has introduced them to help secure its borders, and they have also proved handy for surveillance. UAVs supplement traditional security cameras, in that they make it easy to for example "peek around the corner" if movement is detected.
Several Finnish companies are now promoting the use of drones for observing and maintaining electricity and power lines, as well as terrain mapping. The United States has already pioneered the transport of packages by drone.
Others are exploring the use of UVAs in emergency situations and aerial fire fighting, and even more are using UAVs to assist with the design of housing complexes.
It looks more than likely that in the future, drones will be used for a number of tasks, including perhaps, even food production.
"The latest novelty is using microdrones for pollination in areas where bees are scarce. Another new idea is to develop drones that can both go underwater and fly," says Jari Lahti of The Finnish Aeronautical Association.
Potential for good and bad
Model enthusiast Tuomas Laatikainen from the city of Kajaani says drones will revolutionise package delivery within 10 years.
"There are many situations in which they can be used, bad ones, too. The American news reports daily about the fear that they will be subject to a drone bomb attack. It is definitely one of the most worrying features of the UAVs," he says.
The Aeronautical Association's Lehti agrees.
"Sure, you can use them for an evil purpose, just like with a gun. They are a tool that can be used for a variety of reasons," Lehti says.
Easier to fly and cheaper
It is already possible to buy a cheap drone on the market for less than 100 euros.
"I've had UAVs that cost 100 euros or less, but you really have to be skilled to keep them in the air. The newer models rise into the air by design and stay there, so you don't have to use so much effort. They are much better automated and easier to fly," says Laatikainen.
Commercial drones and their applications are set to become the next big export product for many Finnish companies.
Tekes, the Finnish Funding Agency for Innovation, has opened an UAV unmanned aircraft testing centre in the southern city of Mikkeli, and the first drones are expected for assessment this spring. The surrounding areas of South Savo and Southern Karelia provide plenty of open skies for extensive tests.
Tekes is confident UAVs will change the way the world does business and is pumping money into the industry.
Changing the world
Sharper Shape Ltd, for example, is quickly becoming a world leader in UAV-based automated inspection of power lines and natural gas and oil pipelines. The Espoo-based company already has offices in California and North Dakota and new projects are underway in India, France, Mexico and Belgium.
GoParking, a project from the Pohjonen Group, is making inroads in surveillance. A parking garage in Tuusula is being fitted with a shelter for drone that will be activated when motion sensors in the area pick up any unexpected movement.
"The security company can watch the drone's image, register that someone is in the area, and send a guard to check it out," says GoParking's operative director  Jesse Paananen.
An infrared camera on the drone will mean that it will be able to capture images even at night. CEO Teemu Pohjonen says the drone's can capture images at angles and go around buildings, something stationary cameras aren't able to do.
Terrain mapping in Europe
A company called Arbonaut out of the eastern city of Joensuu is making a name for itself in the field of forest inventory and natural resource management with its drone-assisted laser scanning of terrains.
"Monitoring and measuring technology is getting cheaper all the time and this creates new opportunities," says CEO Tuomo Kauranne.
The European Union estimates that there are over 2,500 companies working in Europe in the UAV industry, and turnover will increase by 20 percent in 2016.
The advantage of Finnish technological know-how in this area is its arctic specialization.
"In terms of weather durability, we definitely stand out from the others. Our drones work in minus 30 degrees Celsius and they can be washed off easily with normal water from a garden hose," says Pohjonen.
Related stories from around the North:
Canada:  Shipping company using drones in the Arctic, Eye on the Arctic
Norway: How satellites are changing what we know, and can do, in the Arctic, Eye on the Arctic
United Sates:  Drones over Alaska – UAVs may play big role in developing Arctic, Alaska Dispatch News