Kusko 300 boosts its purse again to a record $150,000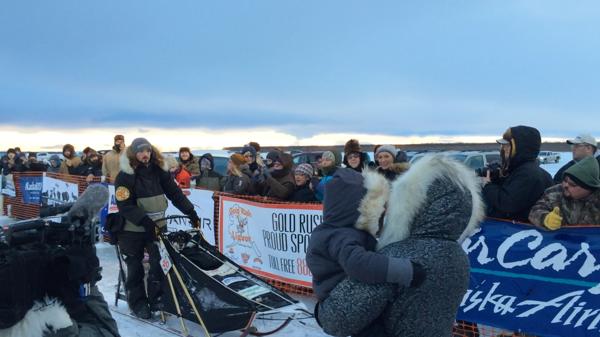 For the fourth time in five years, the purse of the world's richest middle distance sled dog race will jump again.
Organizers of the 38th annual Kuskokwim 300 announced on Thursday that they will hand out $150,000 in five months, split among the top 15 finishers. That's a $20,000 boost from this year's race.
"We're very proud of the race we've built out here," said race manager Madelene Reichard. "We've got some great local sponsors and statewide sponsors.
"People have a lot of fun coming out here. It's always an adventure."
A year ago, the K-300 passed the Yukon Quest International Sled Dog Race between Fairbanks and Whitehorse to become Alaska's second most-lucrative race, trailing only the Iditarod.
Last month, the Quest announced a $120,000 purse its 2017 race. The Iditarod purse was nearly $800,000 this year.
Fat purses have helped the Kukso 300 grow its field. Twenty-five mushers started the 300-mile race to Aniak and back along the Kuskokwim River this year. By contrast, the 2012 race attracted just 16 starters.
Typically, the Kusko lures top Iditarod racers in addition to most of the best mushers in Yukon-Kuskokwim region. Hometown hero Pete Kaiser, the two-time defending champion, plans to defend his title in January.
"I like racing against the best competition," he said, "and the best of the best have always come out here. It just keeps getting better and better."
Kaiser said most of his earnings get poured back into his kennel, but he never forgets that "this is the race that really made me."
The Bethel musher has translated his Kusko 300 success into an impressive Iditarod resume, with three top-10 finishes, including fifth last year.
That result earned him $47,475, nearly double the $25,000 he claimed for besting the Kusko 300 field.
The race committee that stages the Kusko 300 puts on a collection of races in the region. The Bogus Creek 150 and Akiak Dash, which take place the same weekend as the Kusko 300, will also see their purses grow. There's also the Holiday Classic, the 100 Mile Challenge, the February 50, and the Camp-Out Race. A new race of less than 50 miles is being planned for early December.
Related stories from around the North: