New permafrost map shows areas in Alaska vulnerable to thaw-induced collapses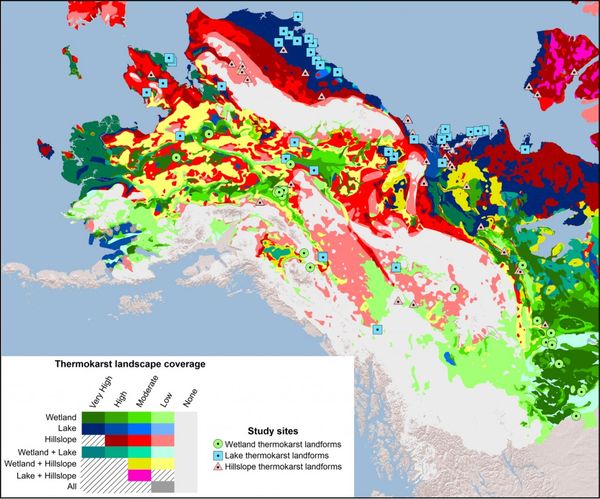 A new map of northern hemisphere permafrost identifies the areas that are most vulnerable to thawing and slumping.
The map shows which regions in the circumpolar north are susceptible to the permafrost formations known as "thermokarsts," where the land surface collapses when ice within the soil thaws and drains away. Thermokarst features can be sinkholes, gullies, new wetlands or expanded lakes, each with varying effects on emissions of greenhouse gas containing carbon that had previously been trapped in hard-frozen ground.
Greenhouse gases like carbon dioxide and methane are blamed by scientists for rising Earth temperatures and global climate change. Melting permafrost is expected to accelerate climate change caused by burning fossil fuels.
The map is the product of a project led by University of Alberta researcher David Olefeldt. University of Alaska Fairbanks scientists Vladimir Romanovsky and David McGuire were part of the project team. Results are described in a new study published in the online journal Nature Communications.
The study found that about 20 percent of the world's northern permafrost region has potential to become a thermokarst landscape. About half of the underground organic carbon is stored in those thermokarst-prone areas, making future thaw especially significant, the study says.
Among the most vulnerable areas are Alaska's North Slope and the Yukon River delta, according to the study.
Areas susceptible to thermokarst formations are those that hold relatively large amounts of ice, McGuire said in an email.
The study does not specifically identify the areas that have the most warming nor does it predict future thermokarst. Rather, it identifies areas that will be sensitive to warming should it occur, said McGuire, who is also with the U.S. Geological Survey.
Thermokarsts are expected to become more prevalent as the Arctic climate warms, the study said.