Alaska Iñupiaq leaders hope Barrow's name change to Utqiaġvik helps heal and teach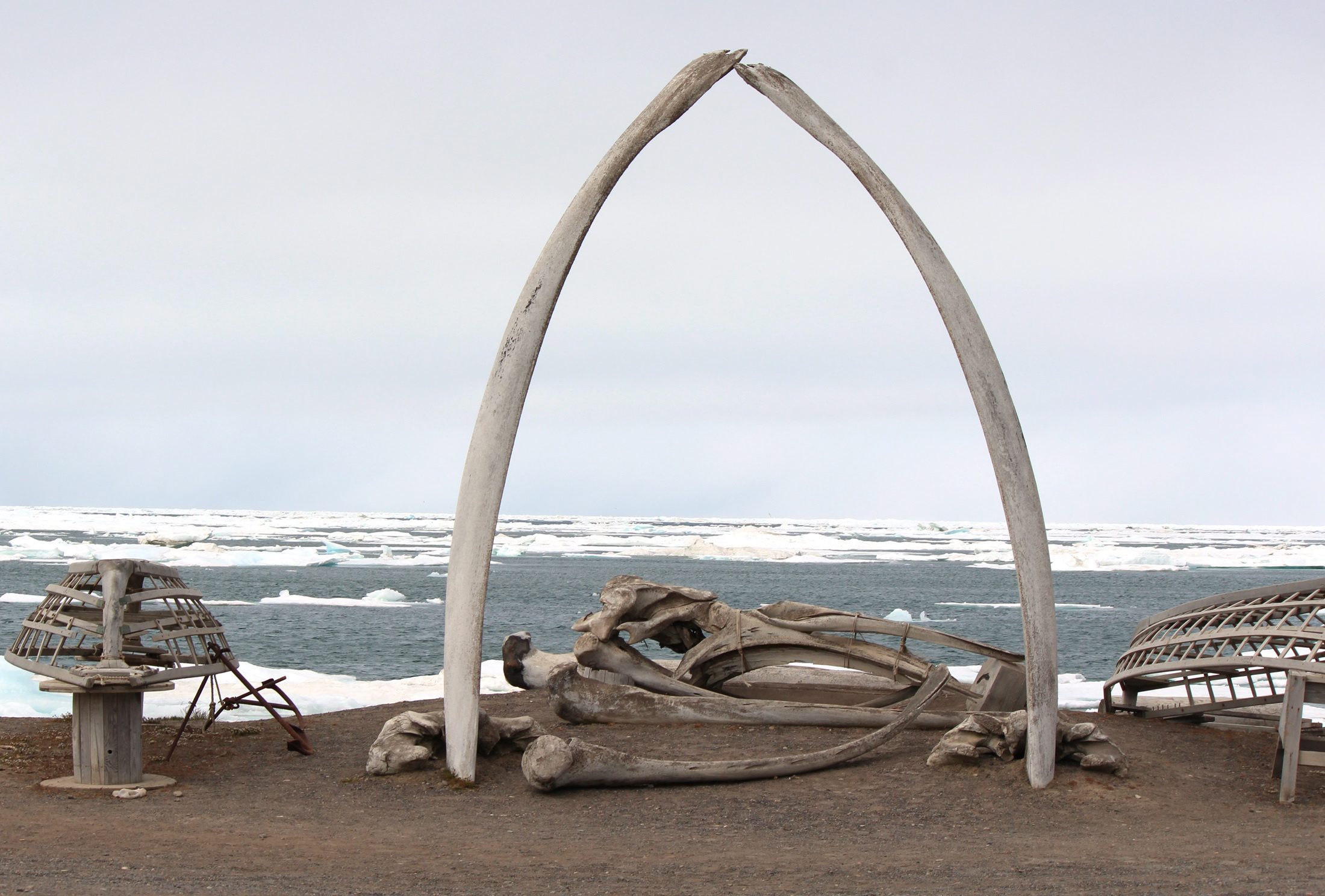 The new-old name for Barrow may take some practice to pronounce, and it's time to start: Utqiaġvik won the nod from a slim majority of city voters earlier this month and now has the state's stamp of approval to take effect Dec. 1.
The name means a place for gathering wild roots and comes from the word now used for potato, utqiq.
Say it this way, with guttural back-of-the-throat sounds for the representative "k" and hard "g" in the middle: oot — kay-ahg — vik.
State officials say they know of just two other rural communities that changed their names in modern times: Nunapitchuk, formerly Akolmiut, which did so in 1983, and Nunam Iqua, which changed from Sheldon Point in 2000.
Reclaiming the old name is a step toward reclaiming a culture pressed out by missionaries and others who came to the Native people's lands, said Qaiyaan Harcharek, 34, the Barrow City Council member who sponsored the ordinance leading to the public vote.
He's a hunter and a whaler, and for him, "traditional places have a lot of significant meaning." But on official government maps, sometimes they are misspelled or mislabeled, he said, as in the case of two rivers with Inupiaq names flip-flopped. Often the Native name isn't even on the map.
In the U.S. Geological Survey Dictionary of Alaska Place Names, the original name for Barrow was given as Utkiakvik, reflecting an earlier spelling, but the book provides an entirely different meaning, "high place for viewing."
That is not correct, said Inupiaq language experts Fannie Akpik and Jana Harcharek, who agreed that the old name refers to edible roots. The latter is Qaiyaan's mother and Inupiaq education director for the North Slope Borough School District.
The part of Barrow where Arctic Pizza sits is known by a similar word, Ukpiaġvik, for "place to hunt snowy owls" and other nearby spots have different names. But the greater Barrow community has been called Utqiaġvik since long ago, Jana Harcharek said. There's already Utqiaġvik Presbyterian Church, and soon there will be much more.
The Oct. 4 election was close, with 381 in favor and 375 against.
Neither side campaigned, and many residents were confused on what the vote means, newly elected Mayor Fannie Suvlu said Friday.
"And I'm still dealing with the questions," she said. "Who is going to pay everybody to get new IDs? Who is going to pay for our paperwork because we have to redo our mortgage paperwork?"
Individuals will need to change their mailing address and some official documents, just as the city must change its letterhead, logo and signs, the mayor said. The bill hasn't been tallied, she said. The sponsor had presented it as a no-cost ordinance.
"I guess we were a little naive in believing that," the mayor said.
The state Division of Motor Vehicles is working to get the city name changed in its computer system, Marla Thompson, DMV director, said in an emailed response to questions. Customers don't have to do anything right away, though they can submit an address change online or by mail, she said. They won't need a new license until renewal time.
Lt. Gov. Byron Mallott on Thursday signed the official order changing the name, effective Dec. 1.
The city is trying to have its new name on display by then, Suvlu said.
She sees both sides, the good in working toward re-establishing language and culture, and the challenge of change. She can read, write and understand Inupiaq but doesn't consider herself fluent.
"To me, regardless of the way it is on the map, this is home, this is where I am from, this is where I grew up," the mayor said. "I believe we are the same people whether we are in Utqiaġvik or whether we are in Barrow."
It's a diverse community, she said. Among Barrow's 4,400 residents, about 60 percent are Alaska Native, 17 percent are Caucasian and 9 percent are Asian, among other groups.
Soon the new mayor hopes to turn to other projects. She wants to finish the expansion of Piuraagvik, the gym known by the Inupiaq word for "place to play," and build a better boat ramp for her town, the northernmost in the United States.
The city intends to hold a town hall meeting to discuss questions on the new name, she said.
Sir Barrow, promoter of the Arctic
Fannie Akpik, approaching age 65 and born and raised in Barrow, has said all along she is from Utqiaġvik.
"Who the heck knows who Barrow was," said Akpik, an Inupiaq education coordinator for the North Slope Borough School District.
That's Sir John Barrow, a civil servant in the British Royal Navy who was a big supporter of Arctic exploration. He never traveled to Alaska but Capt. Frederick William Beechey did and honored Barrow by naming a point after him, according to historical accounts.
Fluent speakers are aging, said Harcharek, the City Council sponsor, who works in subsistence research for the North Slope Borough.
Young people, who already are taught Inupiaq in borough schools, will get a boost with visual cues like signs bearing the town name, he said. Another new ordinance calls for changing the word on stop signs to "nutqaġiñ" but so far they still say "stop."
Harcharek doesn't consider himself fluent. He struggles with depression that he thinks ties back to historical wrongs and lingering emptiness deep inside, in part from that loss of language that he and others are trying to reverse.
When he is on the ice whaling, he said, he understands Inupiaq best. He knows what the men are saying. In bits and fragments, he will answer.
Related stories from around the North:
Canada:  Inuit-language movie named best Canadian film of all time by TIFF, Eye on the Arctic
Finland:  English language dominance worries language teachers in Finland, Yle News
Greenland: (VIDEO) The importance of perserving the Inuit language, Eye on the Arctic
Norway:  Sami languages disappear, The Independent Barents Observer
Sweden: Sweden to expand teaching of minority languages, Radio Sweden
Russia:  More students in North Finland opting to study Russian, Yle News
United States: Arctic Alaskan city of Barrow votes to change name to Utqiagvik, Alaska Public Radio Network