Record-breaking Arctic convoy almost stuck in ice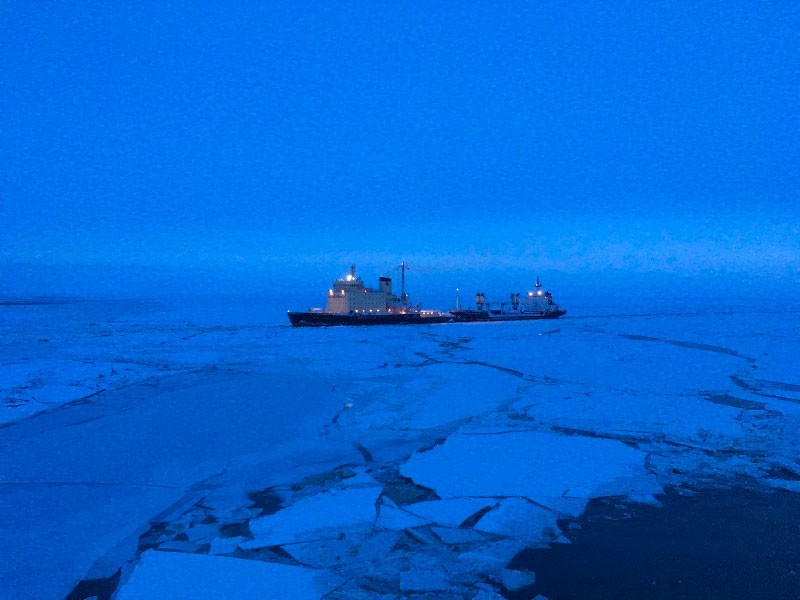 A second icebreaker had to come to assistance as two vessels loaded with ten thousand tons of goods were making their way from Arkhangelsk to Pevek.
The vessels Iogann Makhmastal and Sinegorsk arrived in the Russian eastern Arctic port of Pevek on Jan. 7. It is the first time ever that icebreakers have escorted cargo vessels from the western part of the Arctic to Pevek at this time of year, Rosmorport, the federal port company, informs.
The shipping operation was not an easy one. Accompanied by icebreaker Kapitan Dranitsyn, the two vessels set out from Arkhangelsk on Dec. 14, and were originally due to arrive in Pevek on Dec. 30. However, ice conditions were difficult and a second icebreaker, the Admiral Makarov, had come to assistance.
The 36,000 horse power Admiral Makarov made it to the convoy on Dec. 28, the regional government of the Chukotka region informs. It was then located in the Sannikov Strait by the New Siberian Islands. The Admiral Makarov is normally based in Vladivostok.
The Iogann Makhmastal and Sinegorsk carried about 10,000 tons of construction materials for the new port infrastructure in Pevek. The east Arctic town will be the site for Russia's first floating nuclear power plant, the Akademik Lomonosov, in 2019.
The arrival of the vessels is a major event for Pevek, says regional Governor Roman Kopin.
"It is a big event, because it allows us to continue construction works of this very important project, […] and because it shows that Chukotka is ready to serve this Arctic highway all year round," he underlines in a press release.
"Perhaps, in the future, we can stop being dependent on the [ice-free] navigation period."
According to the governor, the ground works for the protection dam around the power plant are 79 per cent finished, while the coastal fortification works are 56 per cent completed.
Several unique shipping operations are taking place this month. On Jan. 4, a ship owned by ZPMC Red Box Energy Services, a Netherlands-based marine-transport services provider, made it to Sabetta, the new Russian Arctic port on the Yamal Peninsula. The ship became the first cargo vessel to sail heavy construction modules along the Northern Sea Route during the winter months, the Arctic Journal reports.
The ship departed from Qingdao, China, in November, passing first through the Bering Strait, and then westbound along the NSR, where it was escorted for part of the way by Russian icebreakers.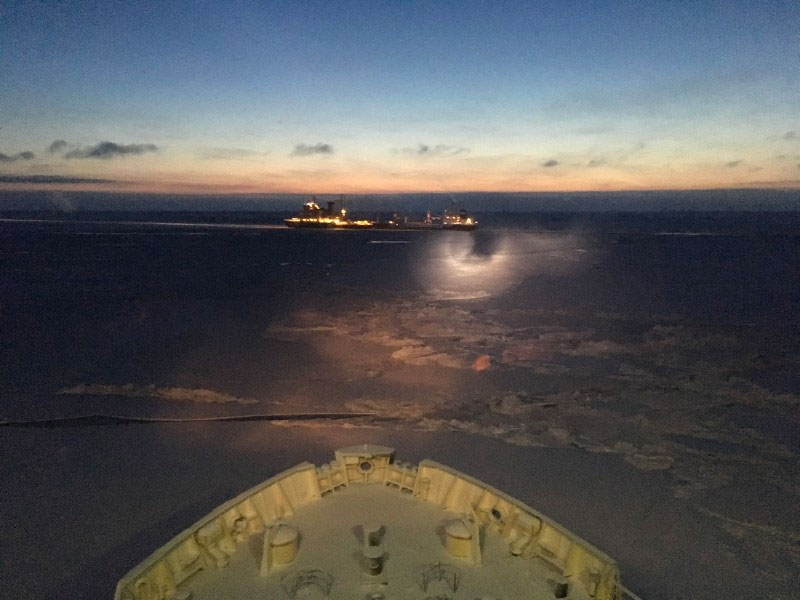 Related stories from around the North:
Asia:  Full steam ahead for Asian icebreakers in the Arctic this summer, Blog by Mia Bennett
Canada:  Ship trouble in the Arctic on the rise: report, Alaska Public Radio Network
China: China's silk road plans could challenge Northern Sea Route, Blog by Mia Bennett
Finland: World's most eco-friendly icebreaker starts duty, Yle News
Norway:  Arctic shipping – The myths, the realities & the challenges ahead, Eye on the Arctic
Sweden:  Sweden wants lower emissions for new icebreakers, Radio Sweden
Russia:  Arctic tests for Russia's new icebreakers, The Independent Barents Observer
United States: Coast Guard advances plans to build 3 icebreakers, Alaska Dispatch News