100 sailors trapped in ice near Russian Arctic outpost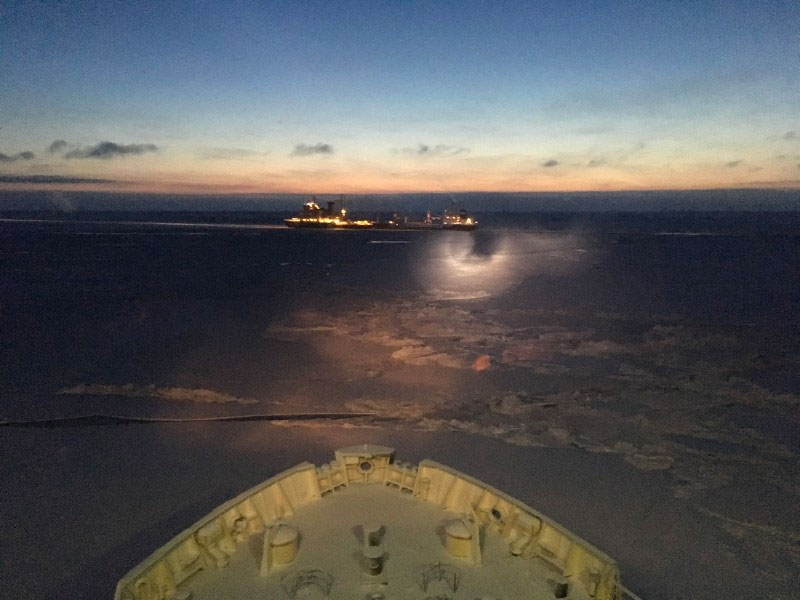 The historic convoy to Pevek did not have a lucky outcome. Three vessels, among them an icebreaker, might not get loose before spring.
They were carrying construction materials for the new local port, built to facilitate the installation of Russia's first floating nuclear power plant. It was a historic voyage. Never before have icebreakers escorted cargo vessels from the western part of the Arctic to Pevek, the town by the East Siberian Sea, in mid-winter.
Conditions underway were tough. The convoy soon needed assistance from a second and more powerful icebreaker, the «Admiral Makarov», which came to support from its base in Vladivostok.
The convoy, which included cargo carriers «Iogann Makhmastal» and «Sinegorsk» and diesel-engined icebreaker «Kapital Dranitsyn», arrived in Pevek on 7th February. They were due to depart few days later. That did not happen.
For a month, the ships have now been locked up in thick ice, unable to return to their home port of Arkhangelsk.
According to local authorities, the departure of the vessels from Pevek was hampered by a quick change in weather conditions and subsequent change in ice. The ships are now located in the Chaunskaya Bay, embrace by thick ice, the Chukotka administration informs.
A long winter ahead
On board are up to 100 people, of them about 60 in the 131 meter long icebreaker «Kapitan Dranitsyn». They have a long winter ahead. Unless a nuclear icebreaker comes to their assistance, the ships might be stuck until the ice starts to break up in early spring.
The local Chukotka power company is now connecting both the «Kapitan Dranitsyn» and the «Sinegorsk» with a power cable from land. The icebreaker get 300 KWh, while the cargo vessel has requested 200 KWh, company leader Andrey Kuznetsov says.
Beyond power, the regional government is providing the crews with water and foodstuffs, the Chukotka administration says.
While parts of the Barents Sea and Kara Sea are experiencing their warmest season on record, the easternmost coasts of the Russian Arctic have more ice than normal.
Related stories from around the North:
Asia:  Full steam ahead for Asian icebreakers in the Arctic this summer, Blog by Mia Bennett
Canada:  Ship trouble in the Arctic on the rise: report, Alaska Public Radio Network
China: China's silk road plans could challenge Northern Sea Route, Blog by Mia Bennett
Finland: World's most eco-friendly icebreaker starts duty, Yle News
Norway:  Arctic shipping – The myths, the realities & the challenges ahead, Eye on the Arctic
Sweden:  Sweden wants lower emissions for new icebreakers, Radio Sweden
Russia: Record-breaking Arctic convoy almost stuck in ice, The Independent Barents Observer
United States: Coast Guard advances plans to build 3 icebreakers, Alaska Dispatch News