Following Trump visit, Chinese president stops in Anchorage to meet with Alaska Governor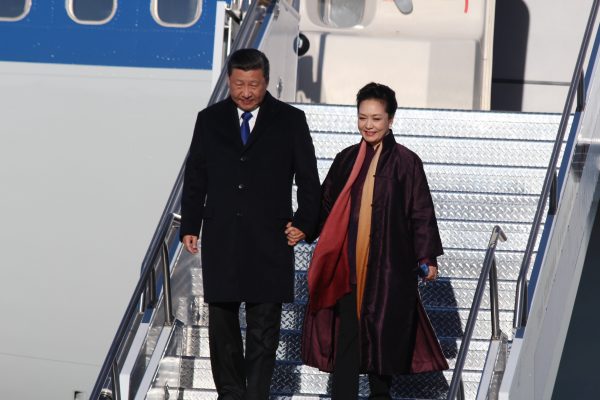 Gov. Bill Walker said he discussed issues ranging from Alaska's long-proposed gas line project to the state's potential as a winter training spot for Chinese Olympic athletes with Chinese President Xi Jinping during the head of state's short stop in Anchorage on Friday.
Walker described the meeting during a press conference Saturday morning.
"It was a very special moment for me," the governor said, adding that he and his delegation had the opportunity to meet not only with Xi, but also with 14 high-level ministers in the Chinese government. "If we had traveled to China, we could not have had a meeting like this."
Walker said the conversation — during their meeting and the salmon dinner that followed — mainly focused on trade, including Alaska's fisheries, tourism, air cargo services and the massive natural gas pipeline project the governor is pushing to build.
Gas line project and climate change
"We are somewhat a good fit with China on natural resources," Walker said. "We have way more energy than people, and they have way more people than they have energy. So our excesses are somewhat complementary."
Walker said Xi mentioned President Donald Trump also brought up the gas line project during the leaders' two-day meeting in Florida this week. The Walker administration hasn't previously emphasized China as a major target of its efforts to market the gas line, which have instead focused on Japan and South Korea.
Xi also broached the subject of climate change, Walker said.
"Certainly it appears that there's a strong interest in China as far as what to do on climate change," Walker said. "It appears with the shift from the U.S., perhaps a bit less," Walker added, referring to the Trump administration's efforts to roll back Obama-era climate initiatives. "They [China] may be taking over that position on leading on that."
Alaskan issues only
One topic that didn't come up: North Korea. That nation has conducted missile tests in recent days, but Walker said the conversation remained focused on "Alaskan issues."
"As Governor of a state, we stuck to topics I have an impact on," Walker said.
That apparently included the 2022 Winter Olympics in Beijing. Walker said Xi expressed an interest in having Chinese athletes train in Alaska.
At the close of the conference, a reporter who identified himself as a Taiwanese-Alaskan blogger asked a series of questions about the internationally contentious topic of Taiwan's political status.
"You want to develop indigenous lands so China's authoritarian government can turn a profit. How do you justify that?" the blogger asked.
The governor didn't answer the question, and the press conference ended.
Feature video
Watch the press conference by Alaska Governor Bill Walker about Chinese President Xi Jinping's visit to Anchorage.
Related stories from around the North:
Canada:  How Arctic shipping could boost Canada's trade relationship with Asia, Radio Canada International
Finland:  Finland courts US rivals Russia and China in bid for key role in Arctic power game, blog by Irene Quaile, Deutsche Welle
Norway:  No Chinese resort in Svalbard, Norway after all, The Independent Barents Observer
Russia: Russian, Chinese officials hold talks on Arctic railway project, The Independent Barents Observer
United States: Chinese naval ships near Aleutians, blog by Mia Bennett