Indian Agent, the Alaska band reclaiming Indigenous voices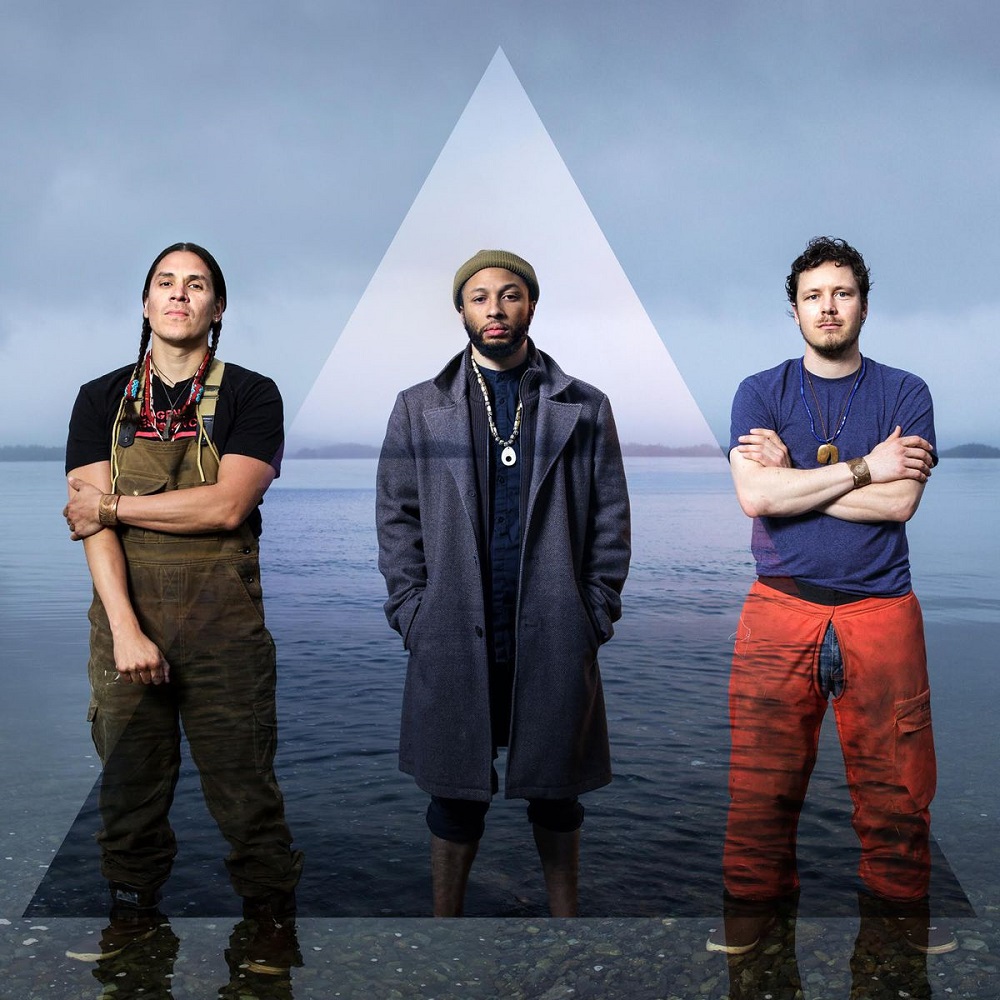 In the 1800s, the U.S. government hired non-indigenous people known as Indian agents to interact with and work to assimilate North American tribes. It was commonplace for the agents to restrict tribes from performing traditional songs and dances. In Alaska, Indian agents were stationed on Turtle Island.
The new band Indian Agent sings out what the original Indian agents sought to silence.
"Indian agents were implemented by the government to regulate and oppress and impose colonial ideas onto our communities. They were doing some pretty nasty work," said Indian Agent band member and Alaska Native artist Nicholas Galanin.
"Our take on this was to take that idea, that role, and reverse it with our work and our philosophies and our ways of being."
With guitars, keyboards, rhythm shakers and their voices, members of Indian Agent will perform songs at the Anchorage Museum planetarium from the band's debut album, "Meditations in the Key of Red," coming out in October.
"Sonically, I think we're very experimental," Galanin said.
"I feel like we formed in another life"
The album's first single, "Life Keeps On Spinning," has ethereal, echoing vocals reminiscent of a traditional chant, layered over a jaunty, finger-snapping soundscape of the digital and natural. A preview of the album is available at indianagent.bandcamp.com.
"A lot of our work is tied deeply with community and history, and a lot of the songs are about our relationship to land and place," Galanin said. "When you create a disconnect to land and place in your community you start to lose respect for it."
Given how long Galanin and his bandmates have been playing together, they should have amazing chemistry. The band is made up of Galanin and his longtime friends and collaborators Otis Calvin III and Zak Dylan Wass.
"I feel like we formed in another life, so we're just reunited again," said Galanin, whose previous band was called Silver Jackson.
Galanin said Calvin won't be at the planetarium show because he's currently touring with another band. But he'll still be present in a way because he is creating the video projections that will complement the concert.
At the time of this interview, Galanin hadn't seen Calvin's video.
"I have no idea what the visuals are going to be, but I'm really excited to see what he sends," Galanin said. "He knows these songs really intimately and I'm guessing they will reflect the songs. He's not just going to send over some Christmas lights."
Redefining symbols of oppression
Music is just one facet of Galanin's career. An internationally acclaimed multidisciplinary artist, Galanin was born and raised in Sitka. His work often mixes the modern and traditional — from hipster bow ties dotted with images of Indian chiefs to pop art paintings incorporating Native iconography. He's currently working on a healing totem pole for the Taku Tribe in Juneau.
Reclaiming the name Indian agent reflects Galanin's penchant for taking symbols of oppression and twisting and redefining them.
"We're exposing history while contributing to culture and doing things we weren't allowed to do," he said.
Galanin said he has researched the role of Indian agents and is still learning more about them.
"I found some really sad exchanges in the form of official letters from the government to indigenous families," he said. "There's a letter from an Indian agent opposing indigenous people from singing and dancing. These are basic necessities of humanity and culture that are being oppressed by these agents."
The letter to which Galanin refers is dated Dec. 15, 1921, and was written by an Indian agent in Ottawa, Canada.
The agent wrote:
it is observed with alarm that the holding of dances by the Indians on their reserves is on the increase … I  have therefore to direct you to use your utmost endeavors to dissuade the Indians from excessive indulgence in the practice of dancing. You should suppress any dances that cause waste of time, interfere with the occupations of the Indians, unsettle them for serious work, injure their health or encourage them in sloth or idleness.
What the Indian agent considered an "indulgence," Galanin views as essential.
"Creativity is empowering, and the work I create and the voice that I have is created from necessity," he said.