Finland playing catch-up with Nordics in wind turbines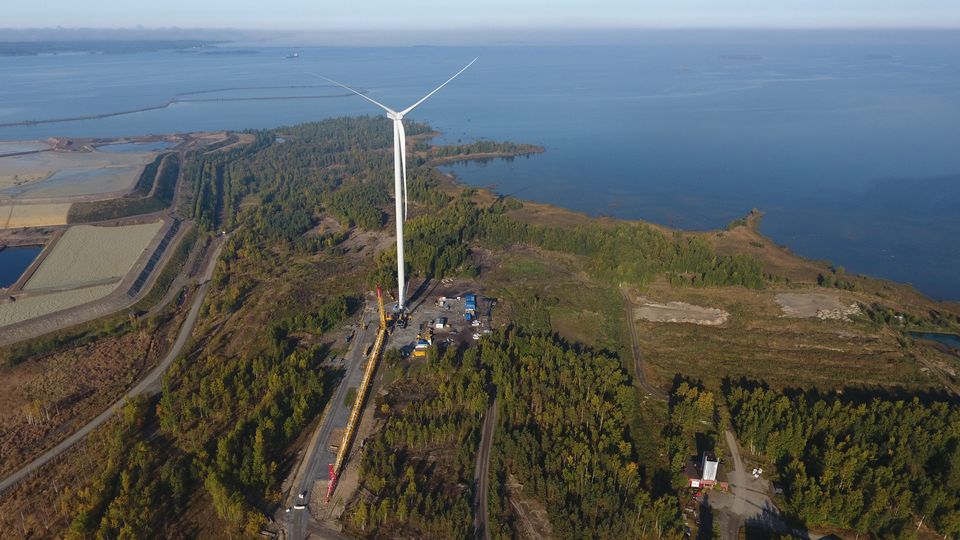 Finland's Wind Power Association says there were 552 wind turbines in the country at the end of 2016. Estimates put the number of new generators scheduled to be built in 2017 at between 150 and 200.
This means Finland will soon boast a wind turbine fleet of over 700 turbines, with a combined capacity of approximately 2,000 to 2,200 MW, but even then, the country will still lag behind other Nordic countries in wind energy production.
Anni Mikkonen, executive director of the association says that even though Finland was one of the largest investors in wind power in Europe last year, Germany increased its capacity ten-fold during the same period.
The Swedish wind power firm OX2 has been building four wind turbines in western Kokkola, on the shoreline of the Bothnia Bay. They should be complete by the end of October. It usually takes another two weeks or so to hook the new turbines up to Finland's grid.
One new turbine per week – if it's not windy
Project leader Pasi Tammivaara says that it takes about one week to erect a single turbine, if the winds cooperate. Building work has to be called off every time the winds get too strong, for safety reasons.
"The wind limits when we are building the steel tower is 10 metres per second. When we install the blades, this falls to 8.5 m/s. It is normal to have wind delays in this work, because most wind farms are located in areas with windy conditions," he says.
Work at the site ranges from periods of frantic activity to standstills due to windy conditions. If weather conditions permit, assembly work continues for up to 10 hours at a time.
Still contributing less than 5% energy
Once finished, the new wind farm in Kokkola will have a 14.4 MW capacity, with a projected annual production rate of 556 Wh. The finished hub height, the distance from the platform to the rotor (not including the turbine blades) is 134 metres.
Before the erection of the tower, extensive excavation on the site is necessary to shore up the foundation and build service roads, for example.
Kokkola's groundwater situation has made this site in particular more of a challenge, in that the surrounding terrain needed to be protected before the work could begin. It also required that the foundation for the soaring structure be partially enclosed above ground, as it couldn't be completely buried underground to protect the water supply.
Last year wind power accounted for 3.6 percent of Finland's total energy consumption.
Related stories from around the North:
Canada: Test clean energy solutions in south before implementing them in Arctic communities: report, Radio Canada International
Finland: Nord Stream 2 applies for Finnish building permit to build gas pipeline, Yle News
Norway: Another disappointment in Barents Sea exploratory drilling, The Independent Barents Observer
Russia: New locomotives for world's northernmost railway will run on liquefied natural gas, The Independent Barents Observer
Sweden: Volvo to go all electric starting in 2019, Radio Sweden
United States: U.S. transportation secretary announces efforts to speed up project development in Alaska, Alaska Dispatch News