Firefighters battle forest fires in northern and southwest Finland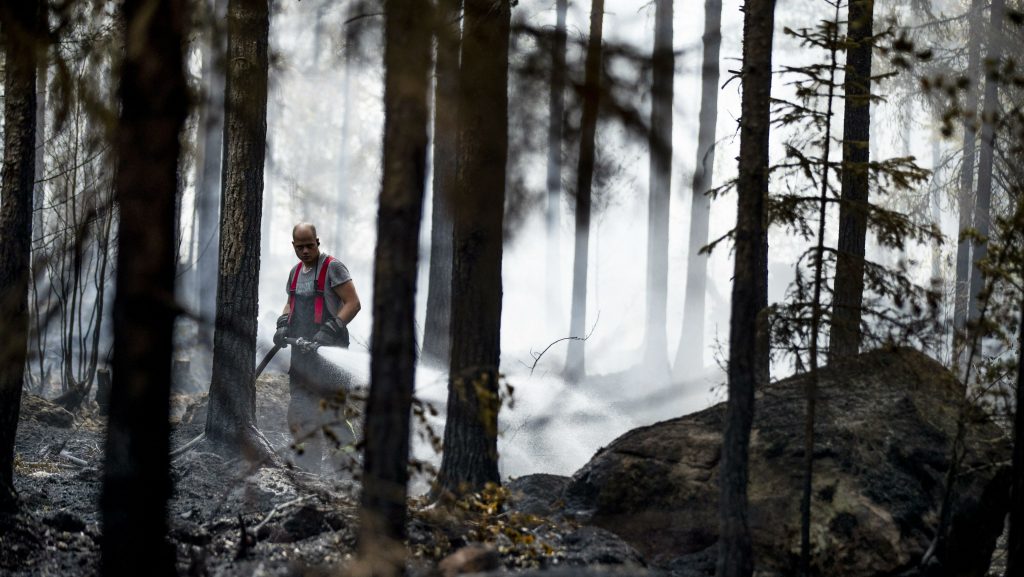 Fire officials have continued to combat forest fires for a third day in Pyhäranta, southwest Finland. Although subsiding winds helped ease the dousing work, officials still reported several new flare ups, some of which are underground.
On Thursday night, firefighters continued to tamp down outbreaks in the area but up to Friday morning there was no let up in the pace, according to duty fire chief Juha Virto of southwest Finland emergency services.
"Today will determine what we do going forward," he said.
Mika Kontio, who preceded Virto as duty officer Thursday evening, said that while the situation had not been fully brought under control, the burn area had been contained.
Meanwhile the officers said that firefighters were focusing their energies on putting out a number of small independent fire outbreaks. On top of that, early morning drone surveillance showed that the centre of the burn area was still ablaze.
"It cannot be allowed to grow otherwise it will jump the containment area," Kontio noted.
Backup from neighbouring regions
Kontio said that resources had been stretched and that emergency service crews had been called in from neighbouring regions in Uusimaa, Satakunta and Pirkanmaa to support the southwest Finland workers.
"It looks like we will soon have to get help from our neighbours' neighbours. That's how long-lasting the mission is," he added.
Estimates of the scale of the affected area have ranged from 70 to 100 hectares. Some 150 firefighters are battling the blazes in Pyhäranta alone and the operation is expected to last through the weekend.
So far, 51 people have been evacuated from the area, where permanent as well as summer cottages are located. Officials said Friday morning that there are no immediate plans for further evacuations, because there was no heavy smoke.
Fires tamed in northern Finland
At the same time that firefighters were trying to beat back flames in the southwest, their colleagues up north in Lapland were also working to contain forest fires in Kittilä and Salla.
So far, more than 20 hectares in Raijankiselkä in Kittilä have gone up in smoke, as areas that were previously extinguished caught fire again on Thursday evening.
Lapland emergency services said that 10 firefighters had been deployed to put out the fires, along with a chopper Aslak. They called it a day around 6.00am Friday morning.
"The fire has been contained and we currently have the area under surveillance by emergency services and Metsähallitus," said duty fire chief Kari Kuosmanen from Kittilä. Metsähallitus is the state-owned forestry and parks management agency.
The work in Kittilä had been hampered by rugged terrain that made it difficult for fire tenders to reach affected areas. It was also difficult to get water from nearby sources and officials had to transport it from different areas.
Fires in Northwest Russia
Fire scorched some four hectares of forest in Hautajärvi in Salla, however officials there said they were able to tamp down the blazes by Thursday night. They pointed out that smoke from the operation might affect trekkers on the Karhunkierros trail (northern Finland).
Smoke has also drifted over to Finland from Russia, where the nearest forest fires were just about one kilometre from the border.
While there is so far no evidence that fires on the Russian side may be spreading, Border Guards and fire officials in Lapland are developing plans and potential containment perimeters for that possibility.
On Thursday Yle meteorologist Matti Huutonen predicted rain and thundershowers in southern and central areas and the Finnish Meteorological Institute FMI issued forest fires warnings for the entire country.
Related stories from around the North:
Canada: This year's exceptional heat is becoming the new normal, scientists warn, CBC News
Finland: Finnish trains delayed as heatwave overtakes air conditioning, Yle News
Norway: European Arctic swelters under tropical temperatures, breaks heat records, The Independent Barents Observer
Russia: Record heatwave in the Arctic, The Independent Barents Observer
Sweden: Firefighters overwhelmed as wildfires spread across central Sweden, Radio Sweden
United States: Warming, fires, warming, fires: How tundra wildfires could create an unstoppable cycle, Alaska Dispatch News