Firefighters overwhelmed as wildfires spread across central Sweden
Sweden's worst forest fire season in modern times is putting emergency services through their toughest days, and currently all they can do is limit the spread of fires, and wait for rain.
On Friday morning Dan Eliasson, the Director General of the Swedish Civil Contingencies Agency warned of underestimating the situation.
"I want to be very clear about this. We are in what is probably the most serious and severe situation which Swedish rescue services have had to face. The area burning now is larger than in the fire in Västmanland in 2014, and many fires are still not under control, and new fires are starting daily. I want to warn about underestimating the severity of the situation. Even if the weather changes, and rain comes, this can continue to escalate. The situation is very serious."
PM praises European cooperation
Sweden faces the worst forest fires in modern times, and several European countries have sent staff and materials to relieve the Swedish firefighters.
Germany, Norway and Lithuania have sent helicopters, and Italy and France have sent firefighting aircraft. A group of firemen came from Denmark to Ljusdal on Thursday evening, and more help is on its way today.
At the press conference on Friday morning, Prime Minister Stefan Löfven said the European cooperation was working very well.
"Sweden is an active and integrated part of the EU's civil protection mechanism. We receive support when we need it, just as we provide support when others need our help."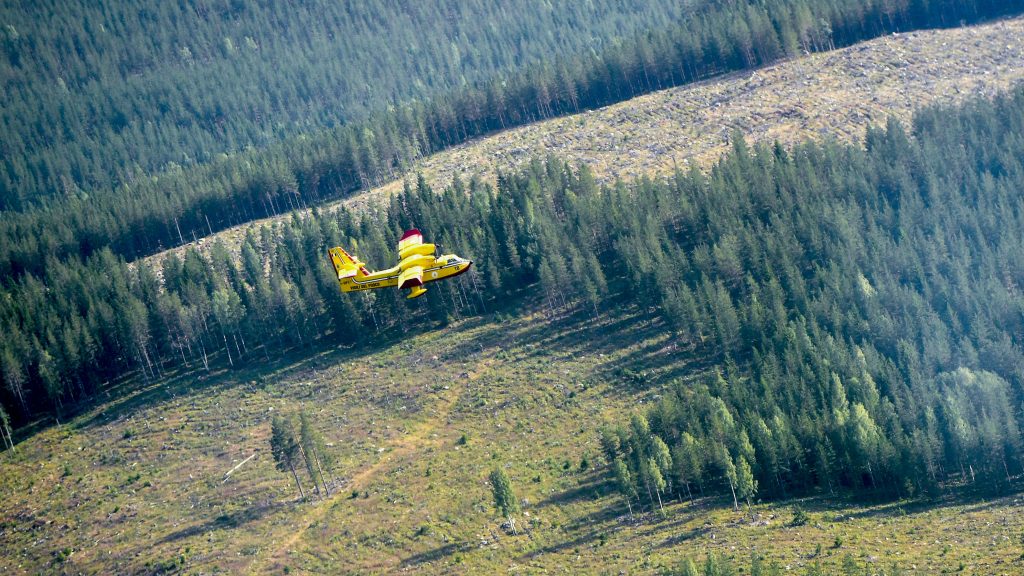 Firefighters overwhelmed
With over 50 fires burning across the country, the situation for rescue services remains very strained. The worst affected areas continue to be in the counties of Jämtland, Dalarna, and Gävleborg, stretching across much of northern central Sweden. Today, 20 firefighters from Stockholm are on their way to Dalarna's Älvdalen to assist their colleagues.
Dwarfs 2014 wildfire season
The fires cover an area of more than 20,000 hectares, which according to the Swedish Civil Contingencies Agency (Myndigheten för samhällsskydd och beredskap, or MSB) means this summer's fires are significantly worse than those in Västmanland in 2014, which covered an area of 14,000 hectares. The Swedish Forest Agency estimates that forests worth at least 600 million kronor have so far gone up in smoke. The insurance bill is likely to be far higher, because so many buildings have also been destroyed or damaged by this year's fires.
Services strained
It is not only the rescue services that are strained. The emergency number operator, SOS Alarm, is currently experiencing an increased workload and has announced that the situation may lead to longer response times for the emergency number 112. SOS Alarm has appealed to the public to refrain from calling 112 except for actual emergencies. Questions of less acute nature should be directed to 113 13 they say.
Related stories from around the North:
Canada: This year's exceptional heat is becoming the new normal, scientists warn, CBC News
Finland: Weekend thundershowers to bring much-needed rain in Finland, Yle News
Norway: European Arctic swelters under tropical temperatures, breaks heat records, The Independent Barents Observer
Russia: Record heatwave in the Arctic, The Independent Barents Observer
Sweden: Hundreds flee historic wildfires, Sweden's PM says better preparedness needed, Radio Sweden
United States: Warming, fires, warming, fires: How tundra wildfires could create an unstoppable cycle, Alaska Dispatch News