Finnish and Russian PMs talk environment, cooperation and money laundering probe in Helsinki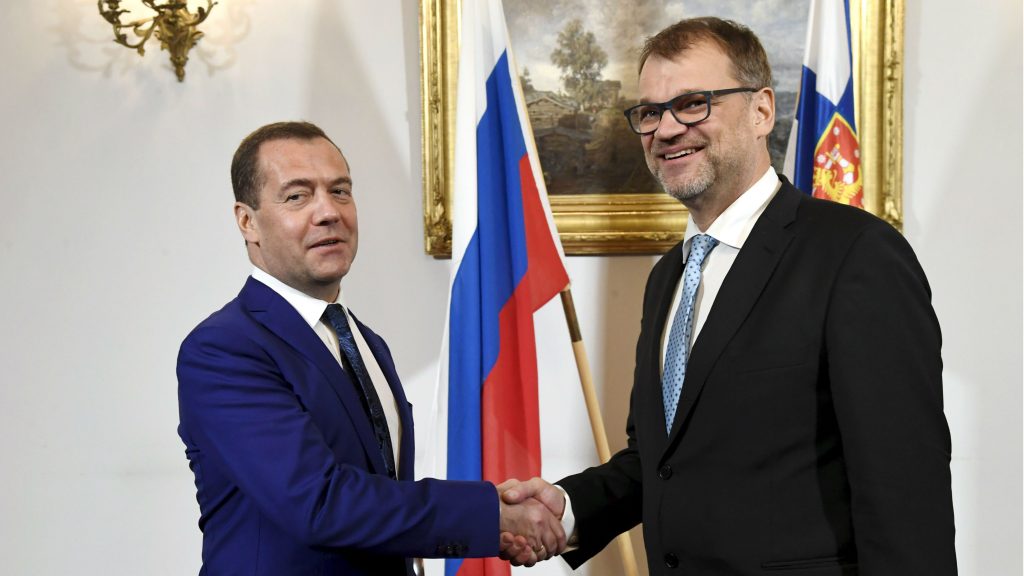 Finnish Prime Minister Juha Sipilä met with his Russian counterpart Dmitry Medvedev in Helsinki on Wednesday afternoon. The premiers held a joint press conference in the late afternoon at Smolna Hall, a historic state-owned building from the 1820s.
The meeting came as Finnish authorities investigated a Russian businessman on charges of aggravated money laundering and tax fraud after large-scale police raids on his company's properties in the southwestern archipelago last weekend.
One journalist pointed out the weekend raid had raised concern among Finnish residents that Russia might take advantage of strategic areas of Finnish properties owned by Russians, and use them for military purposes like helicopter pads. The journalist then asked the leaders to comment on those concerns.
Another reporter asked if the investigation is simply a question of financial and tax crimes, would Russia be prepared to assist Finland in the money laundering investigation.
Medvedev shook his head and appeared to smile at the question before responding.
Finland "can investigate what it wants", says Medvedev
"Finland has been an independent country for a long time, investigate the things you want to," he said.
"Money laundering is also a crime in Russia, and of course we will help if an official request arrives via the appropriate channels. Because it is a Russian citizen who's being accused, naturually we want him to receive consular assistance," Medvedev said.
Returning to the previous question about Russian-owned property being turned into strategic military points, Medvedev was dismissive.
"Regarding Russia using [property] for helicopter pads, it's silly talk and paranoia. I don't know what kind of sick mind has come up with the notion," he said.
Sipilä appeared to try to tone down the general excitement regarding the raid, saying that Finland has not considered requesting Russia's help in the investigation.
"That hasn't been on the table at all, it is the police who are investigating the matter. No developments [in the case] have arisen that would [require us to ] ask Russia for assistance at this stage," Sipilä said.
"It's easy to agree with my colleague," Sipilä said, drawing applause from the Russian delegation at the press conference.
Focus on environment and EU presidency
Sipilä said that the environment was among the most important issues the two leaders discussed on Wednesday.
"The main topics for me and my colleague today were environmental questions. The environment knows no national borders. Through continuous cooperation over the years we have managed to improve the state of the Baltic Sea. Now we wish to draw attention to climate issues more broadly," Sipilä said.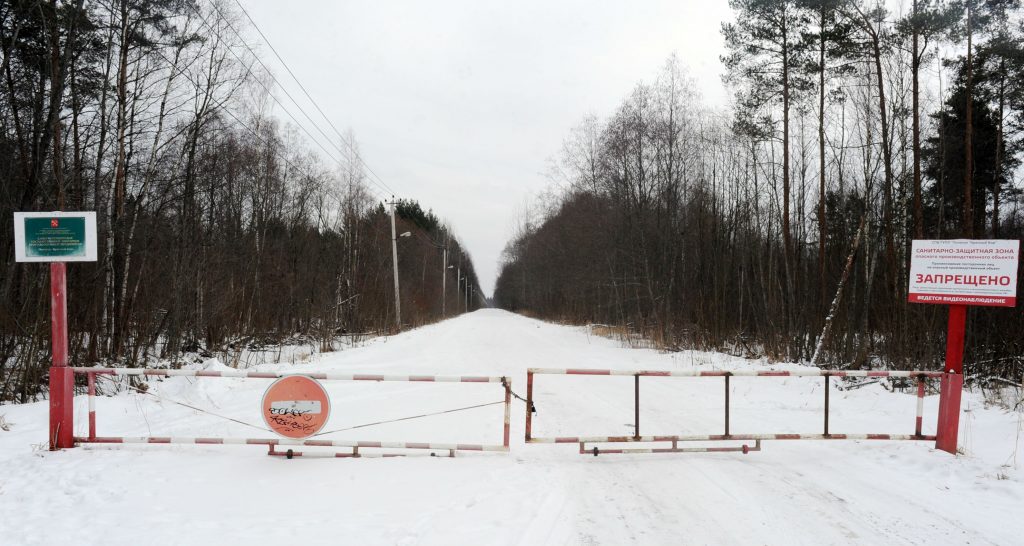 Russian President Vladimir Putin has said Russia hopes that Finland will try to improve EU-Russian relations during its six-month EU presidency term next year. One of the ways the countries are taking steps in that direction is dealing with a toxic waste landfill in Russia near Finland's border, Krasny Bor. The dumping site is one of Russia's biggest environmental problems.
The two leaders were scheduled later in the day to visit a waste management facility in Riikimäki (southern Finland) which is run by Fortum, a Finnish company that has carried out lab tests at Krasny Bor. Russia and Finland are increasing cooperation to deal with the toxic dump site, likely with help from Fortum and the Russian state-owned power firm Rosatom. Russia has reportedly already set aside funding to help with the cleanup.
Sipilä also said the heads had discussed the security situation around the Baltic Sea region as well as the conflicts in Syria and Ukraine.
"The Ukrainian conflict is strongly reflected in relations between the EU and Russia. These relations depend on finding a solution to the conflict, where Russia has a key role. Despite the sanctions in force, the EU and Russia are neighbours and dialogue between them is vital. Contacts between our two countries on the level of civil society are also very important for Finland," Sipilä said.
The two premiers have met three times before, most recently in St. Petersburg about a year ago. In 2016 they held talks in the northern Finnish city of Oulu.
Related stories from around the North:
Canada: NATO wants to keep the Arctic an area of low tensions, Radio Canada International
Finland: Russia "would see enemies" if Finland joined NATO, president Niinistö tells German paper, Yle News
Norway: WWF urges Norway to protect its Arctic forests to help fight climate change, The Independent Barents Observer
Russia: Niinistö and Putin agree on Arctic, but at odds on NATO during Sochi talks, The Independent Barents Observer
Sweden: Sweden to buy U.S.-made Patriot air defence systems, Radio Sweden
United States: Alaska senators blast Trump for going soft on Putin, Alaska Public Media