An exceptionally nice fall in Canada's Yukon this year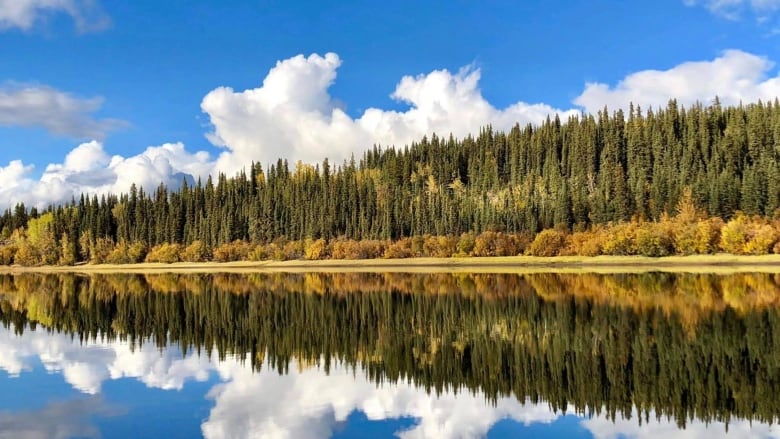 Across the Yukon in northwestern Canada this fall, people could be heard chatting among each other making comments like "we haven't had a fall this nice in years," or "can you believe how warm it is?"
Morning after morning Yukoners would wake up to frost-free windshields in parts of the territory with snow only dusting the tops of the mountains.
Yukon communities experienced above seasonal temperatures for October, according to historical data from Environment Canada.
Burwash Landing (southwest Yukon) was the warmest spot at 4.2 degrees above normal for October. The average October temperature for Burwash is –3.4 degrees. This year, Burwash averaged out at 0.8 degrees, making it the fifth warmest October for Burwash since 1967.
Old Crow (northwest) also experienced their fifth warmest October on record at 3.5 degrees warmer than normal. The average October temperature for the community is –8.8 degrees but this year the average day was –5.3 degrees.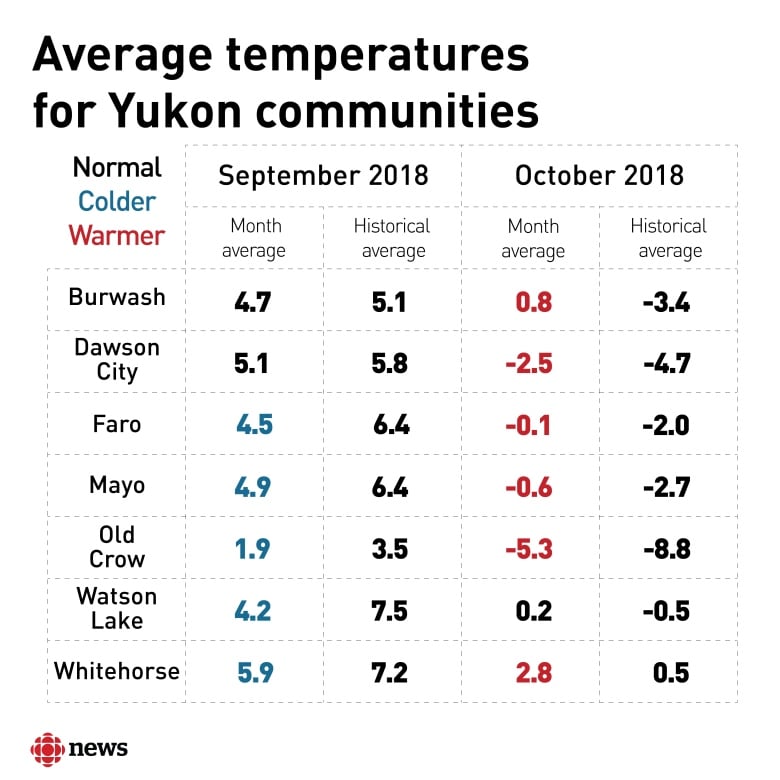 "I think the message…shows a warming trend for sure, that's a guarantee," said Armel Castellan, a warning preparedness meteorologist with Environment Canada.
Whitehorse (south) and Dawson City (west) were also seasonally warmer this year. In October, Whitehorse was 2.3 degrees above normal while Dawson was 2.2 degrees above seasonal.
Warm summer, chilly September
All Yukon communities experienced warm Octobers except for Watson Lake (southeast), where temperatures remained normal.
However, things could have seemed warmer because September was much colder than normal across the Yukon.
"The switch between summer and September was drastic," said Castellan.
Watson Lake had the second coldest September on record since 1939. The average temperature was 4.2 degrees while the average is usually 7.5 degrees.
Whitehorse also had the fifth coldest September on record with an average of 5.9 degrees, while the average usually sits at 7.2.
"When we think about climate change one of the things that is really apparent is more variability," said Bronwyn Hancock, associate vice president research development in at Yukon College.
Combining the data for the months of June, July, and August the Yukon experienced an exceptionally warm summer. It was the 10th warmest on record for Whitehorse and eighth for Watson Lake. All Yukon communities, except for Old Crow, ranked in the top 20.
"We see bigger increases in temperature, bigger increases in precipitation, but also warmer and wetter and also warmer and dyer, lots of variability in the patterns," Hancock said.
This is consistent with what the Yukon saw this fall. September was drier than normal across the territory. It was the fourth driest September in Watson Lake and the third driest in Dawson City.
Dawson was also drier than normal in October, despite many public posts on the community Facebook page about rain late in the month. Dawson on average gets about 27 cm of snow and 9.4 mm of rain in October. Because of warm temperatures late in the month most of the precipitation that usually falls as snow was rain.
"I think one of the things that's really important to do when we have a warm fall like this is or we start to have conversations around climate change is to really think about what will we do to adapt if this continues," said Hancock.
Related stories from around the North:
Canada: Wettest August in decades in Dawson City, northwestern Canada, CBC News
Finland: Cold, snowy weather spreads across most of Finland, YLE News
Norway: Thawing permafrost melts ground under homes and around Global Seed Vault in Svalbard, The Independent Barents Observer
Russia: Arctic coastal town of Dikson is fastest-warming place in Russia, The Independent Barents Observer
Sweden: Warm temperatures lasting into autumn across Sweden, Radio Sweden
United States: New study predicts 'radical re-shaping' of Arctic landscape by 2100, CBC News