Satellite imagery illuminates ice conditions around communities in Canada's east-Arctic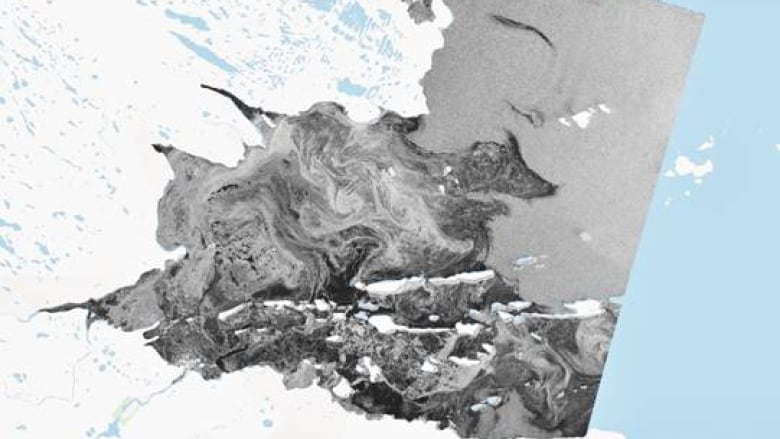 Inuit in Cambridge Bay, Kugluktuk and Gjoa Haven, in the territory of Nunavut, are getting a clearer picture of sea-ice conditions near their communities thanks to a partnership with the University of Victoria research group Ocean Networks Canada.
The project began in 2012, in Cambridge Bay, where researchers installed an underwater monitoring station to gauge thickness of the ice in the bay. The project branched out to Kugluktuk and Gjoa Haven soon after
Amanda Dumond is with the Kugluktuk's hunters and trappers organization. She says ice conditions have changed over the years, making travel more dangerous.
For example, there is still a lot of open water near the community this year, which is unusual for the first week of December.
"For the last month it's been very mild," she said. "It's very concerning to the community."
Images help save time
Dumond says researchers have been to the community a few times, working with Inuit to understand how the ice is changing from their perspectives.
They've also provided satellite maps of ice in surrounding areas that help hunters, search and rescue, Canadian Rangers and others get a better idea of which areas are safe.
"They can save a lot of time and a lot of gas if people know where the open water is or the rough ice is," said Dumond. "They can create their route ahead of time."
For the last month it's been very mild … It's very concerning to the community.
Amanda Dumond
The collaboration has benefits to both Inuit and researchers, according to Maia Hoeberechts, who works with Ocean Networks Canada.
She explained the satellite images have a lot of value because they capture a very large area, but it takes people on the ground to interpret what the data means locally.
"That's why we've worked together with the [hunters and trappers organizations] and people who are active on the ice in Kugluktuk to understand whether what we think we're seeing in this image taken from space really corresponds to reality," said Hoeberechts.
For example, she said areas with very smooth ice can look identical to open water. Those who know the area well can help the researchers make that distinction, which in turn makes the maps more useful to the community.
Now that these updated maps are being distributed to the community, they are starting to prove so useful that Dumond says community members are asking for them to be updated more frequently.
"Especially at times like this when people want to go hunting or fishing," she said.
"The last one we got as a few weeks ago and it did show from from local knowledge where people knew there was open water… It was really great to see."
University of Victoria's Department of Geography, Nunavut Arctic College, Canadian Ice Service and Fisheries and Oceans Canada are also contributing to the project.
Related stories from around the North:
Canada: Is Asian desert dust warming the Arctic's sea surface and confusing satellites?, CBC News
Finland: Finnish researcher's animation shows climate warming at startling speed, Yle News
Norway: December sea ice levels in Arctic Europe at record low, The Independent Barents Observer
Russia: Climate change is driving micro-algae blooms into High Arctic and may affect food chains, says study, Eye on the Arctic
Sweden: Glacier in central Sweden "collapsing" as climate warms, Radio Sweden
United States: Melting glaciers are triggering the world's biggest tsunamis, CBC News