Strong winter storm batters Finland, causing power cuts, traffic delays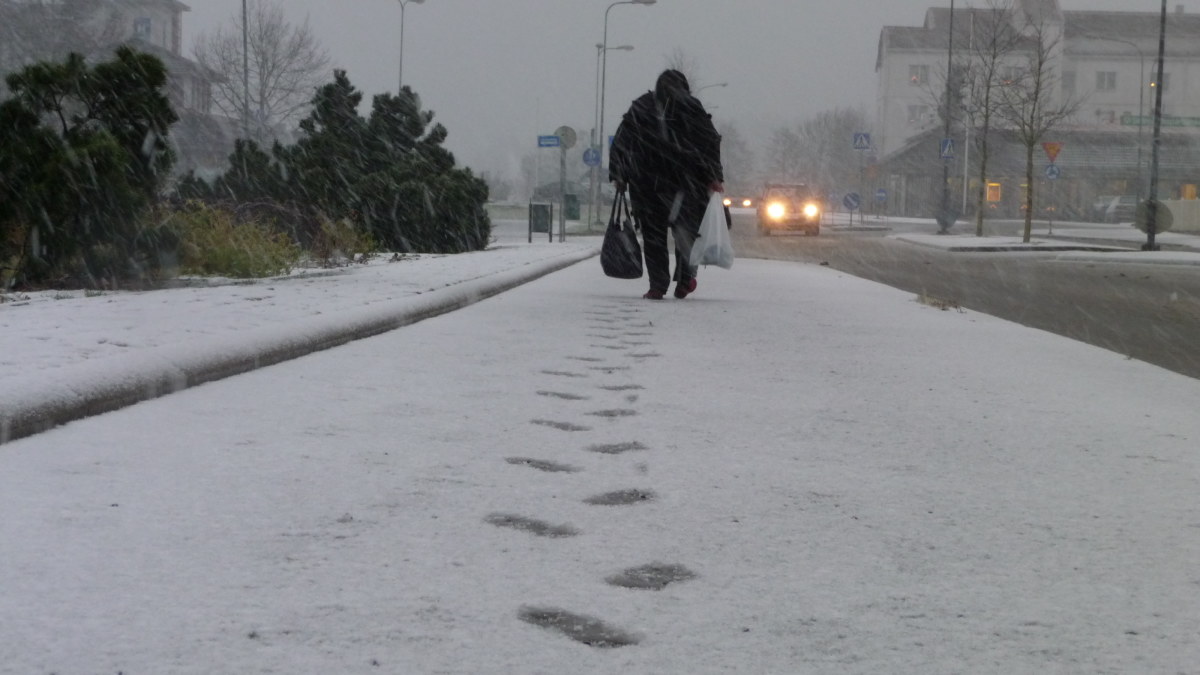 Record wind speeds have been clocked in southern maritime districts of Finland as a storm dubbed Aapeli causes widespread power cuts and train delays across the country.
Authorities in the Åland Islands have requested that residents remain indoors due to strong winds.
"We have instructed people to stay at home. Do not go out or drive," Johan Ehn from Åland's Emergency Response Centre told Yle. "Fallen trees obstruct many roads here and most of Åland is without power," he added.
The strongest-ever winds were recorded on the Bogskär islets in the western part of the Northern Baltic on Tuesday night. The average wind speed over a 10-minute period was 32.5 m/s while gust speeds reached as much as 41.6 m/s. A new wave height record of 7.9 meters was set in the Southern Sea of Bothnia, says the Finnish Meteorological Institute (FMI).
Power cuts
As many as 60,000 households were without power around Finland on Wednesday, mostly in southern and central parts of the country. The Pirkanmaa region around Tampere has been particularly hard hit, with up to 30,000 households losing electricity.
As of mid-afternoon the national total was down to some 40,000 households.
"This is the worst possible weather combination," said Heini Kuusela-Opas from electricity company Elenia, which distributes power in Pirkanmaa. "The snow is wet and sticks to the trees, and the winds then cause the trees to fall. During the night, the conditions were so severe that we couldn't start any repair work for safety reasons."
Power cuts have also caused disruptions in the mobile phone networks, Finland's biggest operators Telia, DNA and Elisa said. DNA's network has been affected in Ostrobothnia, Pirkanmaa, central Finland and Southern Savo, while Elisa reports disruptions in Northern Savo and Satakunta.
Traffic trouble
The FMI also warns that driving conditions may be potentially dangerous in Southern, Eastern and Western Finland where most of the snow is falling. According to the FMI, winds will start to die down in land areas on Wednesday afternoon, but gusty winds will continue in the Sea of Bothnia, Sea of Åland, Sea of Archipelago and the Gulf of Finland.
Trees have fallen on rail tracks and damaged electric lines between Laihia and Vaasa in western Finland. As a result, trains to Seinäjoki are being replaced by buses. Similarly, trains have been replaced by busses between Joutseno and Muukko in southern Karelia where lines have been damaged by fallen trees. On Wednesday, most long-distance trains were experiencing delays of between 20 and 85 minutes.
Meanwhile, ferries between Finland and Sweden were unable to call at the port of Mariehamn in the Åland Islands on Tuesday night, and are unlikely to do so through Wednesday.
Related links from around the North:
Canada: An exceptionally nice fall in Canada's Yukon this year, CBC News
Finland: Finland braces for first autumn storm, Yle News
Norway: Vegetation in Arctic Europe disturbed by mid-autumn thaw, The Independent Barents Observer
Russia: Arctic coastal town of Dikson is fastest-warming place in Russia, The Independent Barents Observer
Sweden: Warm temperatures lasting into autumn across Sweden, Radio Sweden
United States: New study predicts 'radical re-shaping' of Arctic landscape by 2100, CBC News