Nunavut Tunngavik Inc. joins Inuit orgs across Canada in slamming Indigenous language bill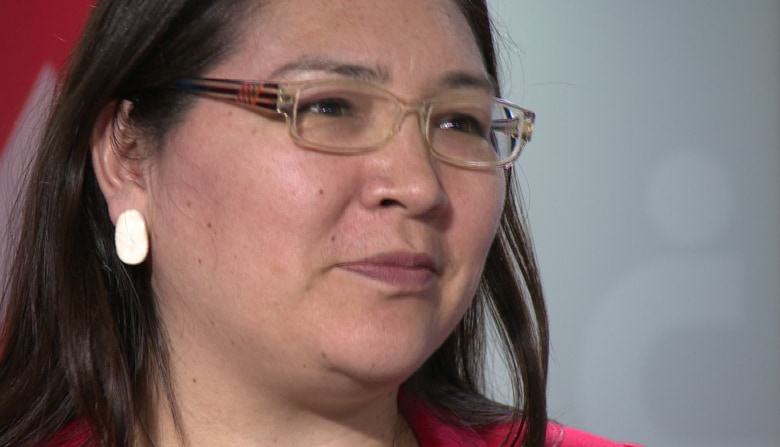 The organization representing Inuit in Canada's eastern Arctic territory of Nunavut have added their voice to those of other Inuit organizations across Canada in denouncing the federal government's new Indigenous language bill.
"Notwithstanding all the rhetoric about 'co-development', this bill shows no measurable Inuit input, despite our best efforts to engage as partners," said Aluki Kotierk, the president of  Nunavut Tunngavik Incorporated in a news release on Tuesday. 
"And when I say none, I mean none."
In 2016, Canada's Prime Minister Justin Trudeau announced that Canada would co-develop an Indigenous Languages Act with Canada's Inuit, First Nations and Métis Peoples. 
The government tabled the legislation on Tuesday.
Métis and First Nations groups praised Bill C-91 on Tuesday. But Canada's national Inuit organization Inuit Tapiriit Kanatami slammed the legislation for its lack of Inuit specific content, criticisms echoed in NTI's statement. 
"NTI recognizes First Nations and Metis face their own language issues and priorities," NTI said. "It fully supports their efforts to secure legislative provisions that fully and adequately incorporate those."
But the lack of Inuit-language specific content, makes it a failure for Inuit, Kotierk said. 
'Issues that are really critical to the survival and health of our language got put in the too-hard-to-do pile'
Examples Inuit priorities missing from the legislation according to NTI were: the use of Inuktut in the delivery of federal programs and services in Inuit Nunangat (the Inuit regions of Canada) and elsewhere where numbers warrant; measures to support the provision of Inuktut programs and services in relation to education, health and the administration of justice; and timelines and schedules for implementation measures, supported by appropriate regulatory and other tools.
(Inuktut is a term used in Canada's eastern Arctic territory of Nunavut to refer to all the region's Inuit language dialects. It is sometimes used elsewhere in Canada to encompass the many Inuit language dialects spoken across the country.)
"This bill is primarily feel good stuff", said Ms. Kotierk. "The issues that are really critical to the survival and health of our language got put in the too-hard-to-do pile. We are seeking commitments and investments that make up for past failed policies, including the loss of language at residential schools. "
"This bill falls far short." 
The latest Canadian census found there are 42,065 speakers of the Inuit language in Canada. The majority are in Nunavut (64.1%) and in Nunavik, (29.4%), the Inuit region of northern Quebec. 
Write to Eilís Quinn at eilis.quinn(at)cbc.ca
Related stories from around the North:
Canada: Ottawa tables legislation to protect and promote Indigenous languages, Inuit call it 'colonial', CBC News
Finland: Budget cuts threaten international Sámi language cooperation, Yle News
Greenland: `Enough of this postcolonial sh#%' – An interview with Greenlandic author Niviaq Korneliussen, Eye on the Arctic
Iceland: Can environmental diplomacy save Arctic languages?, Blog by Takeshi Kaji
United States: Alaskan Inuit dialect added to Facebook's Translate app, CBC News