Musher Aliy Zirkle is injured on Iditarod trail, flown to Anchorage for care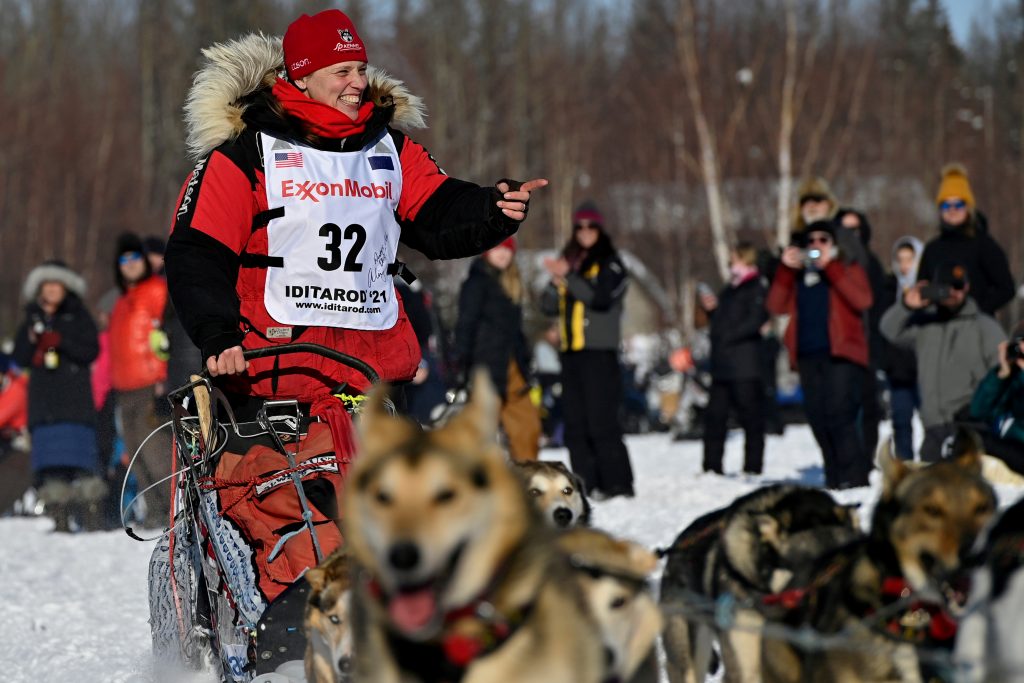 Star musher Aliy Zirkle said this year's Iditarod would be her last.
But less than two days in, her race is already over after an injury forced her to be helicoptered off the trail for medical care.
Race director Mark Nordman said Zirkle got hurt on her way to the remote Rohn checkpoint.
She and her 14 dogs were mushing through the Dalzell Gorge, a notoriously steep, narrow and winding stretch of trail, said Nordman.
"I don't know the actual particulars of how she flipped off her sled, but I do know what the ramification of it was: She actually had a significant concussion. And, as it turned out, some trauma to her upper torso," Nordman said in a phone interview from McGrath.
Race volunteers met Zirkle when she pulled into the Rohn checkpoint with her dog team at 8:05 p.m. Monday, almost 200 miles into the race.
"We had a health professional, a nurse, there and another EMT and they said it was time to get her to town," said Nordman.
Zirkle dropped out of the Iditarod. Nordman called in help.
The Alaska Air National Guard arrived in a helicopter and flew Zirkle to an Anchorage hospital.
Iditarod officials said Zirkle was released Tuesday in stable condition, and was resting with family.
They said Zirkle's dogs were not injured, and would be flown to Anchorage.
It's still not clear what exactly led to Zirkle's trail injuries. Nordman said he had not spoken with her by Tuesday afternoon.
"They've been letting her sleep today," he said. "We know that there was an impact with something, I imagine the trail."
Zirkle, 51, is a long-time Iditarod musher, and fan favorite.
She placed second in the Iditarod three years in a row, and was the first woman to win the 1,000-mile Yukon Quest.
Zirkle announced last month that she planned to retire from competitive sled-dog racing after the 2021 Iditarod. She had hoped to cross the finish line in first this year.
"That's what I want to do. I want to do that one more time, give it my best shot to win," she said in a February interview.
Zirkle runs a dog kennel outside Fairbanks with her husband, Allen Moore.
A late-night Facebook post on the kennel's website said Moore and others were headed to Anchorage to be with Zirkle, and they were devastated by the news of her injuries.
Well-wishes poured in from fans.
As of late Tuesday afternoon, 44 teams remained on the Iditarod Trail, with four-time champion Dallas Seavey the first to McGrath near mile 300 of the 850-mile race.
Related stories from around the North:
Canada: Alaska politicians send Trudeau letter saying they're "shocked" over Canada's COVID-19 cruise ship ban, Eye on the Arctic
Finland: Jobless huskies in Arctic Finland travelling south for work as COVID-19 puts breaks on winter season, Yle News
Denmark/Greenland: Greenland authorities buoyed by high demand for COVID-19 vaccine, Eye on the Arctic
Iceland: Iceland institutes new COVID-19 border measures, Eye on the Arctic
Norway:  Dogsled race in arctic Norway cancelled over COVID-19 fears, The Independent Barents Observer
Russia: Norway closes borders over fears of virus, but exempts Russian fishermen from severely infected border region, The Independent Barents Observer
Sweden: Swedes caught in Norway border limbo, Radio Sweden
United States: Changed by pandemic, Iditarod 2021 gets underway, Alaska Public Media