Canada's Northwest Territories in 'critical moment' as Sahtu COVID-19 cluster now considered community spread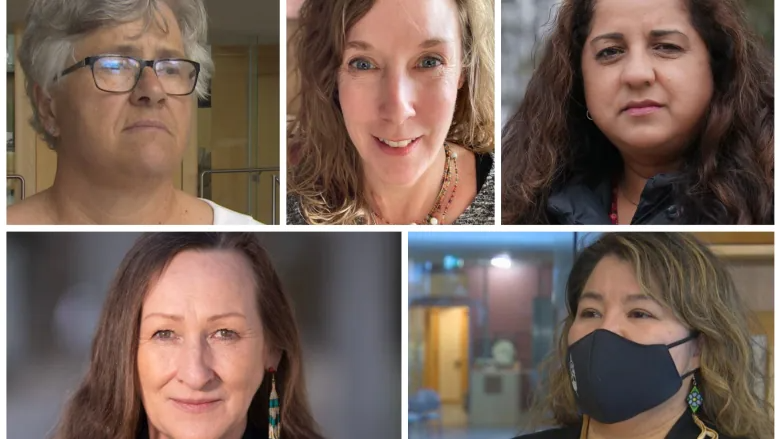 Health minister says it's becoming a multi-community event, will place 'tremendous' strain on health system
Julie Green, the N.W.T.'s health minister, said the COVID-19 situation in the Sahtu region is becoming a multi-community event and will place "tremendous strain" on the territory's health system.
"Today we find ourselves at a critical moment as a territory," Green said, adding that the measures put in place in previous waves in the territory have been effective to limit the spread.
"With that said, the situation is different than what we've faced in the past this time, as its quickly becoming a multi-community event and will likely place tremendous strain on our health system's resources."
Green made the comments during a media briefing alongside other Northwest Territories officials Monday morning, including Premier Caroline Cochrane, Sahtu MLA Paulie Chinna, Chief Public Health Officer Dr. Kami Kandola and Dr. AnneMarie Pegg, the territorial medical director.
Community spread in Fort Good Hope
Officials said Fort Good Hope is now experiencing community spread of COVID-19, with one confirmed and 15 probable cases.
In the last 72 hours, 23 COVID-19 infections in total have been connected to the Sahtu cluster, either by travel or involving residents in Fort Good Hope or Colville Lake, Kandola said.
Colville Lake has two confirmed infections, while Deline has one probable infection, and Yellowknife reports four probable cases with connection to travel to Fort Good Hope.
The cases are said to be linked to a "superspreader" event — the Fort Good Hope handgames tournament earlier in August. Kandola said a symptomatic person attended the games, which then spread to other participants. Kandola said that person had not traveled out of the territory, and she does not know yet how that person became infected.
All people currently infected are doing "clinically well," Pegg said, and no one has been admitted to the hospital at this time.
Kandola said it's "highly likely" the cases are the delta variant.
On top of these cases, both Norman Wells and Hay River each report one confirmed case of COVID-19 in out-of-territory workers.
The N.W.T.'s Sahtu region is one of the territory's lower vaccinated regions, with just 12 per cent of all residents in Colville Lake fully vaccinated, according to the territory's COVID-19 website. Meanwhile Fort Good Hope has 50 per cent of its total residents fully vaccinated. Officials couldn't provide an exact number of how many cases are within unvaccinated people in the territory but said the majority of the cases are among the unvaccinated.
'Preserving' medical capacity
The new cases come as the N.W.T. is facing a shortage of health-care workers. Earlier this month the territory announced it was cutting its intensive care beds at the Yellowknife hospital from four to two.
Pegg said the territory is looking at postponing, in the short term, some non-emergency procedures, as well as reviewing virtual care options for those who don't need to travel for medical appointments.
"For example, if someone has a surgery booked and they're expected to have a hospital stay after, there is an evaluation being done now with acute care teams as to whether or not those type of procedures are appropriate to be reduced," Pegg said.
"This is a moment where we start to look at preserving our capacity to make sure that we're able to respond to this outbreak."
Health officials are also looking into how to provide vaccines to people in communities that are under containment orders.
Green says the N.W.T. relies on Alberta for help treating patients that the territory cannot, including if there are multiple cases needing ICU care.
She stressed that intensive care is still available: "They will get it, but it may not be in the N.W.T."
Containment mode
Kandola said the territory expects more cases to arise in Fort Good Hope and Colville Lake, and said there's a high risk of further community spread in the Sahtu region, where communities are connected by "travel and culture."
The areas are in containment mode to limit the spread, Kandola said, and rapid response teams are on the ground. She said everyone in Fort Good Hope and Colville Lake is considered to have been exposed to COVID-19.
A containment ordered was issued Sunday for Fort Good Hope and Colville Lake, N.W.T., after cases of COVID-19 were confirmed in both communities, and probable cases were identified in Deline and Yellowknife.
For the next 10 days as of Sunday night, anyone who was not fully vaccinated and was in Fort Good Hope or Colville Lake between Aug. 5 to 15 should isolate for 10 days and arrange for COVID-19 testing. Anyone who was vaccinated but visited those communities in the same time frame should self-monitor for symptoms starting now, and arrange for COVID-19 testing at the first sign of any symptoms.
-Written by Amy Tucker 
Related stories from around the North: 
Canada: COVID-19 vaccination coverage in Nunavik, Quebec remains low at 28 per cent, Eye on the Arctic
Iceland: New COVID-19 border testing regulations coming to Iceland on August 16, Eye on the Arctic
Finland: Berry firms moved harvesters from Lapland to East Finland even if exposed to, infected with COVID-19, Yle News
United States: Cruise ship arrives in Skagway, Alaska after passenger flown home with COVID-19, CBC News