Norway, Russia seal deal on fish quotas amid growing tensions
Cod quotas for 2023 will be 20% lower, a decision made on recommendations from marine researchers in the two countries.
The Norwegian-Russian Joint Fishery Commission has agreed that 2023 cod quotas in the Barents- and Norwegian Seas will total 566,784 tons, of which 260,782 tons will be Norway's share.
"Despite being in an extraordinary situation, it is good that we have reached a fishery agreement with Russia," said Minister of Fisheries Bjørnar Skjæran in a comment.
This is the second year in a row that cod quotas are slashed by 20%.
In 2017, the cod quota was 890,000 tons.
All back to 1976, Norway and Russia's Joint Fishery Commission has set quotas for Barents Sea fishing. Since 1993, the Commission has included exchange of catch data, inspections and other issues related to compliance control.
With the work and agreements in the joint commission, Norway and Russia have managed to keep the Barents Sea as one of the best sustainable fishing areas in the world's oceans.
"This agreement secures a management of the resources in northern waters that is in line with long-term sustainability, and it secures the world's largest stock of cod and the other spices in the Barents Sea," said Minister Skjæran.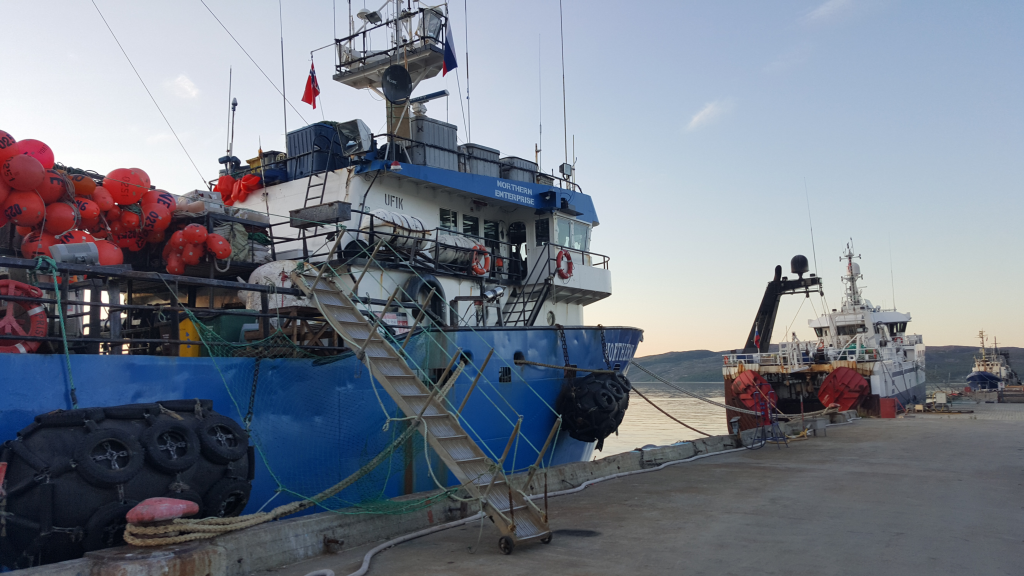 The agreement also includes haddock quotas of 170,067 tons, down 8,000 tons from 2022.
The capelin catch for 2023 is set to 62,000 tons while fishermen of Norway and Russia will be allowed to catch 25,000 tons of halibut, shared nearly 50/50.
From Oslo, the Norwegian Ministry of Fisheries informs that the two countries will continue joint marine research aimed at providing the scientists with best available insights on how to manage the fish quotes further.
Access to Norwegian ports 
Moscow underlined in the negotiations in the joint commission that Russia could withdraw from the entire agreement if Norway imposes even further limitations on Russian-owned trawlers to ports in northern Norway. From last Friday, October 14th, Russian-flagged fishing vessels are only allowed to make port calls to three harbors in Norway; Tromsø, Båtsfjord and Kirkenes.
Norwegian fishermen have repeatedly complained about troubled fishing in the Russian sector of the Barents Sea, as the military Northern Fleet has intensified exercise activities with live-fire shootings and testings of new missiles. Often, big areas are closed for commercial fishing with very short pre-announcements.
Like this week. A huge area north of the Kola Peninsula is closed off and several other important fishing grounds further east in the Barents Sea are made none-accessible for other vessels than submarines, warships and military support ships.
Related stories from around the North: 
Canada: Canada's North spared from national military staff shortages, CBC News
Faroe Islands: Faroe Islands' Arctic strategy focuses on security, climate & cooperation, Eye on the Arctic
Finland: No return to pre-war reality when it comes to Arctic cooperation, says Finnish rep, Eye on the Arctic
Greenland: Greenland, Iceland sign cooperation agreement in Reykjavik, Eye on the Arctic
Iceland: Canada's GG among keynote speakers at Arctic Circle Assembly, Eye on the Arctic
Norway: Hybrid threat researcher detained in Tromsø on suspicion of being Russian agent, Thomson Reuters
Russia: Newly deployed nuke-bombers at Kola is certainly a signalling, expert says, The Independent Barents Observer
United States: China, Russia among global priorities, including in Arctic, in U.S. security strategy, Eye on the Arctic