Sevmash delivers sixth Borei-class sub, launches the seventh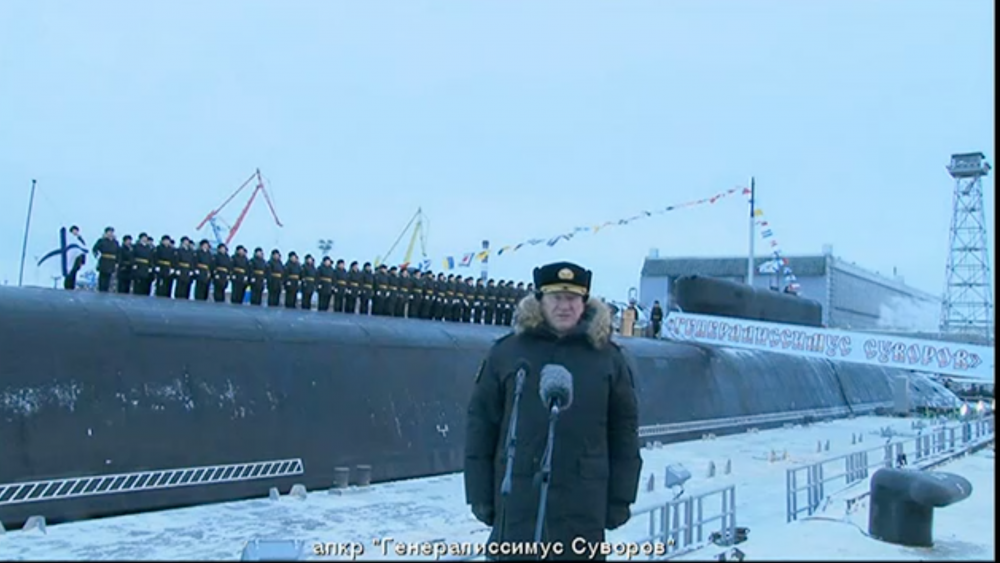 Russia significantly increased its modern naval nuclear forces on Thursday as one new Borei-A class submarine was handed over to the navy at the shipyard in Severodvinsk.
The navy flag was hoisted as the ballistic missile submarine "Generalissimo Suvorov" (K-553) was formally handed over to the Pacific Fleet from the Sevmash yard in Arkhangelsk region on December 29. Both President Putin and Defense Minister Shoigu took part from Moscow in the televised ceremony.
The submarine is the sixth of the Borei-class and third upgraded Borei-A. She carries up to 16 nuclear-tipped Bulava missiles and will sail to Rybachiy naval base at the Kamchatka Peninsula next summer in an interfleet transit via the Northern Sea Route.
Putin, who first ordered a massive upgrade of the country's nuclear submarine fleet back in 2012, praised the work done by Sevmash.
"The latest nuclear missile carriers that are being designed and built there have no analogs in the world in many respects," the President noted.
He said "Generalissimo Suvorov" significantly increase the capabilities of Russia's naval strategic nuclear forces.
The sub, which is number sixth, will be followed by four more of the same class of 4th generation vessels, the first class of SSBNs designed and built after Soviet times. Borei- and Borei-A will replace the older Delta-IV class submarines in the Northern Fleet and the even older Delta-III class subs sailing with the Pacific Fleet.
The focus of the ceremony shifted from the quay under the Polar Night in the North Russian closed city by the White Sea to the inside of the giant ship hall at Sevmash. Here, a bottle of champagne was smashed into the rudder in the rear of "Imperator Aleksandr III".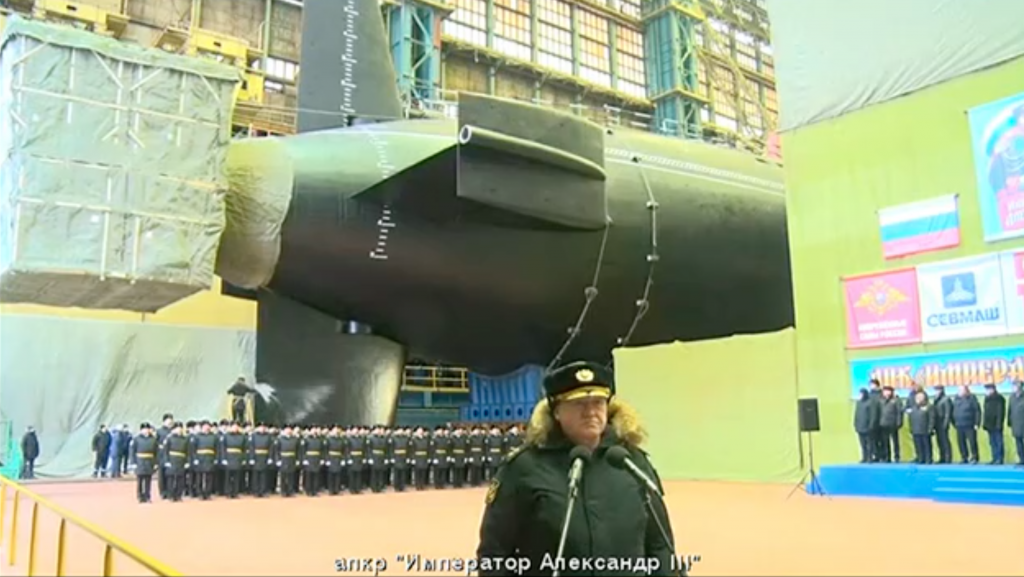 The propeller was covered to hide its features from the TV cameras and attending official journalists. It is, however, known that the Borei-class submarines are the first in Russia to run with a pump jet propulsion system powered by an OK-650 reactor.
From the ship hall, the "Imperator Aleksandr III" will now be floated out on the water before factory trials, including weapons testing in Russia's northern waters.
The three last Borei-A class submarines; "Knyaz Pozharskiy", "Knyaz Potemkin" and "Dmitry Donskoy" will according to the plans be commissioned in 2024, 2028 and 2029. All three are to be deployed to the Northern Fleet with Gadzyievo on the Kola Peninsula as home base.
Related stories from around the North: 
Canada: Canada's inaction on Arctic surveillance could affect future sovereignty: report, Eye on the Arctic
Faroe Islands: Denmark, Faroe Islands agree to establish air surveillance radar to bolster gaps in Arctic surveillance, Eye on the Arctic
Finland: Norwegian military vehicles take new transit corridor via Finnish Lapland, The Independent Barents Observer
Greenland: Local company's $3.95-billion U.S. arctic base contract "good news" says Greenland, Eye on the Arctic
Iceland: Arctic security discussed at Reykjavik Northern Group meeting, Eye on the Arctic
Norway: Defence minister says Norway must get stronger in the North, The Independent Barents Observer
Russia: Russia's defense minister vows more troops near Nordic countries, The Independent Barents Observer
Sweden: Norway, Finland, Sweden prioritize North in updated statement, Eye on the Arctic
United States: U.S. Army poised to revamp Alaska forces to prep for Arctic fight, The Associated Press