Parka-making course means new coats for kids in need — and lifelong skills for new sewers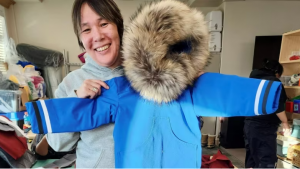 Sewers in Iqaluit put their best work on display Friday afternoon at Nunavut Arctic College in Iqaluit.
They were showcasing their handmade parkas at a fashion show, the final event after a special three-week parka-making course at the college.
The college said more than 100 people applied for the course, which was offered free of charge thanks to funding from the Qikiqtani Inuit Association. The college held a draw and selected 10 people randomly to participate.
Each person made two parkas — one for themselves, and a child's parka that will be donated to someone who needs it, said Sheila Oolayou, who taught the course alongside elder Annie Demcheson.
Jennifer Wilman, the continuing education co-ordinator at the college, said the funding from the Qikiqtani Inuit Association helped the college to redesign its parka program to allow for the children's parkas to be made.
She said many students have families and young children, and winter clothing can be expensive.
"We realized that we had an opportunity here to make things a bit easier for students," she wrote in a statement. "It was a win/win for everyone."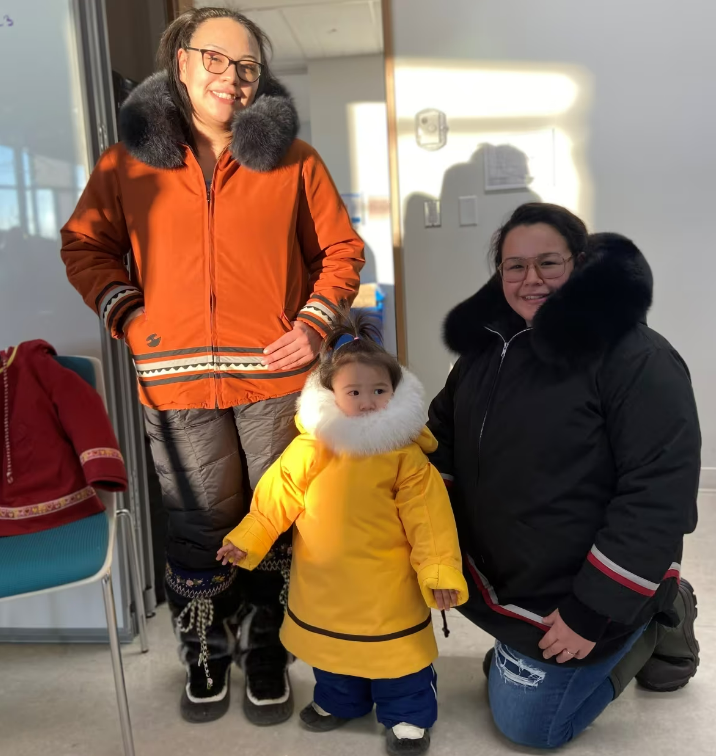 Kendal Kuodluak, one of the participants, made the child's parka first — a little pink coat for a girl. It took her a little over half of the program to make that one, which was the first parka she had ever made.
"My second I made, it was much easier and I finished that one real quick," she said.
The parka she made for herself is a pullover one that she'll use for hunting.
"I've wanted to learn how to make parkas for a long time, and I finally seen an opportunity," she said.
Kuodluak now has patterns and can start making them for her family, too — and said she got to make some new friends along the way.
"I felt excited and felt in awe, because for a long time I always wondered how to make them," she said.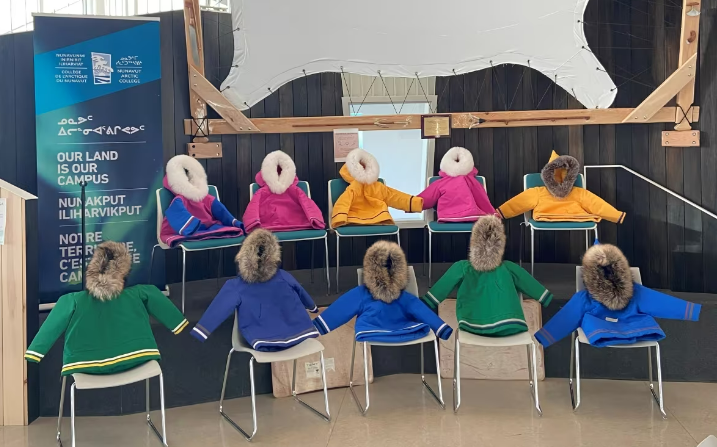 Wilman said the overwhelming amount of people who applied for the program showed how much of a need there is for accessible, cultural programming.
"I'm hoping that with the success of this program, that we can offer more in the future," she stated.
The program was open to beneficiaries of the Nunavut Land Claim Agreement.
Related stories from around the North: 
Canada: Arctic Inspiration Prize awards over $2.7M to projects 'by the North, for the North', CBC News
Norway: Certification marks help both Sami artisans and consumers, says council, Eye on the Arctic
Russia: German project to house everything published in Siberian and Arctic languages to seek new funding, Eye on the Arctic
Sweden: 2022 Gollegiella Nordic Sami language prize awarded in Stockholm, Eye on the Arctic