Biden approves Willow project, announces new limits elsewhere in NPR-A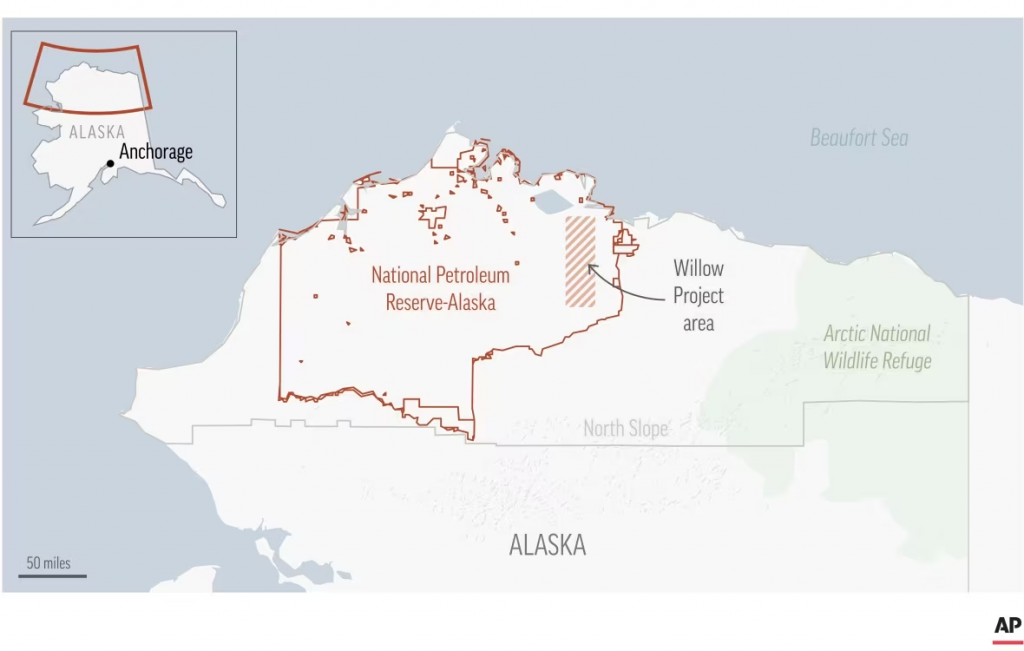 The Biden administration announced Monday morning that it will approve the Willow development, a major ConocoPhillips project in the National Petroleum Reserve-Alaska.
ConocoPhillips wanted approval for five drilling pads. The Biden administration approved a plan for three drill pads, with more than 200 wells.
The approval comes hours after the administration said it intends to seek "maximum protection" for sensitive areas of the National Petroleum Reserve Alaska.
The unusual Sunday night announcement of new Arctic protections seems aimed at softening the blow to Willow opponents. Environmental advocates and younger voters are urging the administration to move the country away from fossil fuels to avoid a catastrophic climate crisis.
Several conservation groups responded immediately to say the protections are good but don't outweigh the impact of granting the Willow permit.
"No matter what they're doing with all of these protections, in terms of the special areas or the offshore drilling, it's not enough if they're going to permit Willow," said Karlin Itchoak, Alaska director for The Wilderness society.
Project to boost Alaska's oil production by 40%
The announcement says the administration will propose a new rule seeking additional protection for 13 million acres – more than half the refuge – that are already considered to have high natural and historical value.
It's not clear if any of the limits will apply to the 2.5 million acres that are already under lease in the NPR-A.
Willow has widespread support from Alaska's political and business establishment. It's been a top priority of Alaska's congressional delegation. The Alaska Legislature passed a unanimous resolution asking the Biden administration to approve it. Support is particularly strong in the North Slope Borough. The borough and local governments in the region would gain millions of dollars a year in payments and taxes.
At peak, Willow would boost Alaska's oil production by 40% over today's output. It's projected to remain in operation for 30 years.
The tribe and city of Nuiqsut, the nearest community to Willow, oppose the project. They cite concerns about pollutants, industrial noise and disruption to the wildlife central to their subsistence way of life.
The administration's announcement also says President Joe Biden will use executive authority to withdraw 2.8 million acres of the Beaufort Sea from potential offshore oil and gas leases. In 2016, President Barack Obama removed nearly the entire Beaufort and Chukchi seas from consideration for leasing. Biden's action would remove the remaining section – a strip of ocean near the NPR-A.
Related stories from around the North: 
Canada: Yukon gov't boasts of 'strongest economy in Canada,' tables $48M surplus budget, CBC News
Norway: Norway's oil minister: "We need new discoveries", The Independent Barents Observer
Russia: Crisis-ridden Russian gas industry looks to Arctic for more LNG, The Independent Barents Observer
United States: Sen. Sullivan stresses economic promise of Willow drilling project in annual address to Legislature, Alaska Public Media