"It's about time" U.S. ambassador to Norway says of Sweden, Finland's NATO bids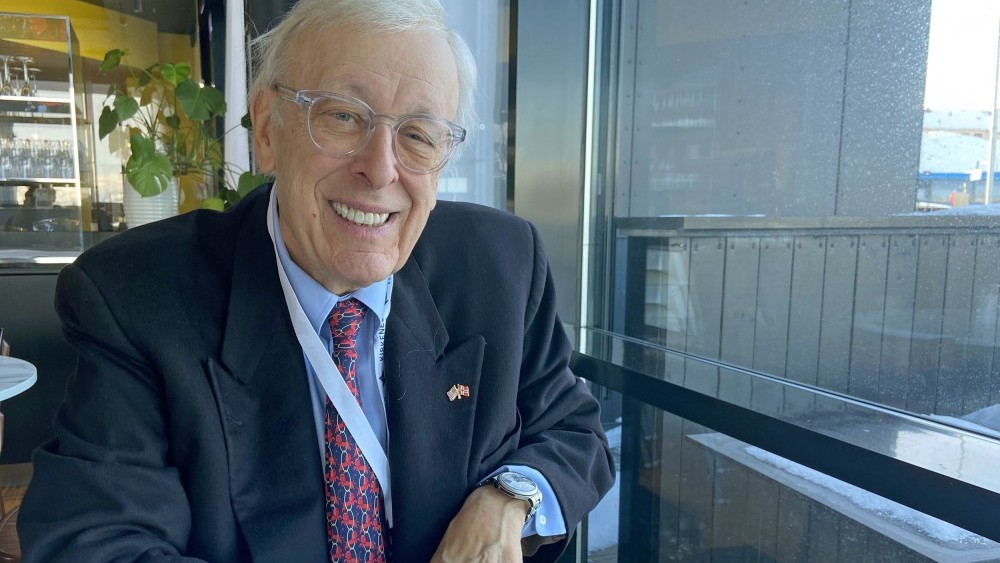 The U.S. ambassador to Norway, Marc Nathanson, says the whole northern flank of NATO has to be conscious of the border with Russia up north as Putin has huge military forces in the area.
Nathanson says in this interview with the Barents Observer that he is not only welcoming Sweden and Finland into NATO but saying "it's about time."
"If there is anything I should thank Putin for is that he has prompted a rapid consolidation of all the countries in NATO and now finally with Sweden and Finland joining."
The ambassador took part in the Kirkenes conference, a venue only a few kilometers from Norway's border with Russia.
"The whole northern flank of NATO benefits from Sweden and Finland coming into NATO," Nathanson notes.
B-52 bombers inside Arctic Circle 
Military build-up continues across Europe amid growing tensions with Moscow as Putin's brutal all-out war on Ukraine has entered its second year.
Here in Northern Norway, the Joint Viking exercise goes on with troopers from several NATO countries. In the Norwegian Sea, the British-led navy exercise Joint Warrior includes 30 warships and 4 submarines, as well as multiple aircraft.
For the second week in a row, U.S. long-range B-52 bombers fly missions inside the Arctic Circle.
"I can't talk specifically about individual military operations," Ambassador Nathanson says.
The B-52 flight on Saturday, March 11, flew in the skies over Tromsø, Senja and Andøya area before the large plane headed south over Denmark into the Baltic Sea. Over Poland, the plane made mid-air refueling before it again headed north Saturday evening, this time over the waters east of Sweden, into the Gulf of Finland and then over the Baltic States on return south, in what likely was the most comprehensive all-around-Scandinavia and Baltics ever seen by a B-52.
A B-52 bomber has probably never been closer to St. Petersburg than what was seen late Saturday evening.
Missions with long-range B-52 bombers from bases in USA, United Kingdom and Spain to Scandinavian airspace have become a new normal for the NATO alliance adapting to deter Putin's aggression.
Pasvik 
Earlier this week, a group of NATO commanders, including Sweden, visited the Pasvik Border Station and drove snowmobiles along Norway's borderline with the Kola Peninsula, home to thousands of soldiers sent to the onslaught in northern and eastern Ukraine. The first Russian troopers from the Pechenga region near Norway were spotted in the Luhansk region in 2014 and 2015.
The big losses of killed soldiers from camps near Norway have dramatically weakened the conventional forces on Kola.
However, this is likely time-limited, the Chief of the Norwegian Intelligence warned in an interview with the Barents Observer last month.
"[Weakened forces] is correct from a situation awareness perspective, but is wrong from a planning perspective," says NIS Chief Nils Andreas Stensønes made clear.
Putin's war, not the people's 
The U.S. Ambassador says he certainly hopes the world is not entering a new Cold War.
"We are not criticizing the Russian people, we are criticizing Putin. It is Putin's war in Ukraine."
Ambassador Nathanson thinks the reason why we don't hear more protests from inside Russia is the lack of free media.
"I don't think we are getting enough of the Russian point of view of people that disagree with Putin, because it is very hard to do that if you are living in Russia."
"I think it is very important that we do everything we can on the world stage, in the international court, in the press associations, to encourage and to support a free press," Marc Nathanson says with hope.
Related stories from around the North: 
Canada: Int'l arctic cooperation needs to continue despite rupture with Russia: Canada's GG, The Canadian Press
Finland: Russian shoppers take Norway's Schengen shortcut to Arctic Finland, Yle News
Greenland: Historic Hans Island agreement with Canada moves from Copenhagen to Greenland, Eye on the Arctic
Iceland: Climate, integration & Arctic among priorities in Iceland's Nordic Council of Ministers program, Eye on the Arctic
Norway: NATO will make us stronger, says Nordic defense chiefs, The Independent Barents Observer
Russia: Moscow lowers ambitions in nuclear icebreaker program, The Independent Barents Obs
Sweden: NATO talks between Finland, Sweden and Turkey on right path, says Secretary-General, Eye on the Arctic
United States: U.S. nominates Alaskan as first Arctic ambassador, Eye on the Arctic