Waterfalls now 'trickling': Low water brings changes to Hay River, N.W.T.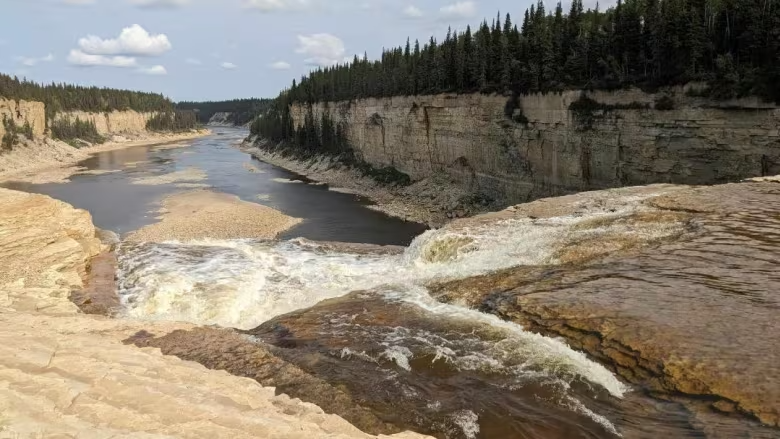 'You can see people walking across the river that's only a few feet deep in some areas'
Water levels have been significantly dropping in Hay River, N.W.T., resulting in waterfalls turning into trickles.
One man has lived in Hay River for 40 years, and says he's never seen water levels so low this time of year.
"You can see people walking across the river that's only a few feet deep in some areas," said Glenn Smith, the senior administrative officer for the town of Hay River.
The change is brought on by intense weather conditions, according to Ryan Connon, a hydrologist for the Government of the Northwest Territories. He said hot and dry weather conditions last year, as well this year, has led to an increase in evaporation.
The evaporation combined with a lack of precipitation resulted in water levels not being replenished.
"They've been close to this low in other years, but they are extremely low right now," he said.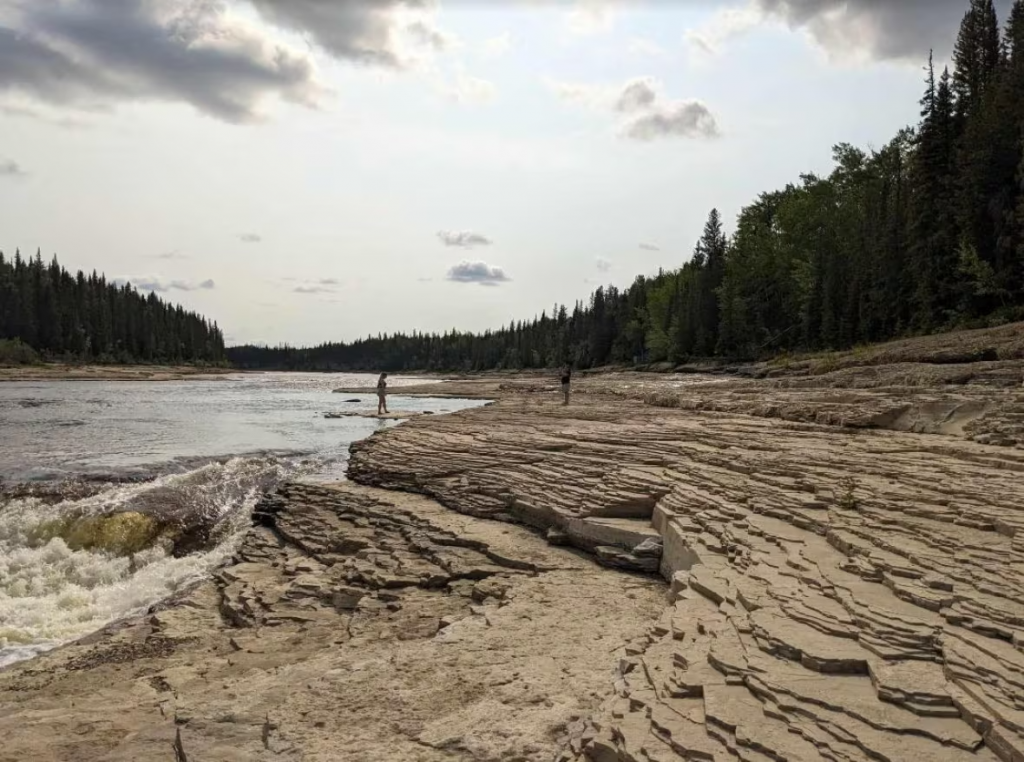 As of right now, Hay River water levels are two metres lower than what they typically would be. Connon said the water levels for Hay River have been dropping significantly since the flooding in the area last year.
The low water levels can also be seen at Louise Falls, located on the Hay River.
Surrounding bodies of water also low
Marilyn Chalifoux captured photos of Louise Falls and the surrounding river channel — where parts of the river bed are dry and exposed — on Saturday.
It's not just Hay River that has seen a drop in water levels, the surrounding bodies of water and the Great Slave Lake have also seen a drop as well  — with Great Slave Lake's water levels being down by half a metre compared to its average levels.
That's because bodies of water that flow into Great Slave Lake are providing less water to the lake.
Connon said because of a longer delayed spring, snow had more time to melt and seep into the soil.
"The land surrounding those rivers is absorbing more of the water and there's a lot less water to begin," he said.
Marine transportation concerns
Town SAO Glenn Smith said the low water levels are a cause for concern when it comes to marine transportation.
"The water levels are probably putting more pressure on getting boats and barges into the lake," he said.
He also said the water levels could be a concern for commercial fisherman who need to take their boats out across the river and into the lake.
He said the water level looks different depending on what part of the river you're looking at.
"You can see in some cases trickling of water over the waterfalls," he said.
One person in Hay River sees the bright side to what's happening.
"Now's a good time to uncover the fossils that were existent there at one time," said Doug Lamalice, a member of the Katlodeeche First Nation, speaking to Lawrence Nayally, the host of CBC's Trail's End.
Lamalice has discovered fossilized bones near Alexandra Falls and donated them to the Royal Tyrell Museum in Drumheller, Alta., and said his daughter has found fossilized bones near Louise Falls too.
Related stories from around the North: 
Finland: Heat record broken in northernmost Lapland, Yle News
Norway: Heatwave hit Europe's Arctic coast, The Independent Barents Observer
Sweden: High risk of wildfires in many parts of Sweden, including North, Radio Sweden