N.W.T. premier says no commitment from Trudeau on financial assistance for evacuees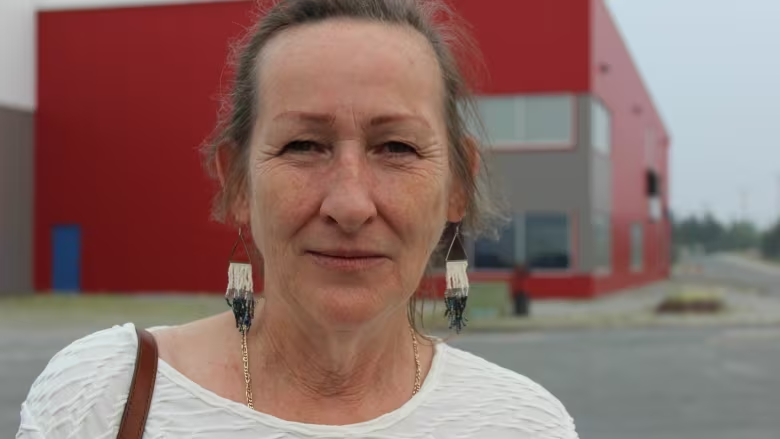 Caroline Cochrane says bill from the wildfires will be high and will require significant assistance
The prime minister has not committed financial assistance to the residents who have been displaced from the Northwest Territories as a result of wildfire evacuation orders, according to the premier.
A wildfire burning out of control northwest of Yellowknife triggered the evacuation of the N.W.T.'s capital city of about 20,000 people, the neighbouring Yellowknives Dene communities of Ndilǫ and Dettah and residences along the Ingraham Trail last week.
The N.W.T. communities of Fort Smith, Enterprise, Hay River, Kátł'odeeche First Nation, Kakisa and Jean Marie River are also under evacuation orders.
In a virtual news conference on Sunday night, Premier Caroline Cochrane said Prime Minister Justin Trudeau guaranteed the federal government would "put a priority on making sure that we were safe. Didn't say financial supports, in fairness."
Cochrane said she has also been in touch with Finance Minister Chrystia Freeland.
"This is going to be a large bill and we are going to need financial help going forward."
"Not only are we looking at the evacuations, we need to bring people home, we don't know how long it will be so I have emphasized to Minister Freeland that we may be asking for more supports."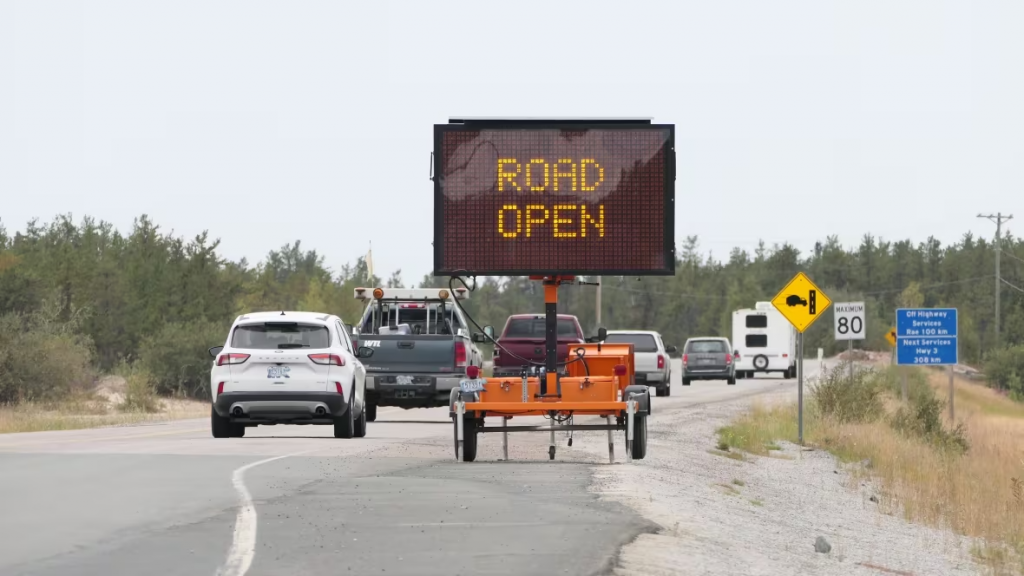 Trudeau made an announcement on Sunday where he said he had spoken with Cochrane but gave no details on the conversation.
N.W.T.'s Liberal MP Michael McLeod has not been present for the daily news conferences hosted by the territorial government.
Weather to worsen fire situation in South Slave region
Weather conditions in the N.W.T.'s South Slave region are expected to worsen, increasing the wildfire threat to the communities of Hay River, Kakisa, Enterprise and Fort Smith, according to NWT Fire.
Mike Westwick, N.W.T. fire information officer, said at the news conference that the weather could push fire closer to Fort Smith.
"Got some tough days ahead for our friends in the South Slave for sure," he said.
"Keep your thoughts and your prayers if you're giving them with Fort Smith and Hay River."
In Yellowknife, he said fire suppression efforts held the fire northwest of the city from moving closer to the community. He said initial estimates were that it could move four kilometres closer on Sunday, but that didn't happen.
Westwick said as long as conditions stay dry and windy, the fire will present a risk to the community.
"We do expect to see more fire activity on this fire going forward," he said.
"We've got a serious situation here," he said.
He said the Jean Marie River fire hasn't grown in the past few days.
Homeless population not left behind: officials  
Government officials and law enforcement said they believe most, if not all, of Yellowknife's homeless population have made it out of the city.
Jennifer Young, director of corporate affairs for the department of Municipal and Community Affairs, said members of the underhoused population are registered at evacuation centres. She said the supports available to them depends on the evacuation centre, but that many have social programs available.
N.W.T. RCMP spokesperson Cpl. Matt Halstead said officers in Yellowknife have checked in on members of the underhoused community and helped them evacuate.
"It should go without saying that these individuals have their own decision making ability and no one has been forced to leave," he said.
"We believe the vast majority, if not all, of our shelter users and underhoused have made it to evacuation centres."
---
The territorial government has provided the following links for residents:
Related stories from around the North:
Canada: Trudeau convenes emergency meeting to discuss N.W.T. wildfires, CBC News
Norway: Smoke from Canadian wildfires forecast to reach Norway, The Associated Press
Russia: New NOAA report finds vast Siberian wildfires linked to Arctic warming, The Associated Press
United States: Wildfires in Anchorage? Climate change sparks disaster fears, The Associated Press