Listen
The food and drink industry is not doing enough to stop "land grabs" and conflicts in their supply chains, charges Oxfam Canada, a charitable organization that fights poverty and injustice around the world. It says that local communities that rely on the land are evicted without consent or compensation to make way for sugar plantations and processing plants.
"More and more families being pushed off of land"
World consumption of sugar and sweeteners more than doubled between 1961 and 2009 and is expected to rise by a further 25 per cent in the next decade. "What we're seeing is that more and more families are being pushed off of land that they had traditionally been living on for their livelihood to make way for large-scale sugar production," says Kelly Bowden, national public engagement officer with Oxfam Canada. She says this is happening in Brazil, Cambodia and several countries in Sub-Saharan Africa.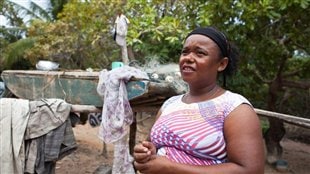 53 Brazilian families pushed off land
53 families in Brazil's state of Pernambuco were expelled from an estuary of the Sirinhaém River where they used to live and earn a living fishing. They allege that the sugar company, Usina Trapiche petitioned the state for rights over the land in 1998 and that employees destroyed their homes and small farms, and threatened violence if they did not leave.
Several families moved and became impoverished. Others had to travel a great distance to continue fishing. Families continue to fight for the right to return and use the land as they had since 1914.
Coke and Pepsi among 10 companies targeted by Oxfam
Oxfam says both Coca Cola and Pepsico confirm that sugar from Usina Trapiche is used in some of their products.
Those companies and 8 other of the world's biggest food and beverage producers have an obligation to do something about this issue, says Bowden. " Oxfam's campaign which is called Behind the Brands…is saying 'You have a role to play in holding your suppliers and your supply chain accountable to make sure that there are no land grabs happening as a result of the commodities that you're sourcing.'"
Oxfam urges citizens to sign petition
Oxfam invites Canadians and citizens of the world to go on-line and sign a petition which it regularly shares with the companies. "On a global level everybody who's buying these products from the 10 biggest food and beverage companies has a role to play in asking that those companies make positive steps towards ensuring that there are policies in place that mean that small-scale farmers aren't being evicted from their lands," says Bowden.