Recently a group of professors and others concerned with privacy issues staged a symbolic event in front of a publicly placed closed-circuit TV camera in order to highlight privacy issues.
They are concerned that people are being filmed in public without informed consent as required by Canadian law
Andrew Clement, led the event. He is a professor at the Faculty of Information, and co-founder of the Identity Privacy and Security Institute, at the University of Toronto.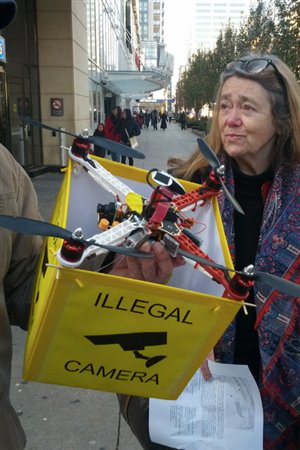 The event involved flying a small drone which had an easily visible banner reading "illegal camera". in front of CCTV cameras. 
This was to alert the operators that the camera did not comply with privacy laws, and block it from "illegal" surveillance of passersby.
Any time personal information is recorded—meaning that the footage is more than blurred-out blobs—it has to be on the basis of informed consent.
The minimum requirement is a sign that announces you are being taped, explains the purpose, says who's doing it and gives the relevant contact information.
Professor Clement says that for two years he's been offering a reward of $100 to anyone who can bring him evidence of a CCTV that complies to at least the minimum of Canadian privacy laws, but that so far no-one has been able to claim the reward.
Professor Avner Levin, Chair, Law & Business Department, Ted Rogers School of Management and Director of the Privacy and Cyber Crime Institute at Ryerson University was among those at the staged event.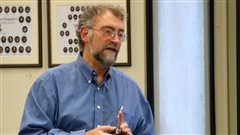 He notes that even as CCTV surveillance grows, the laws are being openly flaunted but the situation can be easily corrected.
He would like the Canadian public to be aware of the situation and for privacy commissioners to heed the warnings of the group.
Sukanya Pillay, Acting Executive Director and Interim General Counsel of the Canadian Civil Liberties Association, notes that our civil liberties, as well as the laws intended to protect them are vital, and can't be taken for granted.
She says, "When organizations, whether public or private, flout privacy laws, all our liberties are at greater risk."
Video of iUofT presentation by Tom Drake NSA whistleblower Introduced by Professor Clement