News reports of a teenager who work a T-shirt with a message to school have sparked animated discussions on social media about race and Aboriginal relations in Canada.
Tenelle Starr, 13, wore a hoodie proclaiming "Got Land? Thank an Indian" to her school in the western province of Saskatchewan. School officials told her to change the shirt and not wear it again. But, after meeting with Starr and leaders of her Aboriginal reserve, they changed their minds.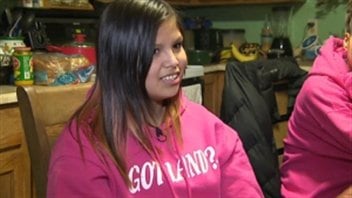 'It's about treaties and land rights'
Starr said her sweatshirt speaks about First Nations treaties and land rights. Starting in 1701 the British crown entered into several different treaties with Aboriginal bands to encourage peaceful relations. Some of those treaties involved bands ceding land for treaty rights to such things as farming equipment and animals, annual payments, ammunition, clothing and certain rights to hunt & fish. Treaty rights are still being negotiated in the western province of British Columbia.
Huge, sometimes racist, response
The original news item about Starr on the public broadcaster's website garnered close to 100,000 views and attracted around 2,000 comments. Her own Facebook page was swamped with comments, some of them abusive, some of them supportive.  Starr was advised to take down her page by the national police, the RCMP, which is investigating some of the posts.
A family friend and member of Starr's band council, Sheldon Poitras says the teen has lots of support from her family and community and that she is "okay, you know. She is sticking to her guns. It hardens her resolve to the whole thing. She isn't backing down by any means."
The man who makes the T-shirts says his phone has been ringing off the hook for orders.