Listen
Calling it an antidote to Dr. Google, the McGill University Health Centre (MUHC) is offering a website for medical information that is available on tablet, is easy to search and connect with.
Many people use Google to search for information about health problems but the MUHC asks how they can be sure the results are accurate and reliable. The MUHC offers a site that has been built using all the medical and technical resources it has at hand and promises that its modules are accurate and easy to understand.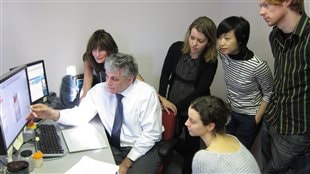 Understanding treatment saves money
"The main purpose is to inform patients at a level they can really understand in terms of what their diagnosis is…what the treatment's going to be, what combinations of treatment may be necessary, and to make sure they understand each step of the way," explains Dr. David Fleiszer, MUHC surgeon and director of the MUHC Patient Education Office.
Patients increasingly want to be involved in their own care and seek information. The website gives them and their families content they can access at their leisure. It also saves money, says Fleiszer. "We know that patients who are well-informed of the process really spend less time in hospital, cost less money, there are fewer complications and much better results.
Simple explanations attract international attention
The site has modules on different cancers, autism, sickle cell disease, obstetrics, hip and knee replacements and many other conditions and diseases. They are visual, using little language, and what phrases there are have been specially designed to be simple and easy to understand.
"This unique approach that we've taken really seems to be taking off tremendously," says Fleiszer. "The popularity of the site has now attracted people literally from all over the world." Visitors to the site originate in places like Europe, the Middle East, Cambodia and Viet Nam to name just a few. "It's pretty exciting for us to see this kind of response," says Fleiszer.
Site for "as many people as possible"
English and French predominate but several modules are offered in other languages such as Mandarin, Italian and even Norwegian. Fleiszer says "We want to make this available to as many people as possible. We started off in our own hospital but realized that this really was pertinent to patients everywhere, not just here."
The initiative was funded through charitable donations by individuals and businesses.