In was on March 11, 1892 that Canadian James Naismith organized the first public demonstration of his newly invented sport, using suspended baskets, and a soccer ball.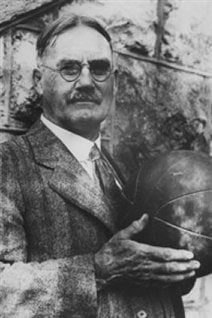 Naismith, from Almonte, Ontario studied physical education in Montreal before joining the International YMCA Training School in Springfield, Massachusetts in the USA.
Dealing with a restless class kept inside in winter, Naismith was advised to come up with some game to expend their energy, and keep the track athletes in shape. It also could not take up much room, and should not be rough (like rugby) to avoid injury.  In analyzing various games like hockey, lacrosse, soccer, and lacrosse, he determined that a soccer ball was the softest, and that running with the ball, contact with other players, and goal tending all were possible scenarios for injury. His idea then was to place "goals" high up so there was no goatender, and that players would have to pass the ball. The goals consisted of peach baskets hung on the wall of the gym at a height of about ten feet meaning the ball would not be thrown hard, but have to be lobbed to get into the basket.  Thus basketball was born.
The Canadian invention has since caught on world wide of course, and the original rules have been modified somewhat.
However the basket height has remained the same but whereas young men were rather shorter in 1890 usually well under 6 feet (182cm) , the average height of National Basketball Association players in recent years is 6 foot 7 inches, or just over 2 metres tall.