Listen
A global, clean energy revolution is coming to deal with climate change and Canada needs to get on board or get left behind, says Ian Bruce, science and policy manager at the David Suzuki Foundation, a leading environmental group.
The latest report from the Intergovernmental Panel on Climate Change focuses on the changes countries need to make to mitigate the devastating impacts of climate change and extreme weather.  The scientists on the panel say the cost of limiting keeping global warming in check is relatively modest but only if the world acts quickly to limit greenhouse gas emissions.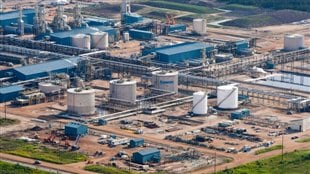 Canada has one of the highest per capita emissions in the world, says Bruce. "As far as Canada's record on reducing greenhouse gas emissions (go) we have fallen to the back of the pack as far as industrialized countries in the world."  However he adds that provincial and municipal governments have made some progress.
Ontario making strides
The province of Ontario decided to phase out coal as a source of electricity and became the first jurisdiction in North America to do so. It is also prioritizing sustainable energy with its Green Energy Act. "That action alone has been the single largest elimination of carbon pollution in all of North America," says Bruce.
Canada has moved up in terms of investment in green technologies, he says, largely because of the actions of provinces and cities.  It's time the national government take action to invest in green technology, adds Bruce, noting that developing nations are seeking ways to reduce pollution and there is money to be made in answering that need.
Bruce says the Canadian government also should stop subsidizing fossil fuel companies to the tune of $1.3 billion annually and invest in better public transportation which would not only reduce carbon emissions, but would also increase the quality of life of citizens.